San Luis Obispo County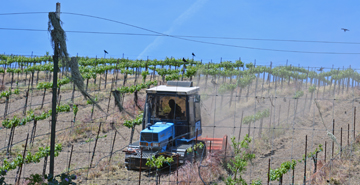 Located in San Luis Obispo (SLO) County between San Francisco and Los Angeles along California's Central Coast, he SLO wine region extends along the coast from Caucus to Arroyo Grande. From east to west the wine country extends from the Santa Lucia mountains to the Pacific Ocean. The large Paso Robles is one of several American Viticulture Areas in San Luis Obispo county along with Edna Valley and Arroyo Grande Valley. The Paso Robles AVA is sub-divided into 11 sub-AVAs.
The climate is influenced by the Pacific Ocean. Many of the vineyards are within a few miles of the ocean. Cool breezes often cause large diurnal 40º temperature changes from daytime highs to nighttime lows. This allows the grapes to become ripe without loosing their acidity.
The soils in the region include limestone, sandstone, sedimentary rocks, fossils, shale and alluvial soils. Most of the vineyards we visited we in limestone soils.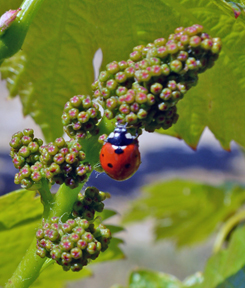 International grape varieties do well in the SLO wine country. Expect to see Burgundy, Bordeaux and Rhone varieties. Winemakers have a freedom in this region that is seldom experienced in the old world. Expect to find a Rhone varietal grape in a Bordeaux blend. Most of the vineyards we visited had Sustainability in Practice (SIP) certification.
As of 2015, there were about 45,000 acres of grapes planted in SLO county.
History
The Franciscan Friars were the first to bring wine and grape growing to the SLO area. In 1815 the Friars were producing sacramental wine. They also produced brandy for exporting. In 1886, the city of Paso Robles was established. The name Paso Robles is from El Paso de Robles meaning The Pass of the Oaks noted for the local oak trees in the early part of the century.
History shows that the vineyards were abandoned when Mexico decided to secularize the Missions. As in the case of other areas, it was new immigrants to the country who began to bring their wine growing and winemaking skills to the new country.
History Note: Of particular interest to western history, is that the uncle of Frank and Jesse James were cofounders of the town of El Paso de Robles. Although Jesse was shot, Frank served three years in prison and then went to live with his uncle quietly.
Today the wine industry continues to make strides. Wine enthusiasts can enjoy discovering small family, boutique wineries and larger wineries.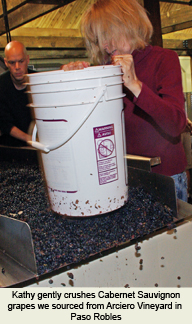 San Luis Obispo County AVA's
San Luis Obispo's AVAs are part of the larger Central Coast AVA.
Arroyo Grande Valley
Edna Valley
Paso Robles
Santa Maria Valley
York Mountain
The Paso Robles AVA has been sud-divided into sub-AVA's:
Adelaida District
Creston District
El Pomar District
Paso Robles Estrella District
Paso Robles Geneseo District
Paso Robles Highlands District
Paso Robles Willow Creek District
San Juan Creek
San Miguel District
Santa Margarita Ranch
Templeton Gap District


---
Visit these California organizations and wineries that partner with Wine Trail Traveler.