Opolo Vineyards
by
Kathy Sullivan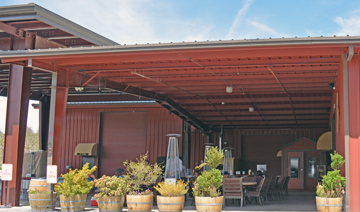 Summary: Opolo Vineyards is located on a long, winding road filled with numerous wineries, but there is only one Opolo. This is a must visit winery on your itinerary. Everyone, staff and visitors, are smiling and have a passion for Opolo. Food is a big part of Opolo's wine tastings. Opolo also has an onsite distillery.
We met the enthusiastic sales manager, Jeff Faber, of Opolo Vineyards at a restaurant just prior to the CABs of Distinction event when he introduced himself to us. His enthusiasm was contagious and we immediately looked forward to visiting Opolo Vineyards. Fortunately the winery was on our itinerary for a few days later.
We traveled along Vineyard Drive until we reached Opolo Vineyards and its onsite wine tasting area. Upon our arrival, we discovered a winery that encompasses wine, distilled products, food, lodging and friendliness. This is a must visit winery on your itinerary when visiting Paso Robles wine region.
The owners of Opolo are two next door neighbors, Rick Quinn and Dave Nichols. They own adjoining property on Vineyard Drive that today includes vineyards and a 67-acre walnut orchard. The vineyards are SIP (Sustainability in Practice) certified and the walnut orchard is certified organic with CCOF (California Certified Organic Farmers). Prior to starting a commercial winery Rick and Dave had been making wine at home with grapes they sourced. The owners had grapes planted on the West Side of Paso Robles in 1995 to sell to Napa and Sonoma wineries. They enjoyed their first bottling of Opolo Wine in 1999. They "learned along the way."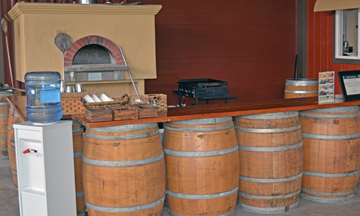 The winery, distillery and tasting area are located in an old tractor barn. A garage door was added for ease of use. Jeff noted that for the owners this is a "hobby that got out of control." The owners have tapped into the wine and Paso Robles culture. Food is definitely part of the culture.
A large patio, partially covered, is adjacent to the winery. The patio area offers visitors the opportunity to taste wines with numerous types of foods. A large pizza oven is located on the patio. It was noted that people love the culture that is available at Opolo. Jeff said that people come in the morning, and then return for the afternoon.
Opolo Vineyards
Opolo has 70 acres of vineyards that include Zinfandel, Cabernet Sauvignon and Merlot. They also have control of other vineyards, so that their total grapevine acreage is 350 acres. They are growing 22 grape varieties. The owners sell some of their grapes but also source some grapes for their wine production. The grapes are hand harvested primarily at night. The onsite vineyards have a 50 degree diurnal temperature during the day.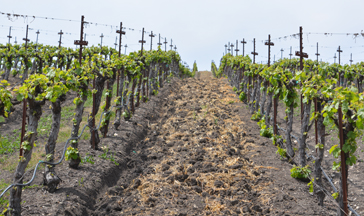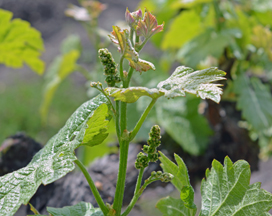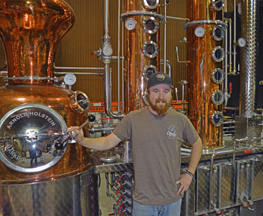 The Distillery
Our first stop at Opolo was the distillery. We met Paul Quinn, head distiller, who uses a large copper still to produce several products including a cherry brandy. First, wine is made from the Montmorency cherries sourced from theTraverse City, Michigan area. Paul distills the cherry wine. He explained that the stainless steel pot still is used for the first run to strip the wine. The second run takes place in a large three column copper still. On the day of our visit, Paul was distilling cherry wine. The wine and brandy is made from 100 percent cherries. There is no flavoring added. In addition to the brandies, the distillery also makes grappa and a nocino, a walnut based liqueur.
Barrel Room
Adjacent to the distillery, there is a large room that is mostly surrounded by oak barrels stacked four high. The barrels outline most of the perimeter of the room. Wine tasting take place in this room as well as on the patio. The barrel room space is large enough to house large events.
Opolo Wines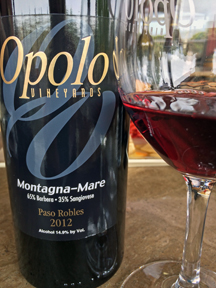 We tasted several wines. Chardonnay Edna Valley 2013 was a yellow color and offered notes of apple and pear with a hit of caramel. The mouthfeel was velvety and the finish was crisp and fruity.
Sangiovese Paso Robles 2013 was a dark red translucent color with notes of cherries. The mouthfeel was smooth with mild tannins and a medium-full body. The finish had notes of fruit with a touch of leather.
Montagna-Mare (Mountain and Sea) Paso Robles 2012 was a blend of Barbera and Sangiovese. The wine was a translucent red color with cherry notes. The wine had mild tannins and was medium/full bodied. The finish had fruit notes leading to baking spices.
Grand Roughe Paso Robles 2012 was a blend of Counoise, Grenache and Syrah. The wine was a translucent ruby color with notes of cherries, blueberries, and black raspberries. The wine was medium-bodied with mild tannins.
Petite Sirah 2012 was dark ruby opaque to black color. The wine was very fruity with notes of blackberries and black cherries. The wine had bold tannins and a full body.
Mountain Zinfandel 2014 had 16.3% alcohol. The wine was a translucent ruby color. The wine had notes of perfume and jammy fruits. Terry described this wine with a simple, "Yum!" The wine was full-bodied with bold tannins.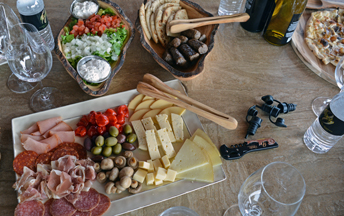 The Food Pairings at Opolo
The types of food at Opolo include five categories: pizza, mezze, oysters, cevapi and greens. During our visit our conversation was accompanied with large portions of Margherita pizza, and the chef's specialty pizza with chicken. Mezze includes choices of cured meats, artisan cheeses and a combination platter that included charcuterie, cheese, mushrooms and olives. Oysters were available raw, Rockefeller and casino-style. The more unusual Cevapi sausage platter was also served. The cevapi is made at Opolo.
The Inn at Opolo
Opolo offers onsite lodging. Guests can walk to the winery to enjoy a wine tasting. The inn is spacious and includes a Mediterranean-style kitchen with dark wood cabinets and a dish washer. The room we visited had a small, cozy whirlpool. Wine related art adds to the wall decor. A long deck with several comfortable chaise lounges overlooks the beautiful Paso Robles countryside.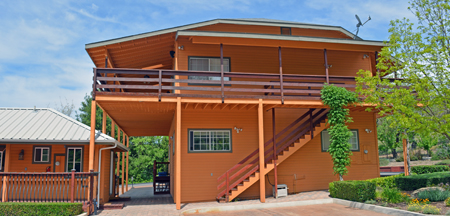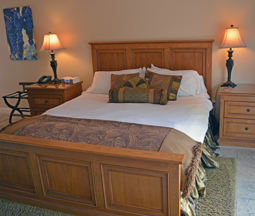 Opolo Vineyards, with large umbrellas and lovely views of the countryside and vineyards would be a wonderful stop for lunch, relaxation and a glass of wine, or just plan to spend the day. When visiting Paso Robles be sure to have Opolo Vineyards on your itinerary.
Opolo Vineyards
7110 Vineyard Drive
Paso Robles, California 93446
GPS: N35º 35.494' W120º 48.932'
Article written May 2016
---
Visit these California organizations and wineries that partner with Wine Trail Traveler.