Claiborne & Churchill Winery
by
Terry Sullivan

Summary: In 1981, after leaving academic careers in Michigan, Claiborne (Clay) Thompson and Fredericka Churchill Thompson settled along California's Central Coast and began a new journey into winemaking. They settled in the Edna Valley of San Luis Obispo where they began to craft dry Alsatian-styled white wines.
Clay and Fredericka were traveling through the Edna Valley tasting wines. They were bitten by the "wine bug." Clay mentioned that he liked the idea of a Harvard Phd leaving the academic field to work in the wine industry for $6.00 an hour. He was allowed to make his own wine in a corner of a winery. The "wine bug" continued to grow and by 1983 they founded the winery combining Clay's first name and Fredericka's maiden name. A decade later, the couple built a permanent winery building at its present location. By 1995 the new winery was crafting award winning wines. Claiborne & Churchill now produces 8,000 cases of wine and have handed over the winemaking to Coby Parker-Garcia, a San Luis Obispo native.
We met Clay and Fredericka on a warm, sunny spring day in April. They and the winery staff were very welcoming. Clay promptly gave us a glass of their dry Gewürztraminer, and took us on a walk around the property. We observed a small planting of Pinot Noir, already near the flowering stage. There is ½ acre of Pinot Noir planted on the property and two acres of Riesling. The bulk of the grapes are sourced from local growers in the Edna Valley, Paso Robles and the greater Central Coast area.
Clay mentioned that the winery facility was built with straw bales used as insulation between the interior and exterior walls. We mentioned a winery in Maryland that also did this and the truth hole they have for people to see the straw between the walls. Clay smiled and showed us his truth hole. He used an oval picture frame to provide a portal so tourists can view the rice straw interior. Straw is a good insulator and since it has no nutritional value, animals leave it alone.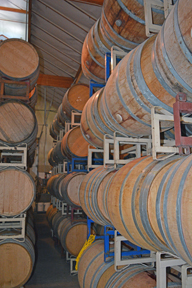 We spent the afternoon sitting in a comfortable area outside and tasted several Claiborne & Churchill wines. The outdoor seating area was delightful. Several conversation settings are arranged. Chinese elms with their leafy green leaves danced merrily in the wind also provided shade. Although a bit windy, the sunshine was a treat after the cloudy and rainy days we left behind. Fredericka and Clay were philosophical about their wines. They want to produce wines (dry Alsatian-styled whites) that were not well known to the general wine drinking public. They took a risk in crafting wines that they liked. Clay mentioned, "The public eventually agreed with us." One measurement of success is that the winery staff seems to "be there forever. Employees never leave."
When answering the question, what do you wish you knew when you began, Clay replied that he was "very happy he didn't know how hard it would be. Lo and behold we did it."
Wines
The setting was perfect for wine tasting. The 2014 Dry Gewürztraminer, Central Coast was a light yellow color. The aroma was very floral with a hint of spice. There was some citrus and peach notes on the taste. Rose notes added to the fruit on the finish. The 2014 Dry Riesling, Central Coast was a light yellow color. It offered floral notes along with mineral, petrol and peach. The crisp finish had a long complex aftertaste. Rieslings are Fredericka's favorite wines because Riesling goes with so many foods.
A rosé was named after Clay's and Fredericka's daughter who markets the wines. The 2015 Cuvée Elizabeth was a rosé of Pinot Noir. The wine had a light red with orange hue color. It offered red berry fruits and was crisp and fruity. Suggested food pairings for the rosé included grilled meats, grilled salmon and barbecued ribs. The owners suggest that the rosé was good with "anything you can pair with Pinot Noir."
The 2014 Estate Pinot Noir, Edna Valley was a favorite. The translucent red colored wine reminded me of red cherries, red raspberries and licorice. The wine had medium tannins and was medium-bodied. There was a perceived sweetness due to the luscious fruits expressed. The wine was dry, but this perceived sweetness was alluring. The 2014 Twin Creeks Estate Pinot Noir, Edna Valley had a translucent red color. Red raspberries were predominant. The wine had medium tannins and a medium/full body. The crisp finish had a fruity aftertaste that yielded to earthiness. The 2014 Malbec, Paso Robles was a dark red color. It reminded me of a red and black berry fruit salad. The very fruity wine had medium/bold tannins and a medium/full body. The finish was crisp and very fruity.
Each bottle of wine was attractively labeled with labels designed by Fredericka's sister.
Events
Every other week from June through September, there are Friday night music events called Sips & Songs Concert Series. Food trucks are available and wine is available by the bottle or by the glass.
If you like dry white and red wines enjoy a visit to Claiborne & Churchill in the Edna Valley AVA. This is a laid-back experience where you can enjoy well crafted wines at your leisure taking in the scenery.

Claiborne & Churchill Winery
2649 Carpenter Canyon Rd
San Luis Obispo, California 93401
GPS: N35º 11.904' W120º 36.316'
Article written April 2016
---
Visit these California organizations and wineries that partner with Wine Trail Traveler.