Vina Robles
by
Kathy Sullivan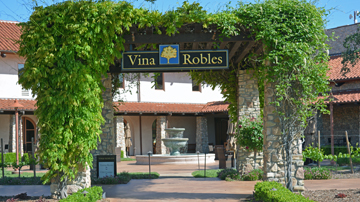 Summary: Vina Robles Vineyards & Winery is a wine, food and music destination site in Paso Robles that includes a large amphitheater. The owners with a Swiss heritage have an interest in wine and established the winery and amphitheater. The tagline for Vina Robles is "European Inspiration-California Character."
A large circle of colorful flowers at the entrance of the winery invites people to stop and discover Vina Robles. Visitors to Vina Robles will find the front of the red roof tiled facility is graced with a large arbor covered with vines and a fountain. Just inside the tasting room doors, a Texas leather saddle award is proudly displayed. The award was for the Grand Champion Best of Show 2009. The first room visitors enter is a sophisticated marketplace for special wine related items. Adjacent is the spacious tasting room with a tasting counter, fireplace and table settings for special wine tastings.
Nearby another large room is available for seminars. Adding to the ambiance, all rooms are decorated with large pieces of original artwork. Some of the artwork is by a local artist.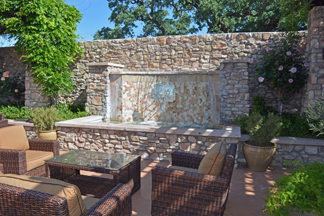 Outside of the tasting room an area is set aside for wine club members. A wall of water flows over stone tiles enhancing the winery logo. The logo is the image of a tree in one of the five Vina Robles vineyards. All vineyards are located in the Paso Robles AVA. The vineyards are SIP, "Sustainability in Practice" certified.
The winery is influenced by European and California aspects. Indeed, the tagline is "European Inspiration-California Character." Vina Robles Vineyards & Winery was started by two Swiss families. Hans Nef is the founder and owner and Hans–Rudolf Michel is the managing partner. Hans Nef continues living in Switzerland but visits Vina Robles several times a year.
The idea behind establishing the Vina Robles winery was that Hans Nef enjoyed Bordeaux wines and wanted to have his own vineyard. He purchased the land without vineyards in 1997 and planted grapevines. At the time vineyard operations were in a farmhouse. In the beginning they rented space at a winery for producing their own wines.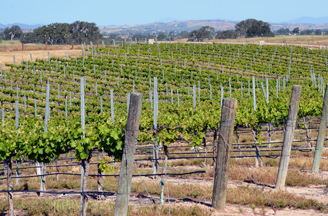 Today the winery owns 1,000 acres of vineyards but only uses the best 15% for producing Vina Robles wines. The remainder of grapes are sold to other wineries. The vineyards are planted with 20 grape varieties. The largest grape varieties planted include Cabernet Sauvignon, Petite Sirah, Viognier and Sauvignon Blanc.
Currently the wines are produced at another winery where Vina Robles has their own equipment and rents space. The first wine vintages resulted in a low production and all of the wines were shipped to Switzerland. Today Vina Robles produces 35,000 cases and wines are shipped throughout the United States and to Japan, Canada, Switzerland, Denmark, United Kingdom, Sweden, and China.
Amphitheater at Vina Robles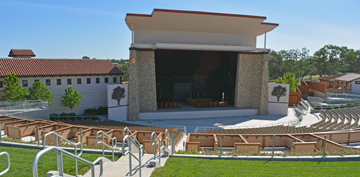 The Amphitheater was built and opened in 2013. Detailed plans ensure that all 3,300 seats have a good view of the stage. While visiting, we were told "there is not a bad seat in the house." Approximately 25 shows are scheduled from April through October. Several small buildings are open during the concerts where visitors can purchase different types of foods including pizzas. The amphitheater is one of the only music event venues of its type along the Central Coast.
Vina Robles White Wines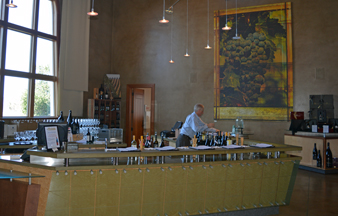 The 2014 Sauvignon Blanc Paso Robles with 14.6% alcohol was a yellow color with aroma notes of citrus and tropical fruits. The taste was smooth with tropical fruits, melon and pineapple with a citrus backbone. The crisp finish yielded to mineral. Pairing suggestions included seafood and hard cheeses.
The 2014 White 4 Paso Robles, with 14.9%, alcohol was a blend of Viognier, Vermentino, Verdelho and Sauvignon Blanc. This yellow colored wine offered an aroma of floral and tropical fruit with a background of citrus. The taste had notes of melon, pineapple and citrus. The finish was crisp and fruity with a perceived sweetness due to the fruit. The fruit yielded to mineral. Pairing suggestions included green curry and seafood.
Vina Robles Red Wines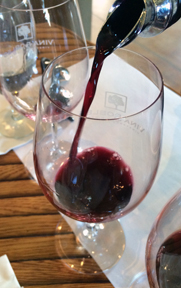 Red 4 Paso Robles 2012 had 13.9% alcohol. The wine was a blend of Petite Sirah, Syrah, Grenache, and Mourvedre. The wine was an opaque dark ruby color. The wine offered an aroma of red and black fruit notes. The mouthfeel was very smooth and the taste had notes of cherries, raspberries. plums, and leather with a hint of licorice. The wine was medium-bodied with medium tannins. Pairing suggestions included grilled meats and pizza.
The 2013 Cabernet Sauvignon Paso Robles, with 14.6% alcohol, was a blend of Cabernet Sauvignon and Petit Verdot. The wine was an opaque dark ruby color to light black color. The aroma was of black fruits. The taste had notes of blackberries, black raspberries, black cherries, leather and licorice. The wine had medium to bold tannins and was full-bodied. The finish was fruity. Pairing suggestions included braised beef and pasta with mushrooms.
The 2012 Petite Sirah Paso Robles had 14.3% alcohol. The wine was an opaque dark purple to black color with notes of dark fruits including plum and black cherry. There were also licorice notes. The wine offered bold chewy tannins and was full-bodied.
Vina Robles also produces the Cuvee Collection which are small productions of red blends.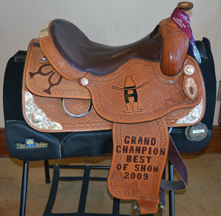 The 2012 Suendero, with 14.7% alcohol, was a blend of Cabernet Sauvignon, Petit Verdot and Malbec. The wine was a dark ruby to purple color with black fruit notes including black cherries and blackberries. The wine had a smooth mouthfeel with medium to bold tannins and was full-bodied. The Suendero won the Texas saddle award mentioned earlier. Pairing suggestions included flank steak and venison with spätzli and chestnuts.
The 2012 Syrée was a blend of Syrah and Petite Sirah. This wine was an opaque dark ruby to violet color with dark fruit notes of blackberries. Other notes included leather, licorice and baking spices. The wine had medium to bold tannins with a full body. The wine offered a long fruit aftertaste. Pairing suggestions included venison and braised short ribs.
Signature 2012 was a blend of Petit Verdot and Petite Sirah. The opaque dark purple to black wine offered notes of black fruits including blackberries and black caps. The wine had bold tannins and was full-bodied. Pairing suggestions included dense cheeses and braised beef.
Port-Style Wine
Segredo Paso Robles 2012 had 18% alcohol. The wine was produced with Petite Sirah. The wine was a dark ruby color. The aroma and taste were of dried fruits. The mouthfeel was very smooth with no burn.
The owners would like people to know that they are producing quality wines at a good price point.
When visiting wineries in Paso Robles, add Vina Robles to your itinerary. Anyone who enjoys music events should check out the amphitheater.

Vina Robles Hospitality Center
3700 Mill Road
Paso Robles, CA 93446
GPS: N35º 38.737' W120º 37.840'
Article written April 2016
---
Visit these California organizations and wineries that partner with Wine Trail Traveler.