The Farm Winery
Tasting at 15 Degree C, Templeton
by
Terry Sullivan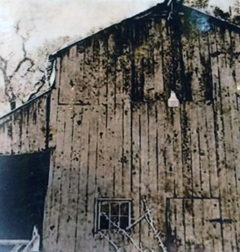 Summary: The Farm Winery is a dream come true for the four owners. This is a small production winery that has tastings at a local wine shop and bar in Templeton.
The owners of The Farm Winery are four friends from Argentina and California. They met over three decades ago. Santiago and Mercedes Achaval visited Napa with Jim and Azmina Madsen. During the years they were attending a university for Master's Degrees, they would visit Napa. Santiago caught the wine bug and explained that he enjoyed the cellars, vineyards and the people crafting the wines. In a podcast, Santiago spoke about his father, a medical doctor who told him, "You caught a virus. It is contagious and will do a lot of damage to your checking account."
After receiving their degrees, Santiago and Mercedes returned to their corporate careers in Argentina while Jim and Azmina returned to their careers in San Diego. The four friends kept in touch visiting each other through the years.
Santiago and Mercedes utilized their passions to begin making wine in Mendoza, Argentina. They founded Achaval-Ferrer in 1999. Santiago crafted several high scoring Malbecs in Argentina. After Jim and Azmina became empty nesters, the wine bug caught them and the idea of making a world class wine together with Santiago and Mercedes in Paso Robles was born.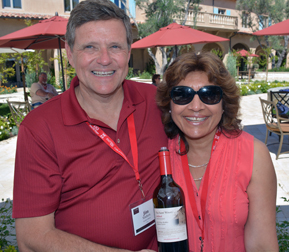 We met Jim and Azmina at the CABs of Distinction grand tasting event at the Allegretto Vineyard Resort in Paso Robles. Since they were leaving town and we could not visit them at the winery, we decided to have an online interview.
Interview with Jim Madsen
How and when did your wine journey begin?
As consumers for over 30 years.  We view wine as a food group and find dinner is incomplete without!
What influenced you to plant vineyards and make wine?
We were grad school classmates in the 1980's with Santiago Achaval, who has gone on to be one of the world's great winemakers. It was a moment of inspiration by Azmina to propose launching a winery in Paso Robles with our dear friends, the Achavals, from Argentina.
Tell us about the vineyard.
The Farm Winery is in Paso Robles Adelaida District AVA and we farm 12 acres.  They include the oldest surviving Cabernet vineyard in Paso (now 52 years old) and what's believed to be the highest elevation Grenache at 1800' on a hill of limestone.  We also farm small bits of Malbec, Petit Verdot and Syrah.
What do you wish you knew when you started planting vineyards and crafting wine that you know now?
Make sure you want to embrace long hours and hard physical work - which we do! We believe farming is the key to creating special wines and why we chose the name, The Farm Winery. We have no employees and do all the work. We produce about 200 cases of each wine per vintage, and have no plans to grow production.
What advice would you offer someone new to vineyards and winemaking that are just starting out with a vineyard and winery?
Make sure you love wine and love making wine.  Make sure you like selling and you'll be able to sell the wine!   Expect 10+ years of negative cash flow.  Start small and stay small until you have more demand than wine.  Think about sales before you think about making the wine.  Define your identity before making the wine.  And have the wines respond to that identity.  Develop stories that will be told.  The stories all have to be true, but cannot be left to chance.
Tasting The Farm Winery Wines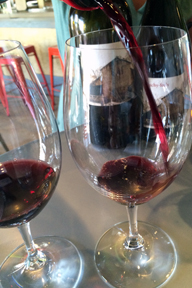 Wine enthusiasts can taste The Farm Winery's wines at 15 degrees C in downtown Templeton. Ali Carscaden is a sommelier and owner of the wine shop and bar. Reservations are needed to taste The Farm Winery wines. The tasting takes place at one of the tables. Three wines in Riedel stemware are placed on a special placemat with information about the wines. We tasted three wines.
The 2010 Touchy-Feely Paso Robles was a Grenache and Syrah blend. The opaque ruby colored wine had cherry and raspberry notes and a perceived sweetness. The smooth mouthfeel was accompanied by medium bold tannins and a full body. The fruity finish yielded to a chalky aftertaste.
The Big Game, 2010 Paso Robles was a blend of Cabernet Sauvignon, Petit Verdot and Syrah. This Bordeaux/Rhone blend was an opaque ruby color with a purple hue. The aroma and taste had layers of black cherries, plums, blackberries and chalk. The wine had very bold tannins and a full body. The finish started with fruit and moved to baking spices and finally chalk on the aftertaste. This is definitely a food wine.
Our third wine tasted was a 2011 LPF Paso Robles. This wine was 100% Cabernet Sauvignon. It had an opaque dark ruby color. Cassis, blackberries and licorice were noticed. The wine had bold tannins and was full-bodied. Fruit yielded to baking spices on the finish. According to Jim, "LPF is a term in economics and stands for Liquidity Preference Function. It measures whether a consumer wishes to spend now or save for the future as their liquidity preference. The Cabernet, LPF, can be savored now or cellared for many years, depending on the winelover's liquidity preference!"
Stop at 15 Degrees C to taste three of The Farm Winery's wines. Discover wines crafted with passion.

The Farm Winery
Tasting at 15 Degree C
624 S Main St #101
Templeton, California 93465
GPS: N35º 32.872' W120º 42.444'
Article written April 2016
---
Visit these California organizations and wineries that partner with Wine Trail Traveler.