J. Lohr Vineyards & Wines
by
Kathy Sullivan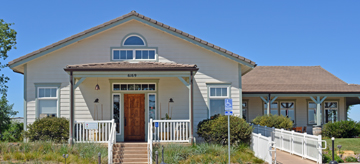 Summary: J. Lohr Vineyards is one of the largest wineries in California's Paso Robles AVA. The winery has a history dating back to 1974 before Paso Robles was recognized as a great wine growing region. When visiting the winery, taste the wines and ask about the wine club tours.
The J. Lohr Vineyards & Wines tasting center in Paso Robles reminds one of an old, restored home. The wood front door is carved with images of winemaking scenes. A white railing and porch add to the comfortable feel of your visit.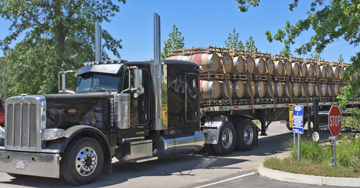 Just before we entered the tasting room a large truck filled with 80 oak barrels rolled out the driveway. Later we learned that these barrels were already filled with wine. Inside the tasting room, the sides of the tasting counter are wood and topped with granite. When you visit be sure to check out the cart made of an oak barrel. Nearby wine-related gift items are available to browse.
As soon as you enter, expect a friendly hello. After our arrival and within a few quick minutes we met assistant winemaker Brenden Wood. Brenden has been with J. Lohr Vineyards for several years beginning as a laboratory technician, then moving on to oenologist and now his current work as assistant winemaker. When asked how many hours a week he normally works, his estimate was 50 hours. He commented, "Nothing is better than touching, smelling and tasting the wines."
J. Lohr Vineyards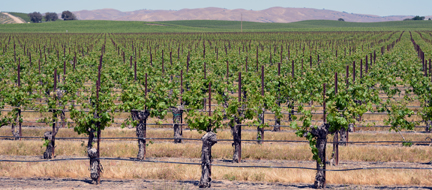 In Paso Robles J. Lohr has 2,400 acres of vineyards. The vineyard close to the tasting room has 800 vineyard acres. The vineyards encompass more than 20 grape varieties. Grape varieties include: Cabernet Sauvignon with the largest number of vines, Merlot, Petit Verdot, Petite Sirah, Syrah and Cabernet Franc. There are also also smaller plantings of Malbec, Grenache Noir, Viognier, Roussanne, Mourvèdre and Grenache Blanc. The grapes for the top wines are hand harvested.
At the winery site next to the vineyards there is a three acre solar panel array that provides 75% of the electric needs for the winery. Every day, the panels track the sun from east to west. With the abundance of sunny days, the solar panel array provides clean, renewable energy.

J. Lohr Vineyards & Wines is conservation conscious. Brenden noted that the winery has one of the lowest water consumption rates in the industry.
Winery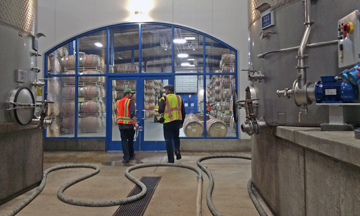 According to Brenden, J. Lohr has 24,000 barrels of wine at this location and another 30,000 barrels in Templeton. Here in Paso Robles, they are producing one million cases. J. Lohr has 200 employees and 50 of these employees are involved in sales and marketing.
During our walk through the winery, we saw the staff busy with filling oak barrels, washing barrels and a unique but noisy way of cleaning oak barrel bungs.
J. Lohr seeks to produce wines that are fruit forward while keeping a handle on the tannins. The process includes using pump over for stainless steel tanks holding 20 tons. Each tank has a control on it that can be controlled with an iphone. Punch down procedures are used for smaller tanks. Other winemaking strategies include pressing grapes early and extracting early. The winemaker uses spectral analysis to find the "sweet spot" for tannins. Small lots of wines are bottled with a bottling truck.
Wine Tastings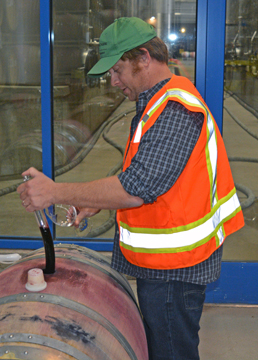 While walking through the winery buildings on the Paso Robles J. Lohr campus with Brenden, we tasted several wines from barrels. The Cuvée Pom 2014 was produced with Merlot, Malbec and Cabernet Franc. The wine was an opaque dark purple to black color. The wine offered notes of black fruits including: blackberries, blueberries and black cherries. The wine had bold tannins and was full-bodied. The finish was fruity with a hint of licorice.
Hilltop Cabernet Sauvignon 2014 was an opaque dark purple to black color. The grapes for this wine were harvested from vineyards located within several sub appellation of Paso Robles. The wine had notes of blackberries and bold tannins. It was full-bodied and had a fruity finish.
Pinot Noir Arroyo Seco AVA 2015 was an opaque to dark purple color. There were noticeable notes of raspberries. The wine had medium tannins and was full-bodied.
We tasted the 7 Oaks Cab 2014 from a stainless steel tank, ready for bottling. The wine was an opaque dark ruby color. The wine offered notes of blackberries and cassis. There were bold tannins and the wine was full-bodied. The finish was crisp and fruity.
Later after our tour we tasted two wines at the tasting room.
The Cuveé Pom 2012 was a blend of Merlot, Malbec, Cabernet Franc and Cabernet Sauvignon. The wine was a dark ruby to black color. It offered notes of black cherries, blueberries and black raspberries. The wine had bold tannins and was full-bodied. The finish was fruity with some licorice hints.
Gesture Paso Robles 2014 was produced with Viognier with a splash of Roussanne and Grenache Blanc. The light yellow color wine offered notes of floral and tropical fruit including melon and banana. The wine was crisp and fruity. The wine label offered more information for the wine enthusiast including total acidity at harvest, ph at harvest, brix at harvest, soil type and the number of cases.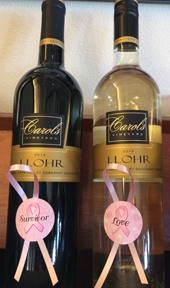 Carol's Vineyard Fundraiser for Mammograms
In 2009 J. Lohr Vineyards & Wines began working to support and encourage mammograms by producing two very special wines from Carol's Vineyard. The wines are the J. Lohr Carol's Vineyard Sauvignon Blanc and the Carol's Vineyard Cabernet Sauvignon. For each bottle of wine purchased the winery donates two dollars to the National Breast Cancer Foundation. These wines are only available in the winery tasting room. The campaign is called, " Touching Lives, One Toast at a Time."
When planning to visit J. Lohr Vineyards & Wines in Paso Robles to taste the numerous wines, bring a picnic basket to enjoy on the grounds. Be sure to ask about the wine club member winery tour. If you plan to take a tour, wear your walking shoes!
J. Lohr Vineyards & Wines
6169 Airport Rd
Paso Robles, CA 93446
GPS: N35º 41.451' W120º 38.448'
Article written May 2016
---
Visit these California organizations and wineries that partner with Wine Trail Traveler.