San Antonio Winery
by
Kathy and Terry Sullivan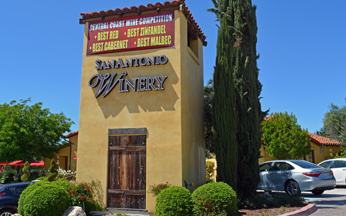 Update: We updated the San Antonio Winery article in 2020 with an online interview. San Antonio Winery also provided additional photos and three wine samples for us to taste.
Summary: San Antonio Winery, in Los Angeles is the oldest winery in Los Angeles dating back to 1917 when started by an Italian immigrant. Today the winery tasting room in Paso Robles is filled with numerous types of wines including some exported from their partner in Italy. Food is available in the tasting room.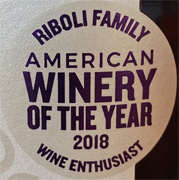 In 2018, San Antonio Winery was awarded American Winery of the Year by Wine Enthusiast. This family owned winery has grown for over 100 years and led by four generations of the Riboli family. The family owns vineyards in several California locations. There are also partnerships in Italy and Portugal. The partnership in Italy creates wines for the Stella Rosa brand.
History
San Antonio Winery was started in 1917 by Santo Cambianica. In 1910, Santo left Berzo San Fermo in Northern Italy and came to the United States. Santo was very religious and named the winery for his patron saint, Saint Anthony. Years later in 1956 the winery passed on to Santo's nephew Stefano and Maddalena Riboli.
The San Antonio tasting room in Paso Robles, with yellow adobe walls and a large patio, is located in the El Pomar sub AVA. A staff member noted that Maddalena is considered a visionary. Today, the winery owns vineyards in Paso Robles, Monterey, and Rutherford (Napa Valley). Currently the San Antonio Winery has three locations that include Los Angeles, Ontario and Paso Robles. We visited the easy to locate tasting room in Paso Robles. At the time of our visit, we discovered that a new winery facility was under construction just down the road.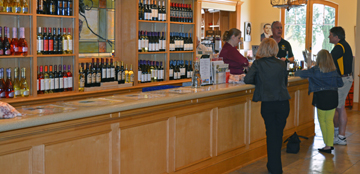 Outside of the tasting room two large flags, Italy and United States, flapped breezily in the wind. Just inside the front door, a selection of freshly-made menu items was displayed. These dishes were very tempting as we walked past. The tasting room is large and bright. Decor included San Antonio oak barrels and a fireplace. One area is filled with a tasting counter and several round tables with chairs. The retail area consisted of shelves with numerous gift items.
We were curious as to how San Antonio Winery survived the affect of prohibition. One member of the staff noted that the owners were very religious and produced sacramental wines. Today the winery is still one of the largest producers of sacramental wine in the country, while still producing a variety of award-winning wines ranging from dry to sweet.
Vineyards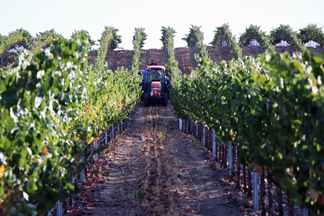 The Riboli family has vineyards in Napa Valley, Paso Robles and Monterey California. The vineyard in Napa Valley is located in Rutherford. The Riboli Family Vineyard comprises 16 acres of vineyards mostly of Cabernet Sauvignon and a bit of Petit Verdot. The vines are growing in clay loam.
The family owns five vineyards in Paso Robles. The Stefano Vineyard was named after the family patriarch Stefano Riboli. This 83-acre vineyard is planted with Cabernet Sauvignon, Petite Verdot, Malbec, Grenache, Petite Sirah, Primitivo, Mourvedre and Viognier. The vines are growing in an arbuckle-positas soil. Across from the Stefano Vineyard is the 72-acre vineyard named for the family matriarch Maddalena Riboli (pictured right; image provided by San Antonio Winery). Today, the Maddalena Vineyard is planted with Cabernet Sauvignon, Malbec, Merlot, Petite Sirah, Syrah and Primitivo on a linne-calodo soil.
Another Passo Robles vineyard is Pretty Penny. This vineyard has 20 acres of Cabernet Sauvignon on arbuckle-positas soil. The Riboli Creston vineyard is the second largest with 320 acres. Several varietal grapes are planted in arbuckle-positas soil including: Cabernet Sauvignon, Cabernet Franc, Grenache, Merlot, Sauvignon Blanc, Roussanne, Syrah, Tannat and Tempranillo. The fifth vineyard in Paso Robles is called Creston Highlands, a 250-acre vineyard with vines growing in Nacimiento and balcom soils. The varieties planted include: Cabernet Sauvignon, Mourvedre, Sauvignon Blanc, Syrah and Petit Verdot.
Four family vineyards are located in Monterey. The Rancho Soledad Vineyard has 282 acres. Riesling and Pinot Grigio are planted in placentia sandy loam. The largest family vineyard is the Sarmento Vineyard with 340 acres. This vineyard is home to Chardonnay and Pinot Noir. Vines are planted in chualar loam. The El Camino Real Vineyard has 64 acres of Chardonnay planted in arroyo seco gravelly sandy loam. The Loma Vista Vineyard comprises 272 acres of Chardonnay also planted in arroyo seco gravelly sandy loam.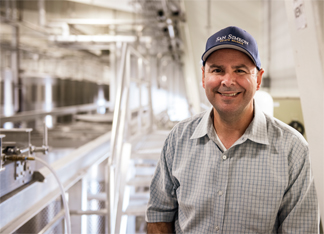 We asked, "What is the most enjoyable aspect of working in the vineyard?" Anthony Riboli (pictured left; image provided by San Antonio Winery) answered, "The harvest is definitely the most exciting and challenging time.  We only have 1 harvest per year so it's so important to make it the best possible."
Touching "Chicken Soup" Story
While attending the CABs of Distinction program in Paso Robles during April of 2016, we listened to winemaker Anthony Riboli. He mentioned how they had a vineyard named for his grandfather, Stefano. When talking about his grandfather's vineyard, his grandmother Maddalena asked, "Where is my vineyard?" The winery was able to purchase a vineyard and name it Maddalena. Today the two vineyards sit across from each other as if posed looking at each other.
Production Facilities
The winery now has two production facilities. The oldest is in Los Angeles. This is the site of the original winery built in 1917. Today this site is used for fermentation, bottling and shipping. A new winery facility was built in Paso Robles. The facility is certified as 100% sustainable. This building, that also serves as an event center, is where most of the harvested grapes come to be processed and crafted into wines.
Wine Trail Traveler asked, "What part of the job is the winemaker's favorite?" Anthony Riboli answered, "Making the final blend before bottling is always awesome.  It's the culmination of months if not years of work and waiting!"
Wines 2020 Tasting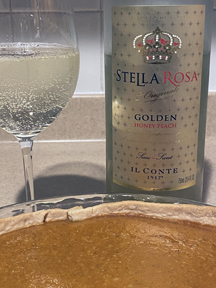 One of the samples sent to us was a Stella Rosa brand wine. Stella Rosa wines were created by the Riboli family. The wines are crafted in the Asti region of the Piedmont. This is important to the Riboli family since Maddalena Riboli was born there. The brand features a semi-sweet, semi-sparkling wine. The Stella Rosa Golden Honey Peach was a yellow color with 5% alcohol. There was a slight effervescence in the mouth, enough to wake you up. Honeysuckle, yellow stone fruit and orange blossoms were on the aroma. The taste offered stone fruit and honey. The finish was sweet and refreshing with peach and honey notes. We paired this wine with pumpkin pie. The sugar levels in the wine and pie were equally matched. The spices in the pie paired well with the floral and yellow stone fruit notes of the wine.
The 2017 San Simeon Monterey Chardonnay was made with grapes from the family vineyards in both the Santa Lucia Highland AVA and the Arroyo Seco AVA. The 100% Chardonnay wine was fermented mostly in French oak barrels. The wine had 14.9% alcohol. The color was a light gold and the aroma included apple, pear and caramel. The taste also included apple, pear and caramel and was reminiscent of caramel apples. The wine was full bodied. The finish had lots of apple, caramel and pear with a hint of citrus.
The 2017 Maddalena Cabernet Sauvignon, with 14.5% alcohol, was an opaque dark purple color with a black hue and ruby rim. The aroma was reminiscent of a black fruit salad. The taste included blackberries, cassis, leather and baking spices. The wine was full bodied with bold tannins. The finish was fruity and spicy.
San Antonio Wines 2016 Tasting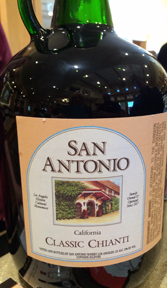 While tasting San Antonio wines, we were shown wine bottles in large formats that reminded one of another era. Large jugs of wines looked like gallon jug wines. We were quickly informed that these were not gallon-size but held four liters (4 liters is equivalent to 1.0566882 gallons).
The 2014 Maddalena Sauvignon Blanc Paso Robles wine was 14.1% alcohol and was a light yellow color. The wine offered notes of citrus, tropical fruits, pineapple, and melon. The wine was crisp and refreshing. The back label provides a lovely description of Maddalena. "In 1946, family matriarch Maddalena Riboli began her lifelong journey with San Antonio Winery. She founded one of the first tasting rooms in the state and a highly successful restaurant."
The Viognier Paso Robles Estate Reserve 2014 was a pale straw color with floral and tropical fruit notes. Pair this crisp, full-bodied wine with poultry, fish and spicy cuisine.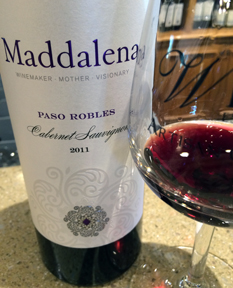 The 2012 San Simeon Cabernet Franc wine was an opaque dark ruby color. The full-bodied wine offered notes of perfume and black fruit with bold tannins. It was very crisp.
The 2010 Opaque Malbec Paso Robles was 14.5% alcohol. This wine was aged mostly in French oak. The wine was a ruby color with an aroma of dark fruits. The wine offered a soft mouthfeel and a taste of black cherries and blackberries. It had medium tannins with a medium/full body.
The Maddalena Cabernet Sauvignon 2011 was a ruby color. The wine offered notes of earthiness and dark fruits including blackberries. The wine had bold tannins and was a full-bodied wine. There was a lingering fruity finish.
Cask 520 Paso Robles was a blend of Cabernet Sauvignon, Merlot, Petit Verdot, and Malbec. The aroma was of black fruit. The mouthfeel was smooth with black cherry and blackberry notes. The wine had bold tannins with a full body. There was a long fruit aftertaste.
San Antonio Winery owners want people to know that, for them, history is important as well as the quality of the wine and the time that the winemakers spend producing the wines. They also would like consumers to know that the winemakers spend a great deal of time producing wines that will appeal to everyone.
San Antonio Winery
2610 Buena Vista Drive
Paso Robles, California 93446
GPS: N35º 38.700' W120º 40.348'
Article written April 2016
Update written November 2020
---
Visit these California organizations and wineries that partner with Wine Trail Traveler.