Autry Cellars
by
Kathy Sullivan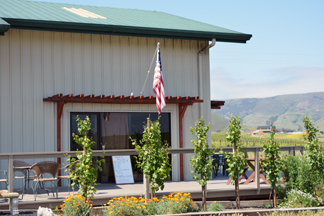 Summary: Autry Cellars is a small, boutique winery located within minutes of San Luis Obispo Airport. The winery site offers beautiful views of the rolling hills that separate the area from the Pacific Ocean. When visiting Autry Cellars, ask Steve to explain the dynamics of sound as a 50 passenger CRJ flies overhead into San Luis Obispo airport.
We arrived at Autry Cellars a short distance from the San Luis Obispo Airport, where we discovered enthusiastic winemaker and owner, Steve Autry. During our visit, Steve explained, "Playing music and making wine is a passion." We were also greeted by Muscat, a beautiful orange cat who was abandoned and Steve adopted. Steve also adopted Muscat's mother.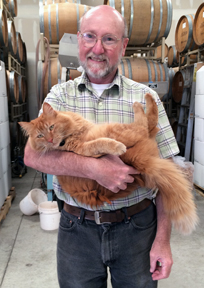 Originally a scientist involved in aerospace research and development, Steve has put his heart, soul and science background into producing the best wines possible. He first became interested in wines when he went wine tasting with friends from his aerospace days. He recalls that in 1983 he went to Big Sur and at a restaurant bought a Zinfandel, the cheapest one on the wine list. It was a 1976 old vine zin. For Steve it was an epiphany and he thought, "Someday I want to make a wine like this." Years later he looked around and said, Oh my gosh, I'm doing it."
Steve began making wine at home. He also worked selling winemaking supplies. Eventually this led him to producing wine commercially. Steve has also developed an intense interest in crafting spirits. He explains in detail how he creates spirits using his own handcrafted still. He already contemplates making changes to increase the efficiency of the still. Steve is producing a grappa and brandy.
The one-story winery building is a combination tasting room with a porch that wraps partially around the building, a winemaking room and a room for distilling. Visitors can sit on the deck with a glass of wine in hand and enjoy the vineyards that surround Autry Cellars and the beautiful views of rolling hills in Edna Valley.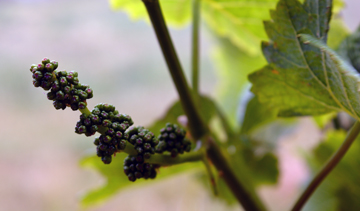 Steve sources the grapes for his wines from vineyards throughout San Luis Obispo County. For oak influences he uses neutral oak barrels and oak staves. His winemaking protocol includes using enzymes and tannins at the beginning of fermentation. He prefers using thicker pieces of oak staves.
Currently Steve is producing 1,000 cases with 16 varieties. In addition to producing wine and spirits, Steve is experimenting with making a sparkling ginger mead.
Autry Cellars Wines
We tasted several of Steve's wines beginning with the 2013 Viognier Paso Robles. The Viognier was sourced from 10 miles south of Paso Robles. The fruit hung on the vines a bit longer. The wine was yellow with notes of caramel, floral, peaches, apples and pears. The wine was full-bodied with a soft mouthfeel. The aftertaste was fruity with hints of caramel. Pairing suggestions included fish and shellfish. Viognier 2013 price: $32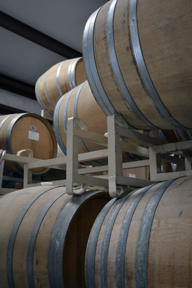 The 2012 Pinot Noir Edna Valley wine was produced with dry cropped Pinot Noir. The wine was a translucent red color with a sienna hue. The wine offered notes of red raspberries, cherries and some leather. The full-bodied wine had medium tannins. Fruit notes were on the aftertaste.
The 2009 Cabernet Franc Paso Robles was a translucent ruby color with a sienna hue. The wine offered dark fruit notes including blackberries and plums. The wine was full-bodied with medium tannins.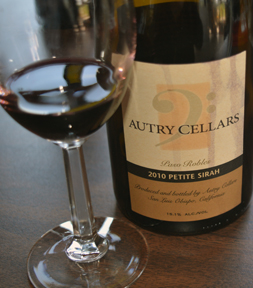 Merlot Paso Robles 2010 was a translucent dark ruby color with a sienna hue. The aroma offered notes of cherries. The wine had a perceived sweetness. The taste was of cherries and leather. This full-bodied wine had medium tannins with a long cherry aftertaste.
Malbec Paso Robles 2012 was a translucent red with a pink hue color. The wine offered notes of raspberries, cherries, leather and licorice . The medium/full-bodied wine had medium tannins. This is a very easy drinking red wine with a lot going on. Pair this wine with shrimp scampi, stroganoff, grilled meats and roasted lamb. Price: $44
The 2010 Petite Sirah Paso Robles was an opaque dark ruby to black color. The wine offered black fruits and vanilla notes on the aroma. The taste was of black berries, black cherries with fruit and chocolate on the aftertaste. This full-bodied wine had bold tannins. The Petite Sirah is Steve's largest production. Pairing suggestions included: beef, game, Italian cuisine and spicy food. Petite Sirah 2010 price: $38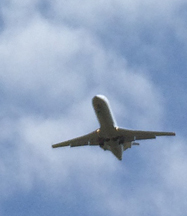 Autry Cellars is located about 1.5 miles from San Luis Obispo airport. On your way to or from the airport stop by the tasting room for a wine tasting and chat with Steve Autry. If your timing is right, you can watch a CRJ jet fly over the winery. Remain silent and sense the sound waves as they kiss the surrounding vineyards.
Autrey Cellars
5450 Edna Road
San Luis Obispo, California 93401
GPS: N35º 13.538' W120º 37.284'
Article written April 2016
---
Visit these California organizations and wineries that partner with Wine Trail Traveler.