Chateau Margene
by
Kathy and Terry Sullivan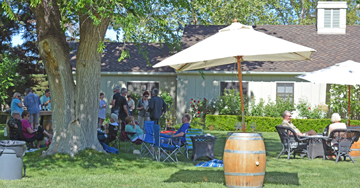 Summary: Chateau Margene is a small, boutique winery in Paso Robles AVA. It is also a member of the CABs Collective. The majority of Chateau Margene wines are available at the winery and tasting room.
We visited Chateau Margene on a sunny, breezy day that had been set aside for wine club members. Mike Mooney, owner and winemaker, took time from his busy duties of pouring wines and engaging with his wine club members while they enjoyed Chateau Margene wines paired with appetizers prepared by his wife and friends. An acoustic guitarist added a delightful ambiance to the occasion. What could be better than soft music, delicious wines and conversations tinkling in the light breeze on a sunny day?
Tasting Room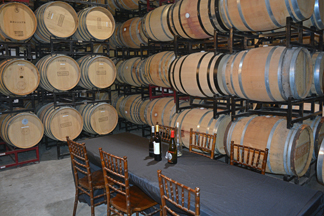 The tasting room at Chateau Margene is small with a modern style. A square-shaped tasting counter is in the middle of the room and can accommodate several people on each side. On the day of our visit, tastings were outside at different stations. Adjacent to the tasting room is the winery production area and barrel room. The barrels were stacked four high and provided a walled in area with a table and seating for eight people. This area is used for special small group tastings with barrels providing atmosphere.
Back in the tasting room, wine club members were picking up orders. Olive oil is also available for purchase.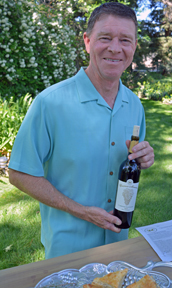 A short distance away from the tasting room, across a lovely yard enhanced with large yellow rose bushes in full bloom, is Mike's home. After arriving in Paso Robles in 1997 and deciding to establish a winery, Mike (pictured right) talked about the difficulty of finding a name for the winery. A friend suggested naming the winery for his wife, Margene. Mike related a story about a visitor from Europe who asked why the winery was called Chateau Margene. Mike commented that it was named after his wife. The visitor then asked, "Where is the chateau?" Mike pointed to his home.
Vineyards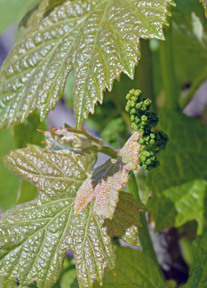 The vineyards are nearby where Mike is able to keep a close eye on the growing vines. The vineyards consist of nine acres that include Merlot, Cabernet Sauvignon, Cabernet Franc and Malbec. Mike also sources grapes from three local vineyards. Mike described his relationship with the grape growers as a team, noting that he has a good relationship with them.
The soil of his vineyard is about five feet deep with a combination of loam and clay. The vineyards are farmed organically and sustainably. Grapevines are pruned to one to two clusters per shoot. For harvest, Mike looks for 2.5 tons per acre.
Chateau Margene Wines
Current production is 3,000 cases. Chateau Margene has three labels. We tasted wines outside at different stations. The wines were paired with different foods. We started with a sparkling wine, always a great way to start a tasting.
Blanc de Noir with 12.5% alcohol was produced using the traditional method, the secondary fermentation took place in the bottle. The Pinot Noir for this sparkling wine was sourced from Sonoma County. The wine was a light orange color with multiple beads of small bubbles. This wine was crisp and refreshing.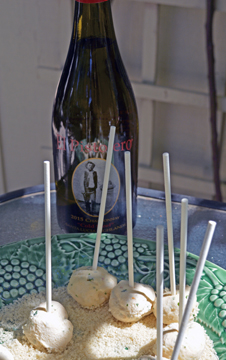 El Pistolero 2015 was produced with Chardonnay in stainless steel. The wine was a light yellow color. The wine offered an aroma of pear and tropical fruit. The taste also had pear, lemon and pineapple notes. This wine was paired with smoked salmon lollipops, a very nice pairing.
The Cielo Rosso 2014 was a blend of Cabernet Franc, Sangiovese and Merlot. The wine was a translucent ruby color with notes of black fruits. The mouthfeel was smooth with notes of black cherries, blackberries and a hint of blueberries. The wine had mild tannins. It was medium to full-bodied. The pairing for this wine was smoked chicken chili quesadillas.
The Cabernet Sauvignon Paso Robles 2014 was a translucent dark ruby color. The wine was a blend of mostly Cabernet Sauvignon with Cabernet Franc and Merlot. There was a hint of sweetness on the aroma. The wine offered notes of blackberries, black cherries and medium tannins. The wine was full-bodied. The pairing for this wine was Beef Wellington Empanadas.
The Mooney Family Pinot Noir Bolkenogen Vineyard Santa Lucia Highlands 2014 was a translucent ruby with sienna hue color. The mouthfeel was smooth and the taste was of raspberries and blueberries. The wine was full-bodied with medium tannins. The Mooney brand is for wine club members.
We tasted the 2013 Cabernet Franc Margene Signature Series at the CABs of Distinction event in Paso Robles. Cabernet Franc is Margene's favorite red variety and she makes this wine each year. The wine had an opaque dark ruby to purple color. Perfume, black raspberries and black cherries were noticeable. The smooth mouthfeel was accompanied by bold chewy tannins. The wine was full-bodied and had a fruity finish. This wine was Terry's favorite Cabernet Franc at the event during the Cabernet Franc seminar.
Stop by Chateau Margene to discover a delightful boutique winery in Paso Robles where attention to the details is important.
Chateau Margene
4385 La Panza Road
Creston, CA 93432
GPS: N35º 30.959' W120º 29.620'
Article written April 2016
---
Visit these California organizations and wineries that partner with Wine Trail Traveler.