Eberle Winery
by
Kathy Sullivan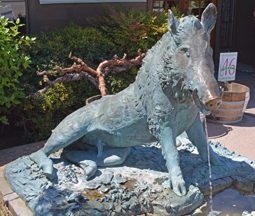 Summary: Eberle Winery is one of the oldest wineries in Paso Robles. Owner, Gary Eberle has been at the forefront of the Paso Robles wine industry since the early 1970s. Gary established Eberle Winery in 1984.
The first thing visitors will notice when visiting Eberle Winery are the various images of wild boar decorating the area. Inquisitive minds will quickly learn that Eberle means little boar.
Upon entering the tasting room, wine lovers will find in addition to the wine bar, numerous wine-related gift items as well as large windows that overlook the wine production area.
Soon we met Gary and Marcy Eberle who invited us to sit down with them in Gary's front office. Laughing Marcy explained that Gary's front office is a spot just outside the front doors where Gary can greet visitors while sitting in "his" chair. The day was perfect, warm with a slight breeze, and added to the ambiance of our visit.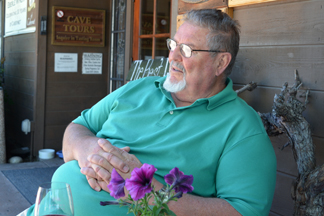 Gary's story began in Pittsburgh where he grew up. He attended a high school where no one expected to go to college. However, by the end of his junior year and as football player defensive tackle, Gary's thoughts turned to college. He was a high school All-American player. Working hard he gained a scholarship, and although he could have attended any number of universities chose Penn State. Eventually he decided on a biology major intending to teach. After concluding that teaching high school students was not a viable career for him, he entered graduate school to study genetics. While working towards his PhD in genetics, he attended operas and was introduced to French wines. Eventually he became enamored with wine and the idea of becoming a winemaker appealed to him. He attended UC Davis' enology program. In 1973 he moved to Paso Robles. Gary discovered that wine is the perfect blend of science and art.
Years later Gary and Marcy are the proud owners of Eberle Winery. During our visit we noticed how busy the tasting room was. Two adjectives to describe the Eberle Winery experience are friendly and happy. It seemed as everyone who passed by Gary and Marcy were quick to greet them like good friends.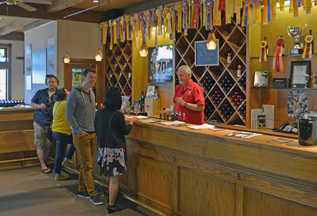 During our discussion, Marcy offered several intriguing comments, "The winery is the mistress to our marriage. The winery is our passion, our life." Winemaking and owning a winery can occupy a great deal of one's time. Marcy noted that Gary is at the winery every day including Thanksgiving and Christmas. Of course, he must stop at the winery on holidays to pick up the wines for dinner! Gary also offered some thoughts such as, "The difference between wine and children is you can sit down and reason with a bottle of Cabernet."
Currently the winery is producing 27,000 cases of wine during a good year. They have long-term contracts with several Paso Robles vineyards, including the one on the estate which has Muscat, Cabernet Sauvignon and Chardonnay planted.
Along the way to establishing Eberle Winery, Gary has claimed several accomplishments. He noted that he planted the first Syrah vineyard in the United States. He was also the first to produce a 100% Syrah. Gary was one of the founders of the Paso Robles AVA.
Gary's philosophy in life is "if you are hospitable and treat them nice, that's the way they will treat you." He follows his philosophy by not charging for wine tastings at Eberle. Gary and Marcy also have an event each year that benefits the local Paso Robles Children's Museum. Visitors to the winery can enjoy complimentary pizza bites and know that their donations will benefit the museum.
Eberle Caves
Marcy led us on a tour of the winery and wine caves. The winery staff was busy bottling wine using a bottling truck on the day of our visit. The manmade caves built in 1996 at Eberle are 35 feet below the surface and have 17,000 square feet of space. Approximately 2,000 French and American oak barrels line the walls of the caves. Private events are held in the Wild Boar Room located in the midst of the caves. A second but smaller area is set aside for special wine and food pairings.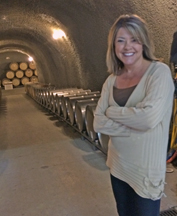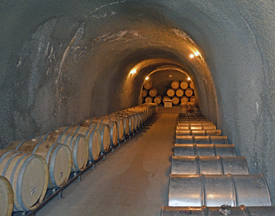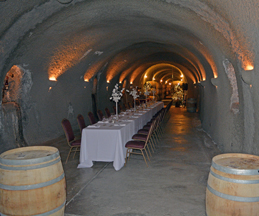 Wines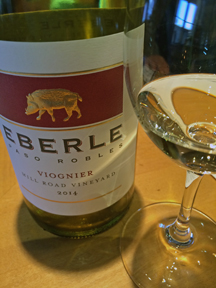 We tasted several Eberle wines while sitting with Gary and Marcy in Gary's front office. The 2013 Côtes-du-Rôbles Blanc was a blend of Roussanne, Grenache Blanc and Viognier. The wine was a light yellow color that offered notes of citrus, tropical fruit and pineapple. The wine had a crisp finish. Suggestions for food pairings included: Asian cuisine, grilled shellfish and aged cheeses.
Viognier Paso Robles 2014 Mill Road Vineyard was a dark yellow color. The wine had notes of floral and tropical fruits, citrus blossoms, pineapple, and melon. We thought the wine was delicious. Gary suggested pairing the Viognier with grilled scallops and spicy cuisine.
Syrah Rosé 2015 was red with a dark pink hue. The wine offered red berry fruit notes. The finish was very fruity and crisp. The color is so superb that this is a great wine for a holiday party. Suggested food pairings included roasted red beet salad with goat cheese and prosciutto wrapped cantaloupe.
Barbera 2013 was an opaque dark ruby to purple color. The wine offered dark fruit notes with a hint of banana and black cherry. The wine had mild tannins and had a medium/full body. Food pairings included several types of pastas such as spaghetti with shrimp and lasagna.
Cabernet Sauvignon 2013 was a dark ruby to black color. The wine offered notes of black fruits including blackberries and black cherries. Leather and licorice were also noticed. The wine had bold tannins and was full-bodied. Food pairing suggestions included: prime rib, grilled lamb chops or beef tenderloin.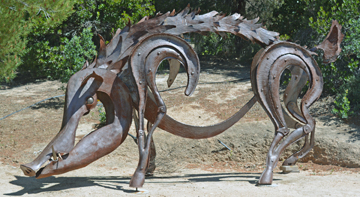 Eberle Events
Eberle Winery offers a variety of wine events on their premises. A large outdoor pizza oven and grill are located close to the tasting room. At the time of our visit, upcoming events included: the Wood Fired Pizza for the children's museum, the Summer Concert Series, Mother's Day Brunch, Wine Fest Winemaker's Dinner, Wine Festival Weekend, BOARdeaux Blending Party and Dine in the Vines.
When visiting Paso Robles be sure to stop by Eberle Winery for a friendly visit and to explore their delightful wines.

Eberle Winery
3810 HWY 46 East
Paso Robles, California 93446
GPS: N35º 39.005' W120º 37.672'
Article written April 2016
---
Visit these California organizations and wineries that partner with Wine Trail Traveler.