CASS Vineyard & Winery
by
Kathy Sullivan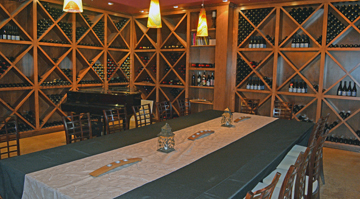 Summary: When deciding to visit CASS Vineyard & Winery, be sure to include dining on their veranda that offers vineyard views. Two families own CASS Vineyard & Winery, Cass and Plemons. The emphasis is on food and wine pairings. Vacationers may want to stay at the CASS guesthouse.
Travelers to CASS Vineyard & Winery will discover a friendly winery with numerous wines located in a renovated barn-style building. Anyone with an electric car will be happy to know that the winery has a TESLA fill station.
CASS Vineyard & Winery is the result of two friends traveling together in wine country (Stellenbosch, South Africa) and deciding they wanted to start their own winery back in the United States. The story for Ted Plemons and Steve Cass goes back to sharing a meal with a bottle of wine while in Stellenbosch. Even including the wine, the receipt was surprisingly low and so they ordered a second bottle of wine. An ensuing discussion led to the proposal of building a winery. Eventually they built the winery on the vineyard property that Steve had purchased a few years earlier. The winery opened to the public in 2005.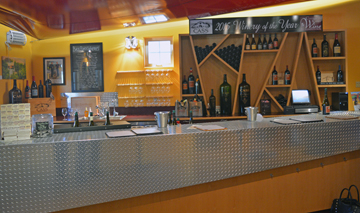 Wine and music enthusiasts will enjoy visiting and learning the story of CASS Vineyard & Winery. The tasting room is located in the shell of a barn. The barn was converted into the tasting room in 2002 where a long stainless steel counter offers a hint of modernism and a gentle reminder of stainless steel wine tanks in the winery.
We met Bryan Cass who took us on a tour of the facility. Wine club members have access to a boutique room (pictured above) filled with wood wine bins lining the walls. A long table seats up to 14 people. Low lighting and a baby grand piano adds to the ambiance of enjoying CASS wines in this elegant location.
Music and Charity
Near the tasting room is an event room where a grand piano rests along with several oak barrels. Bryan noted that the winery tasting facility actually has two pianos. He explained that his father and Polish musician Paderewski support youth music scholarships with Paso Pops. Steve Cass is current president of the annual Paso POPS, a special festival that features music, wine, food and fireworks. The festival is a fundraiser with net proceeds supporting several youth organizations including Paderewski Festival Youth Piano Competition and Student Cultural Exchange Program, San Luis Obispo Youth Symphony, Paso Robles Youth Arts Foundation and Studios on the Park Youth Art Program.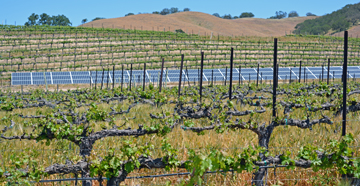 Vineyards
The development of the vineyard property began with drilling two wells for water to the depth of 1,000 feet. In 2016 CASS Vineyard has 150 acres of grapes. The grapevines are ENTAV certified. ENTAV is a French agency that certifies grape clones for France. Cabernet Sauvignon is planted on 80 acres. The remaining vineyards are planted with Viognier, Roussane, Marsanne, Grenache, Syrah, Petite Sirah, Cabernet Franc, Merlot, Petit Verdot and Malbec. The average grape harvest is four tons per acre. Only 25% of the harvested grapes are used for CASS wine production and the remaining grapes are sold to other wineries.
Wines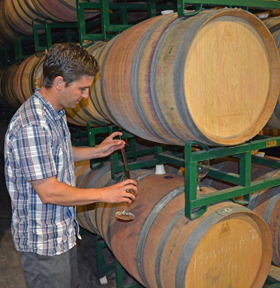 CASS Vineyard & Winery produces 10,000 cases of wine which are sold onsite, in wine bars, restaurants and at Whole Foods. Eventually Cass and Plemons hope to expand the winery by adding a second brand. The winery's energy needs are covered with the use of onsite solar panels installed in the vineyards.
The 2015 Viognier was a light yellow color with floral and tropical notes including pineapple, banana and melon. The aroma reminded one of a fruit salad. The wine was crisp with citrus on the finish yielding to tropical fruit. The 2014 Cabernet Sauvignon Reserve was a blend of Cabernet Sauvignon, Syrah and Petit Verdot. The wine was an opaque dark ruby color. It offered notes of blackberries, black cherries, and black caps with a hint of leather. The wine had medium tannins and was full-bodied.
Other wines we tasted were barrel tastings, reflecting what they will be like when they are bottled and available for purchase. Grenache 2015 was a translucent light ruby color. The wine offered red berry fruit notes including strawberry and some raspberry. The wine had medium tannins and was medium-bodied. Mourvèdre 2015 was a translucent dark ruby color with black fruit notes. The wine had mild tannins and was medium-bodied. Rockn' One Red 2014 was a blend of Mourvèdre, Grenache, Syrah and Petite Sirah. The wine was a translucent dark ruby color with black cherry notes. The wine had medium tannins and was medium/full-bodied.
Food at CASS
Wine and food pairings are important at CASS. The CASS chef is Jacob Lovejoy who creates gourmet specialties to pair with CASS wines. Food and wine pairings can be enjoyed in the tasting room or on the adjacent veranda.
Plan to visit CASS Vineyard & Winery while visiting Paso Robles wineries. Extend your stay long enough to enjoy the wine and food pairings. CASS also includes an onsite guesthouse.
CASS Vineyard & Winery
7350 Linne Road
Paso Robles, CA 93446
GPS: 35º 35.828' W120º 33.875'
Article written April 2016
---
Visit these California organizations and wineries that partner with Wine Trail Traveler.