Bon Niche Cellars
by
Kathy Sullivan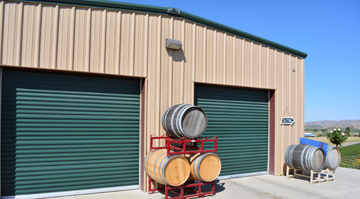 Summary: Bon Niche Cellars is a small, boutique winery located in the Paso Robles AVA in California. Before visiting Bon Niche, contact the winery and schedule an appointment.
After missing a turn on our GPS, we took a circuitous backroad to Bon Niche Cellars. After traveling a deeply rutted, unpaved road, we arrived at Bon Niche a tiny, boutique winery with a big friendly welcome in the Paso Robles AVA Estrelle District. The owners were quick to let us know how to get back by traveling better roads.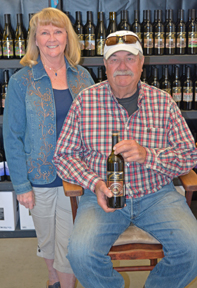 We quickly met the owners of Bon Niche, Joyce and Wally Murray. Joyce pointed out that Bon Niche translates into "good niche." They described their wine journey to us. Both had previous careers in other fields. Upon retiring they began looking for a second career. Joyce noted that with the changing of careers their health has improved. Joyce and Wally commented that it is fun growing the grapes and winemaking. However, in the beginning they just wanted to grow and sell grapes. They learned early that they could not make money growing grapes on just a few acres.
Today the wines can be tasted at the small winery building that overlooks the onsite vineyards. When you visit, you may even see Wally working in the Bon Niche vineyard on his tractor. A specific area of the winery has been set aside for tasting wines. An angled tasting counter atop oak barrels is in front of a large black shelving unit where Bon Niche wine bottles sparkle with wine labels highlighting photos.
Wally's career was with Scantron where he traveled internationally. During his travels when he had the opportunity, he visited wineries. Joyce's career was in the large format printing industry for magazines, books and catalogues. She eventually turned to marketing which has benefited Bon Niche. Joyce has also established online shopping carts for businesses.
We were curious as to how they had learned their winemaking skills. The couple read books, attended classes and talked with friends. Today they are producing about 1,000 cases and plan to slowly increase production.
The winemaking and tasting room is located in a small building where the vineyard is located. Due to storage limitations, the oak barrels are stored in a building near the airport. The wines are also blended there but the wines are aged at their own building at the vineyards.
Vineyards
They have 10 acres of land that they purchased in 2006. At that time, the land was covered with weeds. By 2007 they had cleared the land and planted the grapevines. The vineyard includes Merlot and Malbec. They also source grapes from a vineyard in the Paso Robles Estrella District. The Murrays noted that the "terroir is one we can work with comfortably."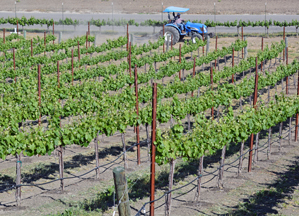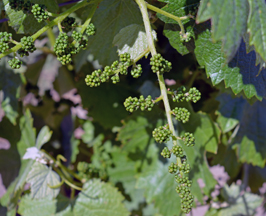 Bon Niche currently has a wine club of 300 members. Parties are held quarterly.
Bon Niche has a unique idea for creating wine bottle labels. People submit photos within certain categories. Certain specifications are needed for the Murrays to consider the photos including size and appropriateness. Categories for the photos include the wine name: Doors, Windows, Archways, Pathways, Chairs and Swings, Bridges, Stairs, Vacation Places and By the Sea. While tasting Bon Niche wines be sure to notice the inspiring photos on the wine bottle labels.
Joyce noted that most of the photos are contributed by Bon Niche wine club members.
The Wines of Bon Niche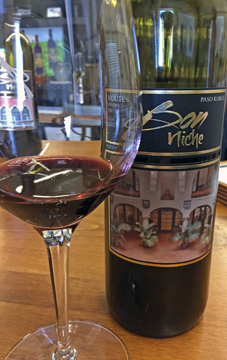 We enjoyed tasting five wines while talking with Joyce and Wally. The Murrays are focused on producing wines that are fruit forward. The 2011 Bridge Le Pont was produced with 100% Syrah. The wine was an opaque dark ruby color with a sienna hue. The wine had notes of blackberries and blueberries on the aroma. The taste included black plums and blackberries. With medium tannins the wine was full-bodied. The finish was fruity yielding to baking spices.
The Chemin (Path) 2011 was a blend of Cabernet Sauvignon, Cabernet Franc and Merlot. The wine was also an opaque dark ruby color with notes of blackberries and blueberries. The wine had medium tannins and was full-bodied. The finish was fruity with a hint of licorice.
Voûtes (Arches) 2011 was an opaque dark ruby to dark purple color. This was a blend of Malbec, Petit Verdot and Cabernet Sauvignon. The wine offered a perceived sweetness with notes of blueberry, blackberry, black cherry and cedar. The wine had medium tannins and a full body.
The 2010 L'Entrée (The Entry) was 100% Malbec. This wine had an opaque dark ruby to purple color. The wine offered notes of blackberries, black cherries, blueberries and licorice. There was a perceived sweetness. The wine had medium tannins and was full-bodied.
Fenétres (Windows) 2010 was produced with 100% Petit Verdot. The wine had an opaque dark ruby color with a black hue. There were notes of black fruits including black cherry and blueberries. The wine had medium to bold tannins and was full-bodied. The finish was very fruity.
While visiting with Joyce and Wally we learned that they consider the vineyard and winery as a "nice place to be in life" and that they "love making good wine for people."
While traveling in the Paso Roble region be sure to travel into the countryside to visit Bon Niche Cellars, a small winery with beautiful countryside views and an interesting wine journey.
Bon Niche Cellars
2627 Golden Eagle Way
San Miguel, California 93451
GPS: N35º 43.300' W120º 33.813'
Article written May 2016
---
Visit these California organizations and wineries that partner with Wine Trail Traveler.