Talley Vineyards
by
Kathy Sullivan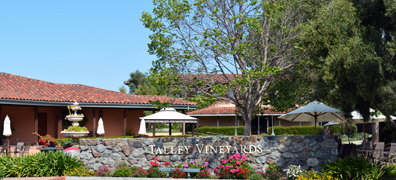 Summary: Talley Vineyards is located in the Arroyo Grande AVA of San Luis Obispo County, California. The wines are distributed in the US and worldwide. This is a family owned winery focused on producing Chardonnay and Pinot Noir wines. Visitors will discover lovely outdoor seating areas close to the tasting room.
Talley Vineyards offers a delightful spot to stop and taste wines. A large outdoor garden area close to the tasting room and picnic tables on the other side of the tasting room are prime spots to enjoy a glass of wine while enjoying the beautiful countryside filled with acres of vineyards.
Talley Vineyards located in central California was established in the 1980s as an offshoot of Talley Farms a large farming enterprise with a market. Today there are strong ties between the farm and the winery although each functions as separate business entities. Talley Vineyards is producing a considerable amount of wine. The winery electricity usage is 90% solar.
Vineyards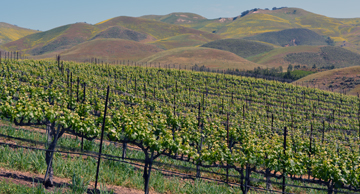 We met Eric Johnson, winemaker, who walked us around the main Talley campus and we stopped for a wine tasting in the large barrel room. Eric explained that Talley now has five vineyards and also sources some grapes as the area is too cold for some varieties. In addition to the Ricon Vineyard at the winery, the vineyards consist of Rosemary's, Monte Sereno Vineyard and Las Ventanas Vineyard all in the Arroyo Grande AVA, while Oliver's Vineyard and Stone Corral Vineyard are in the Edna Valley AVA. Rosemary's Vineyard was named for Brian Talley's mother and Oliver was Brian's grandfather's name. Today the vineyards are comprised of Pinot Noir and Chardonnay.
The original vineyards were planted in 1982 but recently those were pulled out due to leaf roll and red leaf blotch viruses. These vineyards are currently being replanted with better grape clones and rootstocks. In 2016 Talley has approximately 140 acres planted. In the Arroyo Grande AVA the vineyards are running East-West. Eric said that in 2015, Talley had one of the earliest grape harvests in California with harvest on July 28. All grapes are hand harvested. According to Eric, Talley has complete control over the winemaking from grape to bottle.
Campus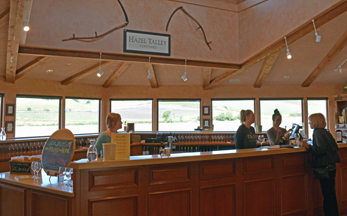 At the home site, visitors will discover the spacious tasting room that includes a large, angled tasting counter with numerous displays of wine-related gift items. Not far away is the fermentation building and across from the winery production facility is the barrel room.
The fermentation building is the location of the bottling line, fermentation area, and barrel maintenance. Eric noted that all wines at Talley Vineyards are produced with native yeasts. Eric was interested in our discussion of a winemaker in the Penedés region of Catalonia, Spain who is using 3rd generation native yeasts in his winery.
We noticed that the large stainless steel tanks in the winery were topped with what appeared to be trampolines. Eric said that a trampoline company makes trampolines to the size requested for the tanks. The trampolines are used to cover the tanks during fermentation. Whole cluster pressing is one of the winemaking protocols. Current wine production is 34,000 cases.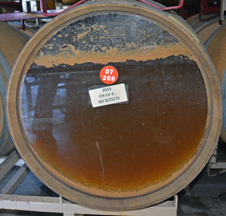 The barrel room is large and the oak barrels are arranged with the red wines on the left and the white wines on the right. Eric prefers using mostly French oak. Two of the white wine barrels had a clear, see-through head. Eric noted that visitors enjoy seeing the fermentation taking place. To Eric it reminds him of a moonscape.
Before taking leave of Eric, we asked about his wine journey. He described how his college roommate in college knew about wine because his parents owned a vineyard. Eric began taking oenology classes and working in the tasting room at Talley. While working in the tasting room, he asked about interning at the Talley winery. From then on his career progressed to his current role as winemaker.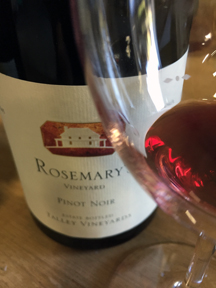 Talley's Wines
The 2014 Bishop's Peak Sauvignon Blanc Edna Valley was a light yellow color. The wine offered tropical fruit notes of citrus, melon with a hint of pineapple. 2014 Oliver's Vineyard Chardonnay Edna Valley was a light yellow with caramel and apple notes. The finish was crisp. The 2014 Rincon Vineyards Chardonnay Arroyo Grande was also light yellow. Notes of apple, pear and a hint of caramel were noticed along with a soft mouthfeel. This was a full-bodied wine. The 2014 Rosemary Vineyard Chardonnay Arroyo Grande was full-bodied with notes of citrus, apple and some lemon grass. The finish was crisp.
The 2013 Rincon Vineyard Pinot Noir Arroyo Grande was a translucent red with a pink hue. The wine offered notes of raspberries, cherries and spice. The wine had medium tannins with a medium to full body. The 2013 Rosemary's Vineyard Pinot Noir Arroyo Grande was a translucent dark red with dark pink hue. The wine offered notes of raspberries and cherries with medium/bold tannins.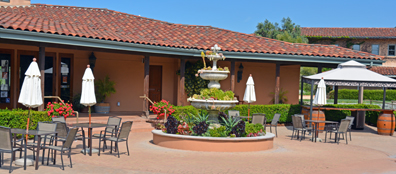 During our visit, when Eric was asked about the number of visitors, he said they do not usually have large numbers of people visiting. He indicated that this is because Talley Vineyard's location is the farthest out of all the area wineries. Don't let this dissuade you from visiting Talley Vineyards. They appear to be designed for numerous visitors with their lovely outdoor seating areas near the tasting room.
Talley Vineyards
3031 Lopez Drive
Arroyo Grande, CA 93420
GPS: N35º 10.720' W120º 31.417'
Article written April 2016
---
Visit these California organizations and wineries that partner with Wine Trail Traveler.