Parrish Family Vineyard
by
Kathy Sullivan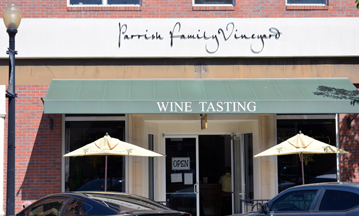 Summary: Parrish Family Vineyard is a small, boutique winery with a tasting room located close to the renovated Paso Robles city square. The tasting room is close to small restaurants and offers a pleasant respite while meandering along the sidewalks of historic Paso Robles.
We had an opportunity to taste a Parrish Family Vineyard wine at the CABs of Distinction event in April. A few days later we were delighted to arrive at the Parrish Family Vineyard tasting room. The tasting room, in Paso Robles, was easy to find as it is located in a brick building with a green awning that says WINE TASTING. Two small seating areas with umbrellas add ambiance to the location. Inside we met Cecily Parrish Ray, second generation, who is the tasting room manager and the designer of the winery logo and wine bottle labels. A short time later, her father David Parrish joined our conversation.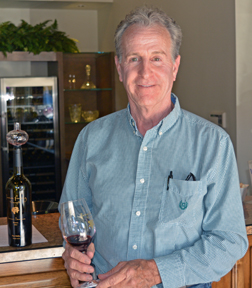 David, owner and winemaker, was brought up in the wine industry. When inquiring about the P.O. Box 1 label we were told about David's great grandfather, Earl Henderson. In 1927 Earl put in over 700 acres of vineyards in Atascadero. His post office box was the first post office box in Atascadero.
David attended UC Davis where he specialized on the vineyard side of the wine industry. Eventually he started a vineyard trellising company. David began putting in vineyard trellising 40 years ago. One day, in 1979, he received a call from his professor about someone who wanted to work with David on trellising his vineyards. The call was from Robert Mondavi who wanted David to trellis the Mondavi vineyards. David smiled when he said that at first he told Mondavi he was too busy. David spent 23 years in Napa.
Moving ahead to his own vineyards, David planted 40 acres of Cabernet Sauvignon vineyards in the Creston region. The vineyards planted in 1995 receive the sea breeze from the Templeton Gap. David's plan was to sell grapes to other wineries. David sold grapes to Frances Coppola and Constellation. By 2004 David wanted to produce his own wine. He opened the tasting room in 2011. David has continued to add additional vineyard acreage in the Templeton area.
Vineyards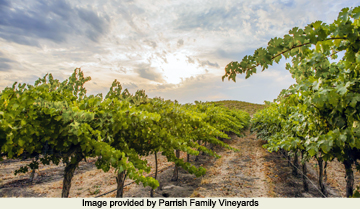 Today the Parrish vineyards consist of 150 acres that include the Bordeaux grapes of Cabernet Franc, Cabernet Sauvignon, Sauvignon Blanc and Petit Verdot. There is also a planting of the Rhone variety Petite Sirah. David uses many environmentally friendly techniques in the vineyards. These include: owl houses, peregrine falcons for bird control, organic compost and enriching the soil with seaweed infusions.
Wines
While visiting the tasting room in Paso Robles to hear the Parrish Family Vineyard story, we tasted several wines with bite size pieces of cheeses. Wine tastings are served in Stölzle stemware.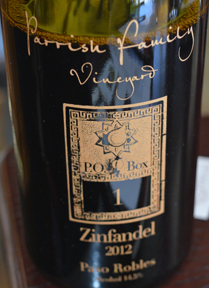 The 2012 Zinfandel Paso Robles wine with 14.5% alcohol offered jammy fruit notes and reminded one of a fruit salad. The wine had soft tannins with a medium body. The wine was paired with Gouda cheese.
The 2012 Petite Sirah with 14.9% alcohol was a dark ruby to black color with an aroma of black fruit notes. The taste was smooth with notes of blackberries and bold tannins. The wine was full-bodied. This wine was paired with Bellavitano Gold cheese.
Reserve Silken 2010 was a blend of Cabernet Sauvignon and Petite Sirah. The dark ruby colored wine offered fruit notes of blackberry, black cherry and plum. It had a velvety mouthfeel. The wine had medium tannins with a full body. The fruit yielded to some earthiness. The wine was paired with Ewenique cheese from a local creamery.
The Reserve Cabernet Sauvignon 2012 was produced with 100% estate fruit. The wine offered aroma notes of black fruits with a bit of cassis. The taste included black cherry and blackberry notes. The wine had bold tannins and was full-bodied. The wine was paired with Bellavitano Espresso.
Future aspirations for David include building his own winery and tasting room. Wine enthusiasts who are interested in joining a wine club can choose between three: Colony Club, Heritage Colony Club and Royal Colony Club.
When visiting Paso Robles, be sure to stop by the Parrish Family Vineyard tasting room in the historic area of Paso Robles.

Parrish Family Vineyard
1220 Park Street
Paso Robles, California 93446
GPS: N35º 37.622' W120º 41.407'
Article written April 2016
---
Visit these California organizations and wineries that partner with Wine Trail Traveler.