Clos Solène
by
Terry Sullivan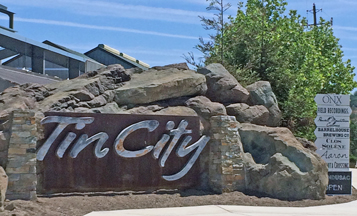 Summary: Located in the trendy Tin City, Clos Solène winery and tasting room is conveniently located for wine enthusiasts. Enjoy tasting crafted wines made with the Rhone varieties.
Off of Route 101 in the southeastern part of Paso Robles lies Tin City. This industrial park is an oasis of wineries, breweries and a distillery. Wine enthusiasts can visit several tasting rooms. We visited Clos Solène on a quiet weekday for a wonderful tasting and tour of the production area. One idea behind Tin City is for small producers to share production space and equipment. The area is an attractive alternative to visiting tasting rooms in a more wine country setting or in the historic downtown area of Paso Robles. One could easily spend the day in Tin City.
Clos Solène is owned by Guillaume and Solène Fabre. Guillaume is a fourth generation winemaker. Solène works at the winery and tasting room. Guillaume was in the Paso Robles area and liked the soils and the freedom that winemakers enjoyed in crafting creative wines. At the time, Soléne was studying in Spain. Guillaume began working at L'Aventure Winery in Paso Robles. He asked Soléne to move to Paso Robles and he would build her Clos Soléne. The couple began the winery in 2007 with two barrels of wine. By 2014, they were ready to open their present facility in Tin City.
Production Area and Winemaking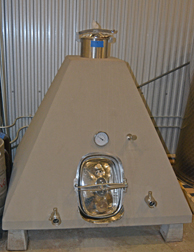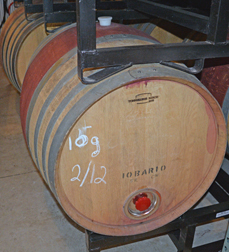 Clos Soléne shares a production and aging area with Aaron Winery that has a tasting room next to the Clos Soléne tasting room. The production area has different sized tanks. One that caught our attention was a cement pyramid. In a separate room that is temperature and humidity controlled, both wineries have barrels stacked five barrels high.
Close Soléne produces about 1,500 cases a year mostly with a portfolio using Rhone varietal grapes. Guillaume sources all of his fruit from about 20 vineyards mostly from the west side of Paso Robles. He likes to ferment his wines in oak puncheons and all the work in the winery is done by hand.
The owners would like people to know that they craft wines with love and passion. Every bottle is touched by hand as are all the winemaking tasks.
Wines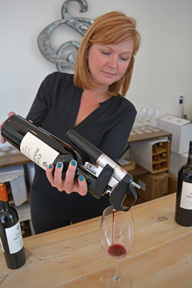 Adrienne Lameray, office manager, poured wines for a tasting and talked about the winery and owners. During the tasting, Adrienne used a Coravin wine system that extracts only a tasting or glass of wine from the bottle without removing the capsule and cork. All wines were from the Paso Robles AVA. Adrienne started the tasting with a 2015 Homage Blanc. The 14.6% alcohol wine was a blend of Roussanne and Viognier. It had a light yellow color with intense grapefruit and mineral notes. The fruit and mineral hints played well together. There was a faint hint of salt on the aftertaste. The second wine was also a 2015, La Rose. This 14.5% alcohol blend included Grenache, Mourvèdre and Syrah. Half of the fruit was whole cluster pressed while the other half was done by the saignée method. The wine had a light pink with orange hue color. It reminded me of Montmorency cherries and was tart.
The 2014 Fleur de Soléne was a Syrah, Grenache and Cabernet Franc blend. The opaque ruby colored wine had 15.2% alcohol. It offered blackberries, black cherries with mild tannins and was full bodied. The finish was fruity with some spicy notes. The 2014 Harmonie was also a Rhone variety blend of Grenache, Mourvèdre and Syrah. The 15.9% alcohol wine had a ruby color. It was reminiscent of a berry fruit salad with a touch of mineral. The wine had bold tannins and a full body. The fruity finish yielded to mineral.
Continuing with blends from 2014, the Sweet Clémentine was mostly Grenache with a splash pf Syrah. The wine was fortified with brandy. The residual sugar measured 100 grams per liter. The wine was named after the owners' daughter. The wine had sweet dark jammy fruit notes with a crisp finish. It reminded me of chocolate covered cherries. The Homage à Nos Pairs Reserve was a Syrah, Grenache and Viognier blend. The opaque ruby colored wine offered black fruits, bold tannins and a full body. The finish was fruity and then spicy.
When visiting Tin City, stop by Clos Solène. This is a family friendly winery/tasting room, where there is a small area in the tasting room for small children to hang out. Experience well crafted wines made from Rhone varieties.
Clos Solène
3050 Limestone Way
Paso Robles, California 93446
GPS: N35º 34.560' W120º 41.415'
Article written April 2016
---
Visit these California organizations and wineries that partner with Wine Trail Traveler.