RN Estate
by
Terry Sullivan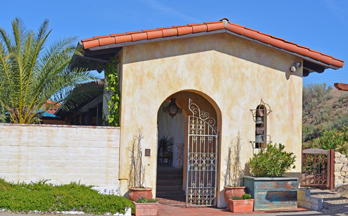 Summary: After years in the restaurant business, Roger Nicolas planted a vineyard between Paso Robles and San Miguel. Tastings are by appointment only and take place at a long table in a meeting room overlooking the Estrella Valley. Discover Roger's passion for wines and where his dreams are leading him.
Roger Nicolas is a dreamer. He grew up on his parent's farm in Brittany, France. His dreams led to reality where at the age of 20 he went to New York City and began a career in the restaurant business. He worked in several upscale restaurants including La Grenouille in New York City, The Lodge at Pebble Beach and L'Etoile in San Francisco.
A decade later, Roger's dreams led him to establishing his own restaurant. He was the founder and owner of The Home Hill Country Inn and Restaurant in New Hampshire. During his restaurant career, Roger developed a passion for wine. Another dream surfaced, this time in growing grapes and making wine. A decade later, Roger was searching for land to plant a vineyard.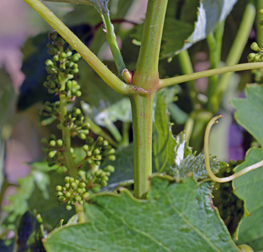 Vineyards
After the gated entrance to the property, visitors will drive past four acres of vineyards on both sides of the road. The average elevation of the hillside vineyards is 1,000 feet. The vineyards are planted with Bordeaux and Rhône red varietal grapes. The sloping hillsides allow for drainage of the sandy clay loam soil. The vineyard soil also has traces of limestone and river rocks. Hand harvesting is a chore since clusters of berries receive several passes and only the ripe berries are picked with each pass.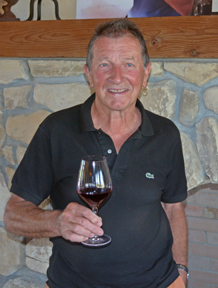 Winemaking is currently conducted offsite where approximately 1,200 cases of wine are crafted. There are plans in the future to build a production facility onsite. Roger wants to call this his wine studio, reflecting about the art that goes into winemaking. He expects the wine studio to open in 2017.
Tastings
RN Estate does not have a tasting room. Wine enthusiasts can call and make an appointment to taste wines. Groups of up to 15 or 16 can schedule appointments for wine tastings. After driving to the house, Roger will greet you and lead you to a long table in the meeting room overlooking the Estrella Valley. Tastings are conducted in this room providing an intimate setting. Roger's creativity shines in the blends that he crafts. He appreciates the environment that allows for blending grapes in a non-traditional manner.
Roger pointed out, "The wines are not the typical Paso Robles wines, but wine that is subtle and enhances the flavor of food." He also mentioned in reference to his wines that they are, "Not wines that will stain your glass."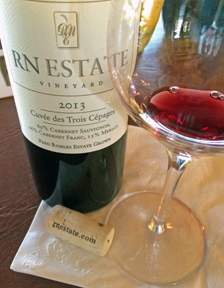 We tasted a few of RN Estate wines while talking with Roger. The 2012 Cuvée des Artistes Paso Robles, with 14.3% alcohol, was a blend of Syrah, Cabernet Franc, Zinfandel and Petit Verdot. The wine was a translucent ruby color and offered blackberry, cherry, leather and baking spices. The wine had mild tannins and a medium to full body.
The 2011 East Knoll Cuvée Paso Robles was a blend of Zinfandel and Syrah. The grapes were co-fermented. The wine had a translucent ruby color with a dark pink hue. It reminded me of a juicy fruit salad with a hint of a floral aroma. The wine had medium tannins and a full body. The finish was fruity with the fruit yielding to baking spices. Roger suggested pairing this wine with lamb and chicken dishes. He noted that the wine is too delicate for beef.
The 2012 Malbec was mostly Malbec with a splash of Cabernet Sauvignon, Cabernet Franc and Merlot. The wine was a ruby color with a dark pink hue. The wine offered plums and blueberries along with baking spices. It had medium tannins and a full body. The wine had a very smooth mouthfeel and the fruity finish yielded to spices.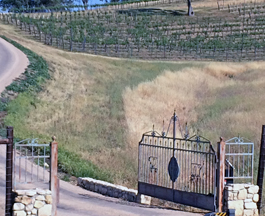 Our last wine tasted was the 2013 Cuvée des Trois Cépages, a blend of Cabernet Sauvignon, Cabernet Franc and Merlot. The wine had a translucent ruby color with a red hue. Blackberries, cassis and spices were noted. The wine had medium tannins and a full body. The finish was fruity and spicy.
RN Estate offers wine enthusiasts wines that are different than other Paso Robles wineries. Expect an intimate tasting at the meeting room table and wines that are elegant and meant for enhancing food.
RN Estate
7986 N. River Road
Paso Robles, CA 93446
GPS: N35º 42.910' W120º 39.758'
Article written April 2016
---
Visit these California organizations and wineries that partner with Wine Trail Traveler.