Chatham Hill Winery
by
K.L. Sullivan
Summary: Chatham Hill Winery has a unique location. This winery is located in a business park and is easily accessible to the public off Interstate 40 in North Carolina. The winery offers traditional wines and grape-based fruit wines. Jill Winkler plans events throughout the year and there is plenty of space in the tasting room for events.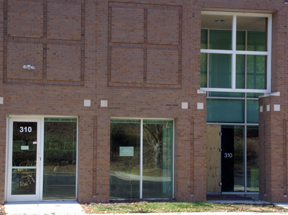 Nancy Maestri, wine consultant, met us just as the winery was opening and invited us to do a wine tasting, while she talked about the winery. Currently the winery is just in the process of moving from a nearby location to this new location. Builders are working on the area where the wine making will take place.
Chatham Hill started in 1999 by owners Marek Wojciechowski and Jill Winkler. Marek is also the winemaker. Jill is in charge of sales, marketing and events at the winery
.
Although the winery does not have its own vineyards, the winery attempts to use grapes only from North Carolina. Occasionally, Marek needs to purchase grapes outside of the state. Today 80 percent of the grapes used are from within North Carolina.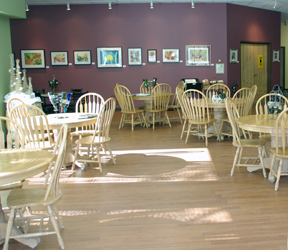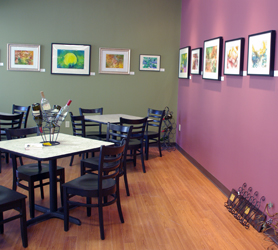 The tasting room has large plate glass windows providing light. Numerous tables are set with chairs to provide seating for enjoying a glass of wine and for other events.
Local artists display their creative works on two walls of the tasting room. Browsing the racks of displays one will see quality wine paraphernalia, picnic and wine carriers, ceramic wine trivets, wine thermometers, cheese serving sets, books and numerous snack type foods.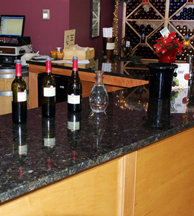 After browsing the gift items available, we began tasting some of the wines. Viognier 2005 was aged in stainless steel tanks and spends some time in oak. It had a floral nose, fruit taste and was dry. Chardonnay 2005 was aged in stainless 50 percent of the time and 50 percent of the time in oak. It had an apple nose, apple taste and just a touch of oak on the aftertaste. Pinot Grigio 2005 had a fruit nose with a grapefruit taste. The first taste was sweet even though there is zero percent residual sugar. The aftertaste was dry. Merlot 2005 was dark red with a red fruit flavor and taste. There was cherry on the finish and a balance of fruit, acid and tannins. Zinfandel was smooth with a fruity aftertaste. Syrah 2005 had a red jam nose with a dark red jam flavor. There was a balance of fruit, acid and tannins. Christmas White Wine was Chardonnay-based and was sweet. Christmas Red was a semi-sweet red wine. A recipe was available for adding spices to make mulled wine. Marek produced a peach wine with a grape-base of Chardonnay. There was a strong peach nose and fruit taste. This wine may remind you of peach cobbler. Pomegranate was made with a grape-base. It had a Pomegranate aroma and was sweet and crisp on the taste.
Chatham Hill Winery has a Wine Club. As time goes on the trend has been for younger wine drinkers to join the club. Events in the tasting room include wine appreciation classes, holiday gatherings, receptions and private parties.
Stop by Chatham Hill Winery and taste their wines. For anyone interested in learning more about wine, check with the winery about upcoming wine education classes.
GPS N 35° 50.925' W078° 48.147'
---
Visit this North Carolina Winery