Benjamin Vineyards and Winery
by
K.L. Sullivan
January 2009 Update

Visitors can look forward to visiting Benjamin Vineyards and Winery in 2009 where award-winning wines may be tasted. Soon two more wines may be available, a Framboise (Raspberry) and a Late Harvest Seyval Blanc. Production for 2009 is expected to be about 1300 cases. Since Wine Traveler visited in 2007, the vineyards have increased to five acres and Sauvignon Blanc was added.
In an email interview Nancy Zeman, owner along with her husband, wrote: "We have added a wrap-around porch to the front of the winery.  It offers beautiful views of the vineyards and we find folks using it quite a bit. During the day, the warm sun shines in, and with our moderate winters in NC, the porch can be used in all seasons.  We've had lots of groups plan parties--birthdays, fundraisers, family dinners, etc.--and they often prefer the outside space over the indoor winery space."
Nancy and Andy Zeman would like people to know that all of their wines produced in 2008 have won medals. Visitors to the tasting room in North Carolina will be able to discover and taste approximately 12 award-winning wines.
---
Summary: Benjamin Vineyards and Winery is a delightful winery to visit. While small, the tasting room has gift items available. Watch for special events such as a make your own gift basket event in early December.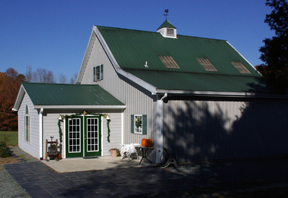 As we drove past the straight rows of grapevines, at intervals posts were gaily decorated with bright Christmas wreaths. A path leads from the parking area through evergreen trees standing tall over picnic tables.
While talking with Nancy, we learned that they planted the vineyards in 2001 and currently have five acres of grapes. The varieties include Cabernet Sauvignon, Merlot, Chardonnay, Chambourcin, Chardonal, Cynthiania, Seyval Blanc and Muscadines. Their plan is to plant one acre each year for the next two years. Currently producing 1500 cases, the winery's goal is to reach 3,000 cases. Today, the vineyards yield about 60 percent of the grapes they need and the other 40 percent they purchase from local North Carolina vineyards.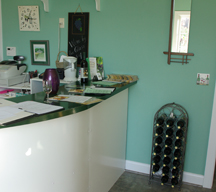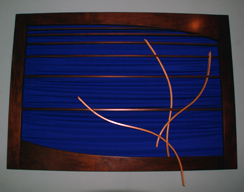 The tasting room is bright and cheerful, with ceiling windows and pale green walls. Gift items are available. The winery promotes local artists. Every few weeks a different local artist displays their work. Currently a delightful collection of wood art is on the walls. The current local artist is O'Neal Jones of Cottonwood Studios.
The wines here are unique because the grapes are organically grown. They cannot label the bottles organically certified because during production sulfites need to be added to help preserve the wine.
Nancy and Andy Zeman named Benjamin Vineyards and Winery after Nancy's father. He was the one who visited wineries in Virginia with them and encouraged them in their dream of starting their own winery. Nancy quotes Benjamin, "I never met a wine I didn't like."
After making wine for twenty years and for 15 years using the Muscadine grapes for the wine production, it was time to begin a commercial winery.
They have discovered that the visitors to the winery consist of three different groups. Twenty-five percent of the visitors will drink only Muscadine wines, another twenty-five percent will drink only Vinifera wines and the other fifty percent will try anything.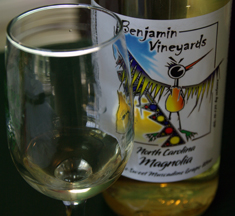 Wines offered for tasting on the day of our visit included Cabernet Sauvignon Reserve, which had a fruit nose, red cherry taste and soft tannins. White wine drinkers may like to try this wine. We tasted several Muscadines including Scuppernong, Carlos, Magnolia, and Hunt. Scuppernong was yellow, medium-bodied with a grape nose and grape taste. The fruit and acid were balanced. There was musk on the aftertaste. Carlos was a semi-dry golden yellow with a fruit nose. The taste had the foxiness associated with native American grapes and it was dry on the aftertaste. Magnolia was a light yellow, medium-bodied wine. It had a sweet and spring rain nose. Hunt was light red with a fruit nose. It was semi-sweet with medium-bodied fruit taste and just a hint of a foxy flavor. It began to dry on the aftertaste. Spiced wine may be served warm or cold. It was made with Cabernet Sauvignon. This wine had spices on the nose including cinnamon, whole cloves, ginger, nutmeg, allspice, orange peel and lemon peel. In the springtime, the winery produces another seasonal wine.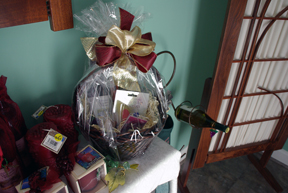 Events play a big part at Benjamin Winery. One of the most creative ideas is Create Your Own Basket at the winery. It was so successful the first year, that they continue it each year. Another event is a reception held for each local artist displaying their artwork.
While there has been much debate on the issue of wine and health in recent years, we found it interesting to note comments this winery has heard since they have opened. Five women have stopped at the winery at different times and said that a glass of Carlos helps them sleep at night.
Stop at Benjamin Winery and enjoy tasting wines in the light and airy tasting room.
Benjamin Vineyards and Winery
6516 Whitney Road
Graham (Saxapahaw), NC 27253

GPS N 35° 55.583 W079° 18.497
---
Visit this North Carolina Winery