Silver Thread Vineyard
by
Meghan Anne Neumeier

Photos by
Andy Neumeier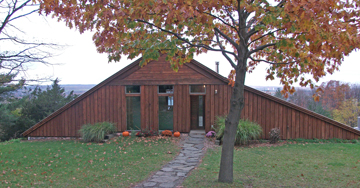 Summary: Silver Thread Vineyard in Lodi, New York, is a winery and vineyard with an old history and new ownership. The land was originally purchased in 1977 by Richard Figiel, who added to the vineyards and founded a winery. Paul and Shannon Brock, the current owners, bought Silver Thread in 2011. They bring their rich experience in the wine industry to the the process of growing grapes and making wine at Silver Thread. Their vineyards are sustainable, and their wines are serious and sophisticated.
A winding road located off Route 414 on the eastern side of Seneca Lake takes visitors past sloping vineyards to Silver Thread Vineyard. When Richard Figiel purchased the property on which Silver Thread sits in 1977, he found grapevines dating back to the 1800's. This original vineyard had been abandoned in the 1930's due to flooding from a hurricane. Figiel planted additional vineyards between 1982-1984 and again between 1993-1994 and 2003-2004. Figiel was very passionate about organic viticulture and focused his attention on raising grapevines organically. He was one of the first vineyard owners in the area to found a winery, which opened in 1990, using vinifera. The current winery building was built in 1995.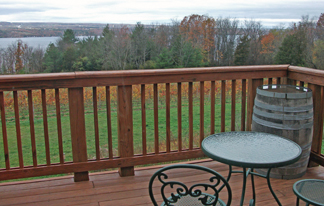 Paul and Shannon Brock purchased the property, vineyard, and winery in September 2011, bringing extensive experience in the wine industry with them. Paul has degrees in chemical engineering and viticulture/enology and served as the head winemaker at Lamoreaux Landing. Shannon worked for the New York Wine and Culinary Center. Both spent five years taking wine classes and obtaining certifications before making their own wine. In addition to making wine, Paul teaches wine classes at the Finger Lakes Community College. It is very special for him to see his students grow and become fluent in the wine industry. Both Paul and Shannon are passionate about the advancements in the industry. "By educating people, you can really start making an impact," Paul says.
Silver Thread has about seven acres of vineyards. Grape varieties include Riesling, Chardonnay, Gewürztraminer, Pinot Noir, Cabernet Franc, and Cabernet Sauvignon. Paul and Shannon take pride in the fact that their vineyards are sustainable. Silver Thread also purchases grapes from several other vineyards in the Finger Lakes.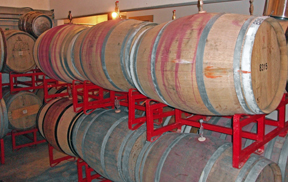 In 2011, Silver Thread made 1500 cases of wine. Paul and Shannon would like to increase that number to 3000. They want to stay small and family owned and run. Silver Thread focuses on dry, European-style wines and targets serious wine drinkers. They primarily make Riesling wines. All four of their Rieslings - the Dry Riesling, Riesling Doyle E. Seneca, Riesling Randolph O'Neill, and Semi-Dry Riesling - scored exceptionally well on the Wine Spectator's "25 Remarkable White Wines" list for 2011 Rieslings in the Finger Lakes. The Dry Riesling is light yellow in color and floral and fruity in aroma. It has a complex and acidic flavor and a long, smooth finish. Like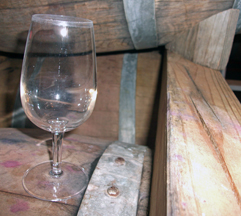 the Dry Riesling, the Riesling Doyle and the Riesling Randolph are light yellow in color. The Riesling Doyle has notes of apples, peaches, and pears in its aroma and flavor. It, too, is smooth. The Riesling Randolph has a sweet aroma that contains hints of the Riesling grape. It is crsip and smooth. All three of these Rieslings are delicate, high quality wines that would pair well with food. The Semi-Dry Riesling might satisfy the taste buds of visitors who are more attracted to sweet wines. This Riesling is nearly clear in color and has a sweet nose. It is light, smooth, and slightly sweeter than the other Rieslings. Other popular wines at Silver Thread include the Good Earth White and the Blackbird. The Blackbird is a blend of Cabernet Franc, Cabernet Sauvignon, and Merlot. It is purple-red in color, oaky with bread notes in scent, and contains bold tannins and flavors of spice. Visitors who do not like bold tannins in a red wine might appreciate the Pinot Noir, which has lighter tannins, an oaky aroma and taste, and a smooth consistency.
Paul isn't afraid to experiment as a winemaker. He is currently aging a small portion of Riesling in oak barrels. He hopes to obtain a Riesling that is delicate but has a broad palate. Winemaking "is a challenge," Paul says. "It's a struggle, and there's always something new to learn."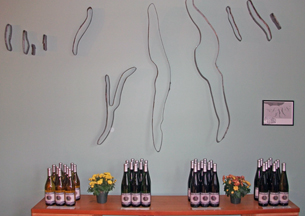 The tasting room at Silver Thread is small and homey, yet stylishly modern. It has a horseshoe-shaped bar, earthy tones, and windows showcasing views of Seneca Lake. A small porch overlooks the vineyards and the lake, and Finger Lakes metal art adorns the wall. Visitors can look down into the barrel room through windows. A small gift area contains local garlic pesto, local butternut squash seed oil, t-shirts, bottle openers, and a book written by Richard Figiel, the founder of Silver Thread.
Silver Thread holds a Summer Solstice event which features catered food, a May pole dance, a live local band, and a bonfire.
Silver Thread charges $3 for wine tastings and $5 for wine tastings that include local cheese and homemade bread.
Silver Thread Vineyard
1401 Caywood Road
Lodi, New York
---