Cascata Winery at the Professors' Inn
by
K.L. Sullivan
SYNOPSIS: The tasting room for Cascata Winery is located in a large home built in 1870. The home emphasizes the friendliness of the owner. You will enjoy tasting dry wines, medium table wines and dessert wines in the pleasant atmosphere.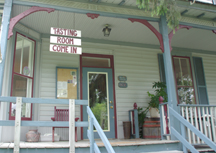 Cascata Winery opened as The Professors Place across from the well-known gorge in Watkins Glen. The name Cascata is Italian for waterfall and reflects the area waterfalls and Watkins Glen gorge. Relocated to an 1870's house in 2000, the winery tasting rooms have a comfortable, welcoming feel. With restored wood floors, paintings, wine accessories and wine displays, it is a perfect place to contemplate the taste of wines. The driveway circles around the back of the house, accenting the uniqueness of the home.
K. Coralee Burch started the winery with David Hannie. Today while Coralee is the CEO, her son-in-law, Kurtis Vondracek, is the 2nd generation involved as the General Manager. Cascata produces 1500 – 2000 cases. Kurtis' plans include producing 5000 cases in the future.
The first person we met as we were entering the winery was Jon Adams, Coralee's husband and a comic. We really enjoyed, "A Riesling for living." This is a very apt expression considering the high quality and prevalence of Riesling wines available in the Finger Lakes Region.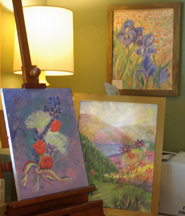 Most amazing is the vibrant owner of Cascata Winery who is a storehouse of knowledge and experience and an author. Coralee received her Ph.D. in Modern English Literature in Florence, Italy. She is an accomplished artist with numerous paintings available in the tasting room. She studied sculpture in Italy. Art collectors and institutions throughout the world own her work. In the tasting room, one series of paintings is "Global Warming." Coralee's paintings focus on landscapes and wildlife.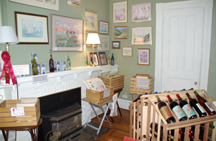 Near the tasting counter is a large,white fireplace. Surrounding the fireplace are numerous works of art created by Coralee. In front of the fireplace are wood crates of pictures to peruse through. Take your time and enjoy. Framed and unframed pictures are available.
We spent a considerable amount of time talking with Kurtis and Coralee about wine in general. Coralee is serious about creating quality wines and considers balance to be of utmost importance. Flavor and color within the wine is important. As an artist and a wine connoisseur, she understands and appreciates that balance is necessary in wine and art. Coralee believes the entire package, bottle, label and wine are all a work of art. While we discussed consumers' opinions about dry and sweet wines, Coralee commented, "Some people learn to like dry wines like they learn to like vegetables." Most people prefer sugar with hot and spicy foods. Therefore, for those sweet wine lovers out there, do not let anyone intimidate you for enjoying sweet wines.
The winery believes in keeping things easy for wine buyers. At Cascata for every vintage, they keep the same name and same photo concept. We enjoyed the tasting list visitors are provided with when they come to the winery. The list divides their wines into three types with lovely descriptions. Wines are listed under Dry Dinner Wines, Medium Table Wines and Pure Enjoyment Wines.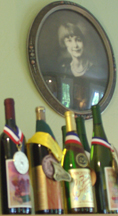 We tasted several wines and discussed them with Coralee and Jon. Cascade Riesling 2005 has a high fruit flavor with 2% residual sugar but seems dryer. The Red Bouquet 2004, a blend of Baco Noir, Leon Millot and Foch, had a smooth fruit acid balance. Odds and Ends 2005 starts sweet and has a dry aftertaste. Maggie, a light blush blend of Cayuga and Vidal hybrids, has a photo on the label of Coralee's mother at age 17.
Be sure to stop by Cascata Winery; we believe you will enjoy the friendly tasting experience and the opportunity to view and perhaps purchase inspiring art selections.
Cascata Winery at the Professors' Inn
Watkins Glen, New York

---