Frontenac Point Vineyard and Estate Winery
by
Meghan Anne Sullivan

Photos by
Andy Neumeier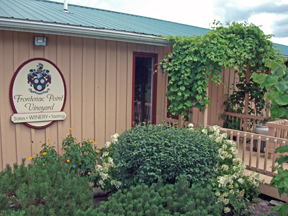 Summary: Frontenac Point Vineyard and Estate Winery, located in Seneca County, near Trumansburg, New York, was one of the first wineries in the Cayuga Lake region. Its founders and current owners, Jim and Carol Doolittle, have kept the winery small. They specialize in dry, red wines but also offer other varieties for visitors who may have a sweeter palette. Frontenac Point caters to serious wine drinkers.
Jim and Carol Doolittle selected the Cayuga Lake region as the perfect location for building their dream winery over 30 years ago. The land had been used as a cherry, apple, pear, and peach orchard by its previous owners. Jim and Carol began the vineyard in 1979 and opened the winery in 1982. The tasting room opened in 1991. Jim has a background in agriculture and had always wanted his own small winery. He went back to school to study viticulture at Cornell University so he could learn to make wine. Soon after founding their own winery, Jim and Carol helped found the Cayuga Wine Trail. Today, they have elected not to be a member of the Cayuga Wine Trail because, as Carol explains, they "are not into the tourist aspect of being a winery." Instead, Frontenac Point caters towards serious wine drinkers. Even though the winery is not on the Cayuga Wine Trail map, it is on other winery maps, and the tasting room often overflows with guests who are eager to sample Frontenac Point's wines and Carol's home baked bread.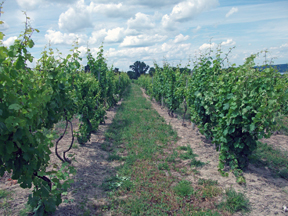 Frontenac Point is an estate winery; all the grapes used for their wines are grown on the property's 18 acres. The vineyards include Riesling, Chardonnay, Pinot Noir, Seyval, Vignoles, Frontenac Red, Frontenac Gris, Chambourcin, Vidal Blanc, Chelois, and Maréchal Foch varieties. Jim is the main vineyardist and is assisted by his son Larry, who also works in the winery. The winery produces 3,000-4,000 cases a year.
Frontenac Point's most popular white wines are the Riesling and Vignoles. The 2008 Riesling is almost clear in color with a light floral nose and a light, dry, and refreshing taste. It has hints of peach and apricot and a smooth finish. Jim says many visitors who say they do not like Riesling end up leaving with a bottle of Frontenac Point's Riesling. Other white wines include the 2007 Chardonnay, the Stay Sail White, and the Seyval Blanc. The 2007 Chardonnay is almost clear and has a sweet and earthy nose. It has an earthy, dry, and light taste with hints of fruit, vanilla, and oak. The Stay Sail White is a Vignoles, Riesling, and Seyval blend. It is almost clear with a light scent and a dry taste with light notes of pear and apricot. The Seyval Blanc is almost clear. It contains a spicy aroma and is dry, light, and refreshing. Frontenac Point also makes two rosé wines: the Stay Sail Rosé and the Clos Frontenac. The Stay Sail Rosé is light pink and smells sweet with hints of grape. It is dry, light, and refreshing and contains cherry and raspberry flavors that are intrinsic to the grapes. Neither the Stay Sail Rosé nor any other wine produced at Frontenac Point contains juices from fruits other than grapes. The Clos Frontenac is made from Chambourcin grapes. It is orange-pink in color and smells and tastes like berries. Frontenac Point is the only winery in the area that makes the Clos Frontenac Rosé.
Frontenac Point's most popular red wines are the Chambourcins. The 2007 Chambourcin is ruby-red. It has spice on the nose and is light, earthy, and smooth with a slight kick. The 2008 Chambourcin is dark ruby in color with an earthy nose, tannins, and a shorter finish than the 2007 Chambourcin. Frontenac Point's other red wines include the Stay Sail Red, the Frontenac Red, and the 2007 Pinot Noir. The Stay Sail Red is a blend of Chambourcin and Maréchal Foch grapes. It is ruby-red and contains an oaky scent and berry flavor. Its finish is smooth and contains notes of spice. The Frontenac Red is also ruby-red. It has a sweet and fruity nose, tannins, and a slight kick. It is made from a blend of Pinot Noir, Chambourcin, and Maréchal Foch grapes. The 2007 Pinot Noir is dark pink in color. It has notes of fruit and spice on the nose, a spicy flavor, and a kick. Frontenac Point also makes a port wine called the Port Frontenac. It is ruby-red with a berry scent. It is not very syrupy and would make a good dessert on its own or would complement desserts like cheesecake or chocolate.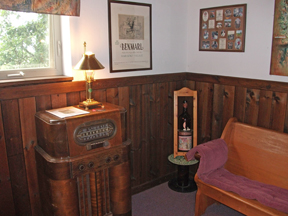 The tasting room at Frontenac Point is warm and inviting. It has a wooden ceiling, carpeted flooring, and walls adorned with artwork and tapestries. The tasting room also houses antique radios and a few wine-related gifts. A large porch with tables and chairs enables visitors to sip wine while enjoying the views of the vineyards and Cayuga Lake.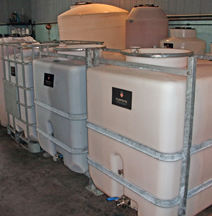 The wine cellar houses oak barrels for Chardonnay and Chambourcin, as well as steel tanks and plastic tanks. The plastic tanks are Flex Tanks, which use a new process that lets air in but doesn't let wine out. Jim insists that the Flex Tanks make just as good wine as the oak barrels. Frontenac Point is unique because it is probably the only winery on Cayuga Lake that uses the Flex Tank.
Frontenac Point hosts small events in a separate tasting room that is located off the cellar. These events include birthday parties, graduation parties, and special tastings, like the Chardonnay flight tasting. Frontenac Point has recently made a helicopter pad beside the vineyard, where guests will be able to land by helicopter. Whether coming by helicopter or car, a visit to Frontenac Point is a treat.
Frontenac Point Vineyard and Estate Winery
9501 Route 89
Trumansburg, NY 14886
---