Fox Run Vineyards
by
K.L. Sullivan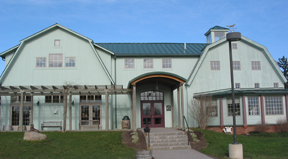 We entered a large building with a tasting room to the right and a café to the left. We were fortunate as the first person we met was the owner. He was very helpful and shared information with us, complete with a private tour of Fox Run Vineyards. Visitors can participate in tours that are available daily.
Being a member of a wine trail means more advertising and exposure for the winery. Fox Run has approximately 85,000 visitors a year. Fox Run participates in the Finger Lakes Wine Festival and holds their own festival in August.
Each year Fox Run produces approximately 45,000 gallons of wine. Sixty percent are from grapes grown on the property. One of the unique aspects of Fox Run is its cool climate wines.
After our discussion, we went on tour of Fox Run Vineyards. It was a cool day with a light breeze as we walked along a wide path between large vineyards. We noticed a large grassy area between two vineyards. The previous owners had planted Pinot Noir in this location. It was not tolerant of cold temperatures and the grape vines died. Fox Run Vineyards will plant a more cold resistant variety of grape in this spot in the future.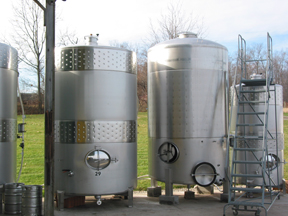 The owner of Fox Run Vineyards is pleased with his winery. He has expanded the production of wine. We walked past small and large tanks on the tour. His largest tank can hold 6,000 gallons of wine.
Fox Run Vineyards does not make an ice wine. When we asked, "Why?" the owner responded with, "I won't ask my employees to do something I won't do." Ice wine is produced with frozen grapes that freeze on the vine, are picked frozen on the vine and are processed while frozen. Getting up at 3 am and picking frozen grapes is not something the average person would like to do.
While we like ice wines, we applaud Fox Run Vineyards for putting their employees first.
After our tour, we decided to stop at the Fox Run café for lunch. The service was friendly and the food good. Tuna fish salad was just like homemade, and the beef and vegetable soup added just the right touch to a cool day. Large gourmet style sandwiches were also available.
Fox Run Vineyards
Penn Yan New York

---