Hosmer Winery
by
K.L. Sullivan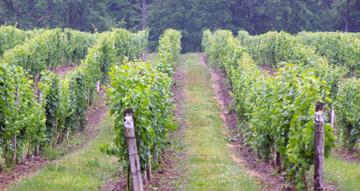 Summary: Cameron Hosmer is the energetic owner of Hosmer Winery who enjoys talking with other owners, winemakers and vineyardists. He has a second business and is well known on the East Coast for establishing vineyards at other wineries. He prefers working in the vineyards rather than the winery. In the tasting room, Cameron believes that "good wine is what you like."
The first planting on the property, the oldest planting on Cayuga Lake was in 1972. The Hosmer winery began in 1985. They planted Riesling in 1980. Cameron remembers 1980 when he believes that the worst weather for the area occurred on Christmas Eve. The temperature dived from 32 degrees to a minus 12 degrees. Today Hosmer Winery has 60 acres of vineyards and sells grapes to other wineries.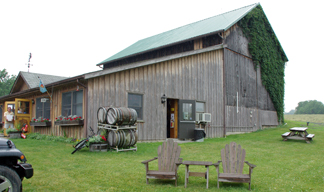 The windows of the front of Hosmer's tasting room are adorned with window boxes filled with red geraniums and silver/gray foliage plants. Pansies decorate the edge of the building. Picnic tables and Adirondack chairs dot the grass near the vineyards.
The tasting room has numerous items for sale. Visitors may discover bottle bags, Woodwick Candles, grape seed oil, Glendale Farm Certified Organic Grape Juice, Raspberry Honey Mustard Pretzel Dip, Raspberry Salsa, Lemon Wasabi Sauce, scented soaps and more. Don't leave the tasting room before you have a chance to view the selections.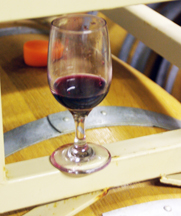 Before we tasted Hosmer wines, we met with Aaron, the winemaker. Aaron believes there is a synergy between wine, grapes and oak grown in the same area. His favorite grape to work with is Pinot Noir because it is a challenge to come up with a good Pinot Noir year after year. "Pinot Noir is fun."
The tasting room is an addition to an 1820 barn, which has an event room with ceiling fans on the upper level. On the wall behind the tasting counter were two large quilts for sale sewn by a local resident.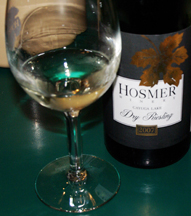 All wines at Hosmer Winery are estate wines. Wines we tasted included the 2007 Dry Riesling. This Riesling had a floral nose with a very fruity peach taste. The aftertaste had a crisp finish and was fruity. Riesling Limited Release 2006 offered a floral and fruity nose with a fruit salad of peaches and pears taste. The aftertaste was fruity. Semi Dry Riesling 2007 had a floral nose with a peach and citrus fruit taste. The aftertaste was fruity. The Dry Rosé offered a fruit nose with a red fruit taste. There was a dry lingering fruit flavor for the aftertaste. Estate Red was a blend of DeChaunac, Merlot and Chardonnay. The result was a red fruit jam nose, red fruit taste and a fruit, slightly sweet aftertaste. Raspberry Rhapsody had a nose and taste of raspberry. The finish was smooth with a raspberry taste. Be sure to try the Raspberry Royale made with fresh local raspberries. This dessert wine had a raspberry nose with a long finish.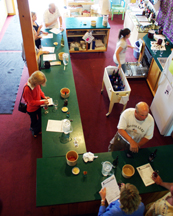 While you taste wines, strike up a conversation with others in the tasting room. Enjoy your visit to the winery. Visit the event room, in case you may be planning a special occasion in the future.


Hosmer Winery
6999 Route 89
Ovid, NY 14521
GPS N 42° 68.413' W 076°74.569'
---