Montezuma Winery
by
K.L. Sullivan
Montezuma Winery offers diversity. The wines range from dry to sweet. Wines available include mead, fruit and grape. A new column still will add to Montezuma's large portfolio.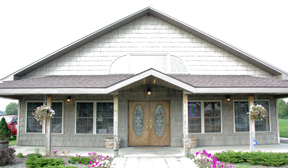 The focus at Montezuma Winery is fruit and honey. George Martin started the commercial business of honey in 1994. Four years later with honey prices dropping and costs going up, the family began niche marketing honey. Their son, Bill, had been experimenting with mead and beer making. That was the beginning of the winery. By 1999, Montezuma was producing wine. Bill Martin, winemaker, communicates his enthusiasm for winemaking. Today Montezuma Winery produces 6000 – 7000 cases. The winery has a strong following for their mead wines.
The current location on Route 20/5 in Seneca Falls, New York opened in 2001. This is a great area near the Montezuma National Wildlife Refuge area. Father's Day features one of the biggest events of the year. The winery partners with the wildlife refuge area to feature a Father's Day event with a portion of the proceeds going to the refuge.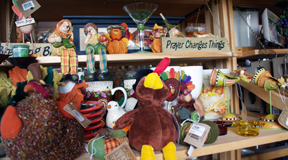 Numerous gifts are available in the tasting room. In September, Halloween and Thanksgiving items were on the shelves as well as numerous all year-round gifts.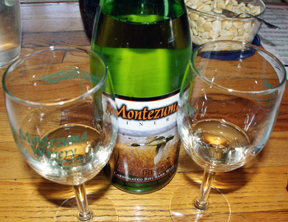 Standing at the wood counter, we tried several wines. With 30 different wines, it was difficult to decide which to taste. Wines on the list included Mead, Riesling, Merlot, Blueberry, Pear, Apple and Rhubarb. Cranberry Bog, their most popular wine, was a must to try, with Thanksgiving only two months away. Cranberry Bog has a fruit nose with a sweet cranberry taste then becomes dry and tart with a cranberry aftertaste. Dry Traditional Honey Wine is dry with a honey nose and taste with a very long honey aftertaste. Vin de Poire is dry with a pear nose, pear flavor, and pear and oak aftertaste. It has a long pear aftertaste with an oak influence. Vin de Myrtille is a dry blueberry with a blueberry nose and oak taste. The taste is earthy and dry with an earthy aftertaste. Pintail is a carbonated rhubarb wine with a slight fruit nose and rhubarb taste. The carbonization cleanses the palate and the wine has a rhubarb aftertaste. Sparkling Honey Wine has a honey nose and taste.
You may choose from traditional wines, meads, fruit wines and blends. This winery will be good to visit repeatedly so you have the opportunity to taste a selection of different wines. The honey wines had the longest aftertaste sometimes lingering through the next tasting. Consider tasting the meads last.
Winery
The winery is located behind the tasting room. The production area is 10,000 square feet. A builder constructed the large building. However, Bill's brother, a skilled carpenter, completed the interior. It is here that whole fruit is fermented for the fruit wines. The pear and blueberry wines are oak-aged. Due to the nature of various storage and ripening times of different fruits, the Montezuma Winery never has a month when they are not fermenting or bottling wine.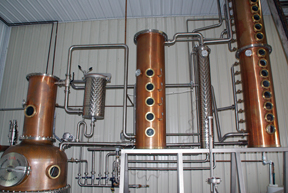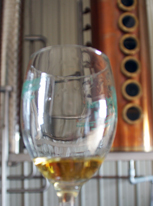 A unique piece of equipment recently purchased is a 400-liter fruit and brandy distiller. The large copper column still is in three sections. It was custom made in Germany by Christian Carl Ingenie. Column stills can produce a liquid that is close to pure ethanol alcohol. Bill's dream is that within five years, he will be able to open a café on the side of the winery and it will feature the distiller behind large windows.
Two distilled items were tasted. The Apple Eaux de Vie, a colorless fruit brandy, has apple on the nose and finish. The taste is of apple and alcohol. We tasted a mead brandy aging in an oak barrel. A bit of water was added to lower the strength of the alcohol. There is honey and oak on the taste and honey on the finish.
Mead is unusual to find at most wineries. If you have the opportunity to stop at Montezuma Winery, do so and try a mead wine.
Montezuma Winery
Seneca Falls, NY 13148
---