Earle Estates Meadery
by
K. L. Sullivan
Mead wine "offers a whole new" world to wine drinkers. Looking for a different type of wine? Be sure to stop at Earle Estates Meadery. This is the only winery in the United States to produce mead honey in this particular way.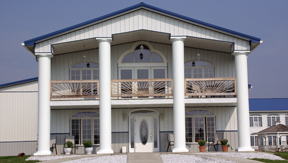 A large white building easily seen from Route 14 is your first sign that you are about to enter a unique winery. The tall, bright white tasting room has a lovely view of Seneca Lake. John, co-owner of the winery, designed the building.
After entering the meadery, we met the owners, John and Esther Earle, both friendly and down-to-earth. While young, they had grown up in the farming culture. After years of working in other fields, they decided to return to the farming environment.
As a meadery, they needed to get special permission by the government to use the formulas they use to produce their wines. Currently, they are the only winery in the United States who creates wine the way they do. During the production of wine, protein is filtered out to make a lighter mead wine. Special permission was also needed for the labels.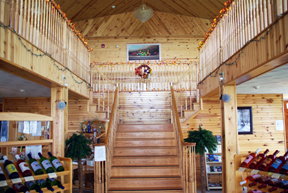 The meadery began in the early 1990's with the production of three meads and three fruit wines. The first vintage was 1994. At that time, they produced their own honey and purchased local fruit. The owners added the Earle Estates Meadery Tasting Room onto the winery in 2004, opening in November. The tasting room is bright; constructed with beautiful oak and pine woodwork. Numerous displays of colorful wines and handcrafted items are for sale. A wide stairway leads to the second floor area, used as additional room for tastings. The second floor also provides entrance to an outdoor balcony with beautiful views. This would make a perfect spot for enjoying a glass of your favorite mead or fruit wine.
Today the Earle Estates Meadery in combination with Torrey Ridge Winery produce over 60 wines. The tasting rooms account for 87% of the wines sold.

Not only does the meadery produce several types of mead wines, they also produce fruit wines many of which are a blend of fruit and mead. The meadery uses between ten and twelve thousand pounds of each fruit. This year they used 11,200 pounds of peaches and will use twelve thousand pounds of pears. In an effort to produce quality wines, they pay more to have strawberries hulled. They purchase all fruit from local growers.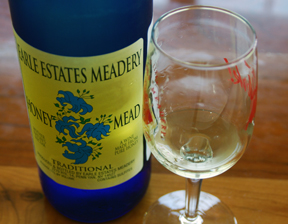 We tasted several of the wines. Black Jewel is the biggest seller. Traditional Honey Mead is the best selling mead. Honey Mead Contemporary Semi-Dry is ultra filtered, made from clover honey, with a light to medium body. It is sweet and mild with a slight honey and dry aftertaste. Honey Mead Traditional has a floral (wild flower) nose with medium to heavy body and a long aftertaste. Honey Mead Contemporary Semi-Sweet has a floral nose. It is sweet, light bodied with honey on the aftertaste. This wine is used in fruit wine blends. Raspberry Reflection is 30% raspberry wine and 70% mead. It has raspberries on the nose with raspberry flavor. Cruisin Cranberry is made with 30% cranberries and 70% mead. This wine has a honey nose and cranberry flavor. It is tart with a bit of honey on the aftertaste. This wine would make a nice accompaniment with Thanksgiving dinner. Black Jewel is 30% black raspberry and 70% mead. This has a black raspberry nose and sweet black raspberry flavor.
We met Jonathan, a son and interested in learning the business. He is enthusiastic about the meadery. It is always delightful to see a younger generation interested in continuing the traditions begun by their parents.
After a pleasant visit to the meadery, just walk a few steps to Torrey Ridge Winery and taste their wines.
Earle Estates Meadery
Penn Yann, New York
GPS N 42° 37.762' W 076° 56.694'
---