Toro Run Winery
by
Kathy Sullivan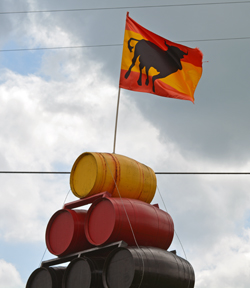 Summary: The balcony at Toro Run Winery offers dynamic views of Cayuga Lake. Toro Run Winery is an estate winery with an emphasis on Spanish foods and the running of the bulls. In addition to a winery, tasting room and vineyards Toro Run developed 10 housing lots adjacent to the vineyards.
Toro Run Winery in Ovid, New York is easy to find. Near the tasting room and vineyards, travelers will see a stack of colorful, painted wine barrels topped with a yellow flag adorned with the image of a Spanish bull.
We came away from Toro Run Winery with a smile. We met Chris Weaver an enthusiastic owner and winemaker who said that after people visit he wants them to say, "That's the coolest thing I've seen." After noting that Toro Run Winery is an estate winery he said, "Wine is only touched by us." Chris takes pride in good dry reds and believes that Toro Run Winery is a special niche in the Finger Lakes with a flair for Spanish-style wines.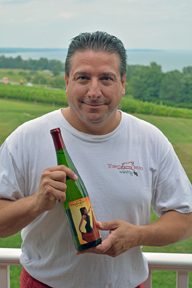 The fascination for the Spanish foods may well come from Chris' fascination with Spain's running of the bulls. He has participated in the running of the bulls 78 times, thus the logic behind the name of the winery. The tasting room features a video of the running of the bulls. Another memory from the past, Chris remembers going with his grandparents and other family members to harvest grapes in the fall to make wine.
Toro Run Winery began with a conversation between two local residents Chris Weaver and Jim Coppola. In 2005 they purchased a 64-acre wood and brush covered property and began to clear the land. In 2006 as they cleared the property the elevation appeared and they discovered the perfect spot for the winery tasting room with the picturesque views of Cayuga Lake. Today at the highest elevation several housing lots have been set aside. Houses at this height have spectacular views of Cayuga Lake.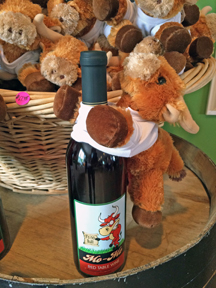 Tasting Room at Toro Run Winery
The tasting room is located overlooking acres of vineyards. A large porch provides plenty of space with seating and tables to enjoy a glass of Toro Run wine. On the porch and in the tasting room thick, round green concrete tables provide space for relaxing with a glass of wine.
Almost but not quite attached to the tasting room, a food truck offers Spanish tapas. A large window allows tasting room visitors to order tapas from the food truck while in the tasting room. The Spanish tapas menu includes: conch chowder, plates of Manchego cheese or Spanish jamón, stuffed peppers, sliced chorizo, blue cheese stuffed olives and Chardonnay kielbasa.
While the emphasis in the tasting room is on quality wines and Spanish tapas, do look for the adorable, miniature stuffed Spanish bulls. You must know someone who would love one of these cuddly animals that are small enough to hug a wine bottle.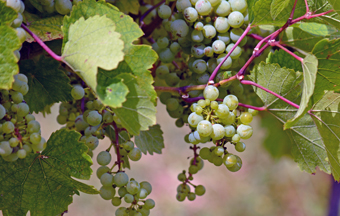 Toro Run Vineyards in Ovid, New York
In 2009 the Toro Run grapevines were planted. The production facility was constructed in 2011. Toro Run Winery has 11 acres of prolific grapevines planted and eventually will increase to 30 acres. The grape varieties include Grüner Veltliner, Riesling, Pinot Noir and Pinot Meunier. Harvested grapes not needed in the winery production are sold to other wineries.
Toro Run Winery
The winery facility built in 2011 was constructed with the future growth of the winery in mind. The facility can accommodate 10,000 cases. Current production is 3,000 cases and the winery also does custom crush for other wineries. The winery was built into a hill for energy efficiency, keeping it cool at 60 degrees F with no air conditioning. Currently 90% of the oak used in the winery is French.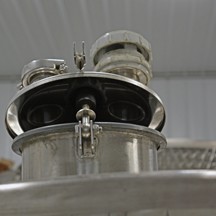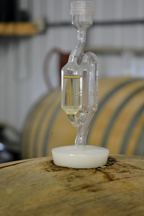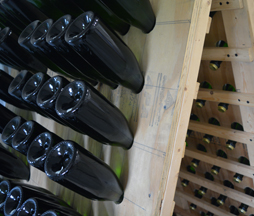 Toro Run Wines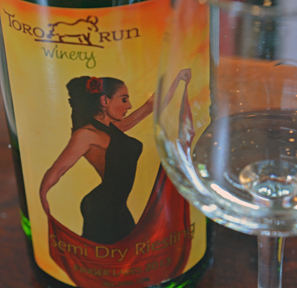 Back in the tasting room we tasted several wines. Grüner Veltiner 2013 was a light yellow color with notes of floral, citrus and mineral. The wine had a crisp finish. Chardonnay Barrel Select 2012 was aged in oak barrel for one year. The light yellow colored wine offered notes of apple, pear and a hint of caramel. The finish was crisp and fruity with the fruit yielding to mineral. Semi-dry Riesling 2013 had 20 grams per liter of residual sugar. This light yellow colored wine offered yellow stone fruit notes with hints of tropical fruits. The crisp finish was slightly sweet and fruity. Gewürztraminer 2012 was a light yellow color. The wine offered an aroma of floral and spices. The taste was of floral (think roses) and citrus with some tropical fruit. The crisp fruity finish yielded to mineral.
Pinot Noir 2012 was natural yeast fermented. The wine was a translucent red color with notes of cherry, red raspberries, mineral and leather. The wine had silky tannins. The crisp finish was fruity. Cabernet Sauvignon Reserve 2012 was a translucent ruby color. The wine offered notes of blackberries, cassis, and black raspberries. The wine was medium/bold bodied and had noticeable tannins. The finish was crisp and fruity.
Late Harvest Riesling 2013 was a light yellow color. The grapes for this late harvest Riesling were harvested in early November. This dessert wine was very floral with peach notes. The finish was crisp and fruity.
Events
Although the property is located on a high elevation with a good slope for the vineyards, a large space has been set aside for events, especially weddings. Named Grape View Terrace, the smooth green grass is separated by an iron fence. The terrace offers views of Cayuga Lake and vineyards making it ideal for large or small weddings.
Housing above the Vineyards
Chris and Tim planned for ten housing lots located at the highest elevation. The lots have ideal views of Cayuga Lake, vineyards, tasting room and winery. The lots can be developed for permanent or summer housing.

Eventually Chris hopes that Toro Run will become a household name. Enjoy a friendly visit to Toro Run Winery. While visiting, try Spanish tapas and relax with awesome views of Cayuga Lake.
Toro Run Winery
3050 Swick Road
Ovid, NY 14521
GPS: N42º 43.384' W76º 45.784'
Article written September 2015
---