Barrington Cellars
by
Terry Sullivan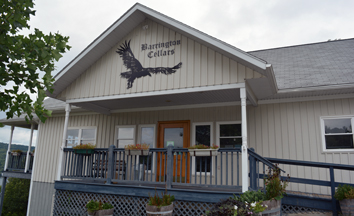 Summary: Nestled on the eastern slopes of Keuka Lake, Barrington Cellars has a rich history of grape growing. Wine enthusiasts can enjoy several different wines from the side deck of the tasting room/retail shop while relaxing and enjoying views of the lake.
The tasting room and retail area of Barrington Cellars is flanked by vineyards. During our mid-August visit, the Concord grapes were going through veraison showcasing the grape variety's dark purple color. The winery was named after the village of Barrington and is owned by Ken and Eileen Farnan.
We did not meet the owners on the day of our visit; however, we conducted an email interview. One question was how their wine journey began. Eileen wrote: "Back in 1971, my husband and I were ripe to settle down. I was a senior research assistant at Eastman Kodak (bored with corporate work), and Ken was a student at the University of Rochester.  I had told him how I missed the family fruit farm I had grown up on in Irondequoit, a suburb of Rochester, and all the seasonal chores that went with living the farm-life. This included winemaking. I even taught him all I could remember of the winemaking. Our first vintage was a 1970 Concord.  The grapes were procured from the west side of Seneca Lake on the way home from the Grand Prix in Watkins Glen. You see we were traveling on bike, and the aroma of ripe Concords was hypnotic. Ken, being a NYC boy who went to college (met me there) in rural Upstate (Alfred, N.Y.) He was hooked on the country life. Ken was the one who found an ad in the Sunday paper for the first farm (the one where the wine shop sits). We came to look at the farm with 10 acres of labrusca grapes, and could not leave. And then in 1972 I remember telling Ken his wine was so good, wouldn't it be great if we could have a winery; hence the second dream was born."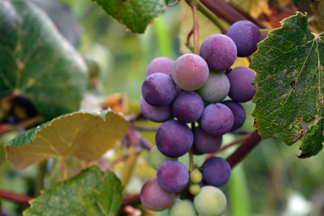 Vineyards
The vineyard and farm are called Buzzards Crest. There are 35 acres of juice and wine grapes harvested from vitas vinifera grapes, hybrid grapes and American grapes. White varietal grapes include: Aurore, Catawba, Cayuga, Delaware, Diamond, Niagara, Riesling, Traminette and Vidal. Red grape varieties planted are: Baco Noir, Cabernet Franc, Concord (picture), De Chaunac and Vincent.
In addition to the wine and juice grapes, there are 12 acres of seedless and seeded table grapes which are sold to New York City greenmarkets, restaurants and a wholesaler.
Barrington Cellars uses their own grapes for wine production. Occasionally they need to source grapes. Eileen explained, "The only grapes we have to purchase are the vinifera reds, as our Lake Keuka freezes over in the winter.  When the lake freezes, we lose the temperature stability that red viniferas require to survive.  Bud and cane-trunk injury starts when it gets below -5 degrees F.  So we get those grapes from some friends over on Seneca Lake which does not freeze over."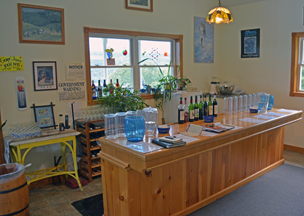 Wines
Several wines were tasted during our visit. The 2013 Riesling was semi-dry with 20 grams of sugar per liter. The wine was aromatic with peach notes. The pale yellow colored wine had a crisp finish with apple hints. This tasty 3P (porch, patio, pool) wine would pair well with cheese. The Buzzard's Peach wine was a pale yellow color with 40 grams of sugar per liter. It was very aromatic and peachy. This wine will make you smile.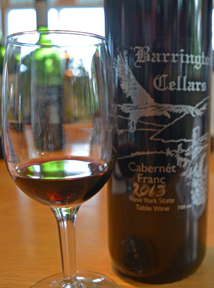 The 2011 Cabernet Franc Rosé was a red color with a burnt orange hue. The wine offered red fruits including red cherries and red raspberries. This very crisp and fruity wine was light bodied. It is a good rocking chair on the porch wine. The 2013 Cabernet Franc was a dark ruby to dark purple color. The wine was reminiscent of black raspberries and blackberries with a hint of leather. The wine had tannins that were accompanied by a very crisp fruity finish. Raptor's Red was a blend of Cabernet Franc, Noiret and Roussanne. The dark ruby colored wine had dark fruits and cedar on the aroma. The taste offered blackberries and black cherries along with cedar and tannins. The wine had a crisp fruit finish.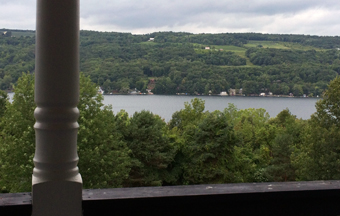 Barrington Cellars and Buzzard Crest Vineyards have been around for awhile. When asked what changes have the owners seen over the past several years, Eileen responded, "In the past few years there is only one way to describe what has happened, an explosion of new wineries!"
When traveling on the east side of Keuka Lake, stop by Barrington Cellars. Spend some time on the porch tasting wines and relaxing while observing the tranquility of the countryside and Keuka Lake.
Barrington Cellars
2794 Gray Rd
Penn Yan, NY 14527
GPS: N42º 33.002' W77º 05.572'
Article written August 2015
---