Ventosa Vineyards
by
K.L. Sullivan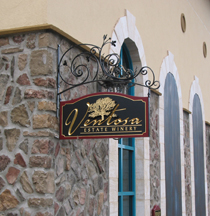 Our last stop in the afternoon was Ventosa Vineyards, a winery that opened in 2005. We entered a tasting room with large displays of wine and wine accessories. A Tuscan atmosphere was evident with the tasting room's décor.
Eventually Ventosa Wineyards will be growing enough grapes to be 100% estate winery. The twenty-one acre vineyard has a variety of grapes including Pinot Noir, Cabernet Savignon, Syrah, Riesling and Chardonnay. Ventosa Vineyards grows two varieties of Italian grapes: Sangiovese and Tocai Friulano. Ventosa also uses grapes from other vineyards in the area. Currently most of the wine at Ventosa is vinefera. Ventosa uses Merlot grapes from Long Island.
Several wine flights are available. We chose one dry flight and one semi-dry flight. Unlike the New York State Wine and Culinary Center, the flights at Ventosa use one wine glass. This makes it difficult to compare the wines in each flight. Flights are two dollars. The two dollars can apply to a purchase. One is not able to compare the color within each flight. Our suggestion would be to use a placemat with the names of the wines in each flight.
Ventosa Vineyards includes a café and a banquet room. The café provides a reasonably priced menu, which includes salads, pizza, wraps, sandwiches and more. The large banquet room is available for special events and can accommodate 350 guests.
Ventosa Vineyards
Geneva, New York
---