Hazlitt 1852
by
Kathy Sullivan

Summary: Hazlitt 1852 in the Finger Lakes region was honored as the New York State Fair's Winery of the Year in 2015. The Hazlitt property has been in the family for six generations dating back to 1852. Visitors to the winery can expect to have an enjoyable time.
Visitors traveling to Hazlitt 1852 winery and tasting room will easily locate the winery on New York 414. The brown barn-sided tasting room with a green roof is easy to spot. Parking spaces are plentiful at this busy tasting room. An American flag waved bravely outside the tasting room door. When we arrived, wine lovers were having a delightful time tasting wines and talking in the friendly ambiance of the tasting room.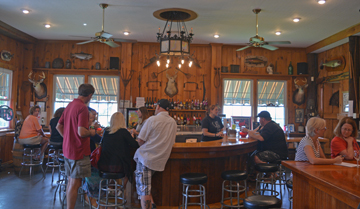 Inside, the tasting room offers a large tasting area with a u-shaped tasting counter. Nearby is another tasting counter. Another section of the facility is devoted to retail with numerous wines and merchandise available. The walls and tasting counters are of dark pine wood. In one area, visitors will see a large well-maintained old, cast iron pot belly stove.
Hazlitt 1852 has two tasting room locations in the Finger Lakes of New York. The Hazlitt family has farmed the land for six generations going back to 1852. We met Michael Reidy, vinifera winemaker, in the Hazlitt 1852 tasting room where we were eager to learn his story and the story of Hazlitt 1852.
The Hazlitt property originally was farmed for orchards and vineyards. Today Hazlitt 1852 has 55 acres of vineyards in three separate locations. The acreage includes Riesling, Cabernet Franc, Cabernet Sauvignon, Chardonnay, Pinot Gris, Sauvignon Blanc, Grüner Veltliner, Merlot, Pinot Noir, Vidal, Vignoles and Gewürztraminer. The winery sells some of the grapes but most grapes are used in the winery. All of the Hazlitt 1852 vinifera wines are produced with estate grown grapes. Current production is 12,000 to 15,000 cases of vinifera wines.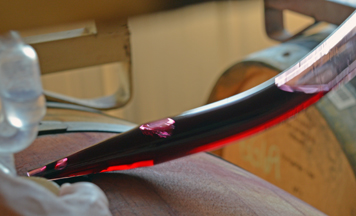 Hazlitt 1852 Winery
Michael gave us a quick tour of the winery. One piece of equipment caught our attention. In the winery Michael uses a product from Germany, Float Clear. It is used to float out large particles from a wine.
We walked with Michael to the barrel building located a couple hundred feet from the winery room where we tasted several wines aging in oak barrels. All of the wines we tasted show great promise for future sales. The one wine variety we were most keenly aware of was the Saperavi, definitely a wine to try for red wine enthusiasts. This grape variety originates from the country Georgia, south of the Greater Caucasus Mountains. It is the most widely planted black grape variety in Georgia and showing promise in the Finger Lakes and Central Pennsylvania.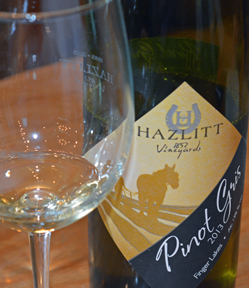 Hazlitt 1852 Vinifera Wines
Back in the tasting room, Michael ushered us through several wines. We decided to concentrate on the wines Michael produces. The Sauvignon Blanc 2013, with 13.9% alcohol, was a light yellow color. The wine offered an aroma and taste of lemon grass, citrus and pineapple. The finish was crisp and fruity. Grüner Veltliner, with 13.9% alcohol, was dry with only 4 grams per liter of residual sugar. The light yellow colored wine had a floral aroma. The taste included notes of floral and yellow stone fruit. The crisp finish had fruit yielding to mineral. Pinot Gris 2013, with 13% alcohol, offered an aroma that reminds one of a fresh spring breeze. The wine was slightly sweet but dried on the finish. This Pinot Gris is food friendly. Dry Riesling 2013 had 11.5% alcohol. This smooth wine with light fruit notes pairs well with cheese.
Cabernet Sauvignon 2012, with 13.5% alcohol, was a dark, ruby color. The wine had black fruit notes and a taste of blackberries and cassis. The wine had very bold tannins like kissing (mouth puckering) tannins. The crisp finish was fruity. Cabernet Franc 2012, with 15.2% alcohol, was a ruby color. The aroma and taste had notes of dark fruits including plums. It had very bold kissing tannins. The finish was crisp and fruity.
Vidal Blanc 2012 Ice Wine was a dark golden color. The wine was very aromatic and offered notes of honey. The grapes were harvested at 44.6 Brix. This is a delicious ice wine and the acidity keeps it from being syrupy.
Cider Tree
The assistant winemaker is in charge of producing Cider Tree ciders. Cider Tree is produced with local apples. The cider was 6.6% alcohol. The back label reads, "It's your apple. Go ahead and pick it." The cider offered an apple aroma and taste and was effervescent. This cider is a 3P (porch, patio or pool) wine. Food pairing suggestions included ham, chicken and pork dishes.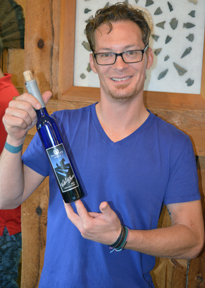 Michael Reidy: Vinifera Winemaker
Michael Reidy was born in Hagerstown, Maryland. His father moved to upstate New York to work in the beer industry. During high school and college, Michael enjoyed science and investigated schools that had brewing programs. At the time he knew he did not want to push papers in an office. Michael also worked at Lucas Vineyards. Michael's father told him that for a career he probably would like winemaking rather than beer fermentation. Michael went to Cornell to study oenology and viticulture. In 2006 Michael began working at Hazlitt 1852 as an assistant winemaker and became the head winemaker for the vinifera wines in 2010.
Michael enjoys working at Hazlitt 1852 where he has the opportunity and freedom to do things the way he wants particularly producing vinifera wines.
If you are looking for camaraderie, a variety of wine styles, the main Hazlitt 1852 tasting room is the place to go when visiting the Finger Lakes.
Hazlitt 1852 Vineyards
5712 New York 414
Hector, New York 14841
GPS: N42º 30.633' W76º 52.541'
Hazlitt's Red Cat Cellars
1 Lake Niagara Lane
Naples, New York 14510
Article written September 2015
---