Seneca Shore Wine Cellars
by
K.L. Sullivan
The sky was filled with multi-gray clouds with light streaks as we drove along the driveway to the Seneca Shore Wine Cellars parking lot. We parked between the winery and Seneca Lake. At this time of year, with the deciduous leaves on the ground, it was much easier to see the beauty of Seneca Lake. As we spoke with the winemaker of Seneca Shore Wine Cellars, we gazed out at the beauty of the lake that he sees every morning when he comes to work.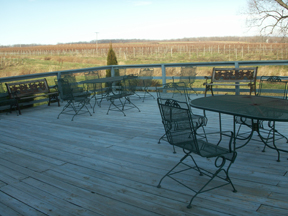 Seneca Shore Wine Cellars began in 1993 with the planting of vineyards, and the winery opened in 1997. Seneca Shore Wine Cellars grows many of the grapes on 48 acres, and these grapes are used in their production of dry and semi-dry wines. The winery purchases some of their grapes for sweet wines. The annual production of wine is about 12,000 gallons. This winery participates in the Finger Lakes Wine Festival along with more than 70 other wineries. This is your chance to enjoy good food, demonstrations, seminars as well as arts and crafts. Go http://www.flwinefest.com/info.html to get more details about this exciting event in July, 2007.
The emphasis at Seneca Shore Wine Cellars was the Medieval Ages. Wine servers were dressed in Medieval Age costumes. Our wine server wore a long purple dress typical of the upper class during the Medieval Ages. When we explained we had questions about the winery she quickly found the winemaker who came and answered our questions and commented on many aspects of the wine industry. He is enthusiastic about winemaking. It was evident that he thoroughly enjoys working with nature. He mentioned how early that morning the sun rising had been wonderful and he added that he takes time each day to truly appreciate the wonder of nature.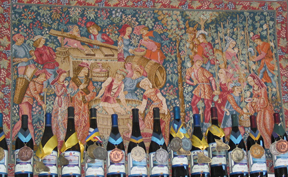 We wanted to know why this winery emphasized the Medieval Ages, and the winemaker pointed to a beautiful tapestry depicting scenes of wine producing. He feels wine making today is reminiscent of wine making in the Medieval Ages. He likes to remind visitors that wine has been produced for several thousand years. During Medieval times, the vines were grown similar to the way they are grown today. The crushing of the grapes was also similar.
After tasting a selection of wines, we went to the back of the tasting room where we saw an assortment of wine knickknacks and crafts for sale. One of our favorite items was a lighted wine bottle that had been hand painted.
We enjoyed our visit to Seneca Shore Wine Cellars and hope you will enjoy yours, too.
Seneca Shore Wine Cellars
Penn Yan, New York

---