Long Point Winery
by
K.L. Sullivan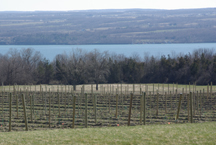 Long Point Winery is located on the lovely east side of Cayuga Lake with over 70 acres of land where eight acres are vineyards. From the winery and the vineyard, Cayuga Lake greets one in the distance, in all of its sparkling blue beauty. Grapes planted on the property include Chardonnay, Cabernet Franc, Pinot Grigio and Riesling. Gary Barletta, owner, plans to add more Riesling grapevines in the future. With the warm weather arriving, expectations are that budding will take place this weekend.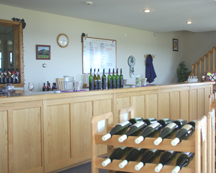 The tasting room opened in 2000 with only one bottled wine, Ciera. Long Point Winery opened on the Wine and Herb Festival weekend held during May in 2000. Not knowing what to expect the owners, Gary and Rosemary Barletta found it overwhelming. There were so many people that on Saturday night they needed to label extra bottles so they would have enough wine to sell on Sunday. Gary called a friend to find out if every weekend would be like this one. Unfortunately, some weekends would be very hectic while many would not be busy.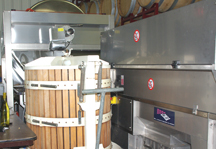 Gary has been making wine for more than 30 years. His Italian grandfather taught him to make wine. All of his winemaking took place in a garage before Long Point opened in 2000. He made his first batch of wine in 1976. Gary mentioned the phenomenal amount of paperwork that involves owning a winery. As one who has been involved in the field of radioisotopes, Gary indicated that there was more paperwork involved with the winery than in the field of radioisotopes.
Long Point Winery's events include a Winemaker's Dinner on the first Sunday in November and participation in Cayuga Wine Trail events. One of the challenges facing the winery is attracting visitors to the east side of Cayuga Lake. The west side has many wineries while the east side currently has two. Wine events do help bring people to the winery. It is interesting to observe the cooperation between wineries. We met one of Long Point's tasting room staff tasting the newly released wines at King Ferry Winery. He invited the King's Ferry staff to taste the new wines at Long Point.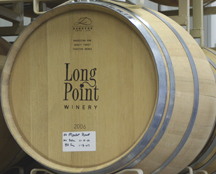 With producing 4,000 cases, Long Point uses a truck bottling system that processes 180 cases an hour. Long Point uses French, American and Hungarian oak barrels. Sometimes the simple things make one happy. Gary proudly pointed out the name "Long Point" on the oak barrels.
The tasting room has a very long tasting bar and is a bright room, making it easy to observe the wine you taste. Behind the tasting bar is a large white board listing numerous places one can purchase Long Point's wine. However, in our opinion, if you purchase your wine at the winery you will also be getting a wonderful experience with the wine. In the tasting room, racks of wine are available. Beautiful ceramic grape leaf-shaped chimes are available. Visitors can also purchase wine scented candles, recipe books, wine racks and more.
This was the first winery we have visited where visitors could purchase a case of new, empty wine bottles. Gary said that they sell the wine bottles to people who need them for bottling wine at home and for crafts. Several colors were available including clear, pink and blue.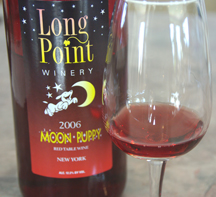 Gary pointed out that color has a big influence on how people taste. We had not heard this concept mentioned at a winery before our visit to Long Point. The more we thought about it, the more sense it made. The sense of smell plays a large role in wine tasting, why not the sense of sight/color. Moon Puppy was bottled in red bottles. Red wine bottles was another first encounter.
Today, Long Point Winery has sixteen wines to offer visitors. We tried several red and white wines, some with traditional wine names and three unusual names. Vidal Blanc 2006 was very good with a good fruit flavor and good balance. The price is also very good; one of the best values we have seen at a winery. Starting with Ciera as their first bottled wine, Long Point continues the tradition with Ciera 2006. Moon Puppy 2006 with residual sugar of 3.0 was light and semi-sweet, while 2005 Zinderella was sweet with a nice finish.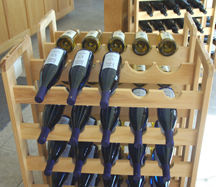 Visitors can enjoy the wines and the scenery. Cayuga Lake offers a beautiful blue backdrop to the fields of vines. Picnic tables are available to enjoy a picnic lunch with your favorite Long Point wine. A visit to Long Point Winery will give you many choices among their sixteen wines.
Long Point Winery
Aurora, New York
---