Swedish Hill Winery
by
K.L. Sullivan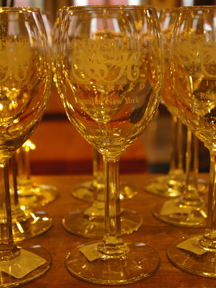 At Swedish Hill we learned that the winery was so named because the grandfather of the owners, the Petersen's, was from Stockholm.
Last year Swedish Hill produced 65,000 cases (about 155,000 gallons) of wine. Opening in 1986, Swedish Hill Winery is the area's largest family owned winery. However, before their first press in 1985, the Peterson's grew and sold grapes to area wineries for 20 years.The majority of visitors come to taste wine while it seems to be more social for bus groups.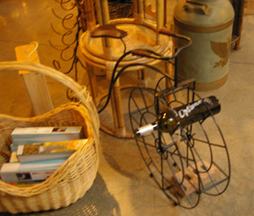 The tasting room, opened daily is constructed with beams from barns. The atmosphere is delightful, warm and friendly. As we entered the tasting room we passed displays of wine. To the right was an array of wine accessories and some t-shirts with great wine sayings. One of the most unique wine bottle holders, perhaps an antique, can be seen near the tasting bar. It is a small, metal bicycle. The front wheel "spokes" are positioned so it can hold several bottles of wine.
One of the more unusual sights at Swedish Hill is a still for making sherry.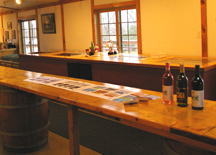 At Swedish Hill you can taste eight wines from a list. On the day of our visit the list of wines included dry and semi-dry Rieslings, a Chardonnay, Vidal Blanc, Cayuga White, Delaware, Svenska White, Blush and Red, Just Peachy, Viking Red, Optimus, Fantastic Red, and Country Concord. Their best seller is Svenska Red.
Swedish Hill participates in the New York State Fair and the Finger Lakes Wine Festival. They have their own festival, a Scandinavian Festival on Father's Day. They also have special events throughout the year.
Swedish Hill Winery is a great winery to visit, with good wines and a great location. We believe you will enjoy a visit to Swedish Hill Winery.
Swedish Hill
Romulus, New York

---