Glenora Wine Cellars
by
Kathy and Terry Sullivan
Glenora, located on the west side of Seneca Lake, is a destination spot. With a lovely inn, a gourmet restaurant, a fine selection of wines and great hours, it is easy to find something to enjoy. Glenora offers something for everyone.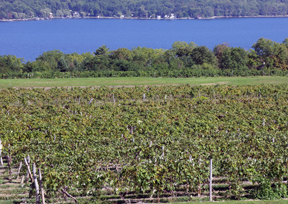 Glenora began in 1977 and currently has 65 acres of land under grape production. They currently produce about 40,000 cases of wine. The wine list contains dry reds and whites, sweet whites and red as well as sparkling wines and their fruit series. The premium selections include seven wines. Gene Pierce, winery owner, believes that the price of wine should be reasonable. When his wines win awards, he does not increase the price of the award winning wines.
With an abundance of space in the tasting room, it is easy to see why so many visitors are easily able to enjoy their visit. The main tasting room is large and has many wines displayed. The tasting bar is long. A Gourmet Corner is an area of the room featuring a variety of specialty foods including New York State cheese, crackers, sauces, dips, olive oil and balsamic vinegar. Glenora offers to loan picnic baskets and glasses to visitors who wish to picnic on the grounds. Visitors can purchase gourmet cheeses, crackers, and more to fill the basket. Outside picnic tables and a pavilion are available for sharing the picnic.

Wherever one stands in the tasting room, the view of the Inn, vineyards and Seneca Lake are breathtaking. Another large tasting room is located next to the main tasting room. This area can accommodate large groups for a tasting. One other location in the winery can also be used as a tasting area for groups. Glenora can easily accommodate the more than one thousand visitors they receive on some weekend days.
Steve DiFrancesco, Glenora's award winning winemaker stopped by to talk for a few minutes. We met Steve previously at Knapp Vineyards along Cayuga Lake. Steve is also the winemaker at Knapp. He is passionate about his wines at both locations. We tasted several of the many wines Glenora offers.
One of the wines tasted was the Dry Riesling, which was very floral on the nose with an intense fruit flavor and aftertaste. The Dry Riesling –Vintner's Select had a light floral nose. It was smooth and dry with a fruit aftertaste. Riesling accounts for 25 percent of wine sales at Glenora. The Meritage is a blend of 65 percent Cabernet Sauvignon, 17.5 percent Cabernet Franc and 17.5 percent Merlot. The Meritage has a red fruit flavor with good acids and tannins. Peach Spumante has an intense peach flavor. This is a fun sparkling wine that tastes great.
Two of the Premium Selections tasted were the 2001 Brut and Signature 2006. The Brut is light, crisp with a slight sweetness. Later during the evening, we had dinner at Glenora's Verasions Restaurant. The Brut paired well with the stuffed chicken breasts. The Signature has a floral and fruit nose. It is very dry with a long fruit aftertaste.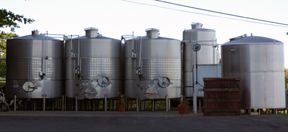 After our tasting Bridget Olisky, retail manager, and Heather Grinnell led us on a tour of the winemaking facility. They are both very passionate about wine and especially Glenora's facility. Bridget and Heather discussed wine as a drink that, because of its sophistication, appeals to many people. With so many types of wines available, there is likely to be a wine that will appeal to almost everyone. Since Bridget had previously worked in European wineries, she commented on the different perception of wine by Europeans and Americans.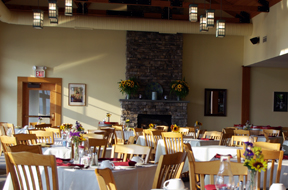 The inn at Glenora has rooms available that overlook Seneca Lake. With a private balcony and a glass of wine, it is a perfect place to end the day gazing out over the lake to the east side of the lake. If you decide to stay at the inn, check out the special packages available for guests. The Inn offers some amenities not usually seen at the chain hotels. Guests are invited to have a glass of sparkling wine before dinner and a glass of port after dinner. A bottle of wine and bottled water are placed in each room for guests.
The restaurant located within the inn, can accommodate various size groups. Each table has a white tablecloth and a small bouquet of dried flowers. Do call in advance for dinner reservations. The restaurant offers spectacular views of Seneca Lake. During warmer weather, guests may eat outdoors on the large deck area.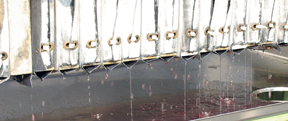 After our stay at the Inn we walked back to the winery to observe the filtering of juice that was crushed the day before. The juice passes through diatomaceous earth and is quite clear when it come out of the filter. One of the benefits of visiting wineries in September is the observable amount of activity. Grapes are harvested, de-stemmed, crushed, filtered and placed in tanks to start fermenting. Red grapes are de-stemmed, crushed and placed in large vats to gain color from the skins. These activities are readily seen at many wineries during late summer and early fall.
Glenora is a great destination to stop and spend a day or more while visiting the many wineries along Seneca Lake.
Glenora Wine Cellars
5435 Route 14
Dundee, NY 14837
GPS: N42° 29.989 W076° 55.380
---