Ravines Wine Cellars
by
Kathy Sullivan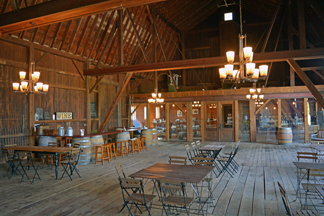 Summary: Ravines Wine Cellars' primary location is in Geneva. The winery also has a tasting room in Hammondsport, New York. Vineyards, winery, event room and tasting room await wine enthusiasts at the Geneva location.
After a circuitous drive, we drove to Barracks Road a gravelly, hilly road, but easy to travel to Ravines Wine Cellars. Quickly we met Phillip Butterfield, tasting room manager and brand ambassador, for a friendly tour of Ravines Wine Cellars. While touring the winery, he provided us with information about Morten Hallgran's wine journey that led Morten to the Finger Lakes region.
The Ravines Wine Cellars main site with acres of vineyards is located in Geneva where visitors will discover the vineyards, winery and a tasting room. The facility is located in a barn dating back to 1890. Originally the farm was for livestock and crops. Today the barn is divided into two sections with a brightly lit tasting room and a large event area with a professional kitchen.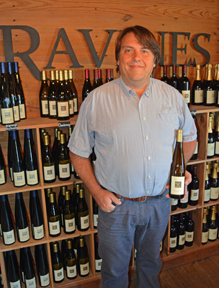 History of Ravines Wine Cellars
Morten Hallgran was born in Denmark and moved to Provence, France as a teenager. His family purchased a former winery property, a 270-acre estate Domaine de Castel Roubine. Morton spent years in the vineyard learning viticulture.
Later Morten attended the University of Boston to study astrophysics and then returned to France to earn advanced degrees in oenology and viticulture. Morton returned to the United States, spending time in Texas working for a French negotiant. The next step in Morten's wine journey was as winemaker at the Biltmore winery in North Carolina, now known as the most visited winery in the United States.
Willy Frank, the son of Dr. Konstantin Frank, suggested that Morten take his winemaking skills to the Finger Lakes' region. Morten followed through with the suggestion, moving to the Finger Lakes and working as a winemaker at Dr. Frank's Vinifera in the late 1990s. In early 2000, Morten and his wife Lisa purchased land along the eastern slopes of Keuka Lake. The land is located between two deep ravines, thus the name for the winery.
Before leaving Ravines Wine Cellars, we had the opportunity to meet Morten and Lisa Hallgren. They are very friendly and although busy Morten readily agreed to a photo with a bottle of his favorite wine.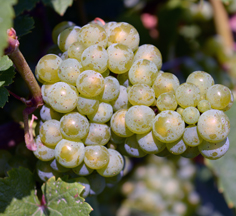 Ravines Vineyards and Winery
Ravines has 45 acres of vines in their White Springs Vineyard. The vineyard soil is loam and stone with limestone underneath. Current grape varieties planted include: Riesling, Gewürztraminer, Sauvignon Blanc, Cabernet Franc, Merlot, Cabernet Sauvignon, Chardonnay and Valvin Muscat. Morton also has long term leases with two other vineyards: Argetsinger Vineyard and 16 Falls Vineyard.
Phillip gave us a winery tour that led through a room of stainless steel tanks. The barrel room had barrels stacked two high. The most unique scene in the winery was the pupitre or riddling rack used to riddle the bottles of Brut Rosé. Most sparkling wine producers today use an A-framed riddling rack. At Ravines Wine Cellars, the riddling rack was horizontal. The first riddling rack dates back to 1816 and was horizontal. The idea was developed by Madame Clicquot, who later became known as "La Grande Dame" by her peers.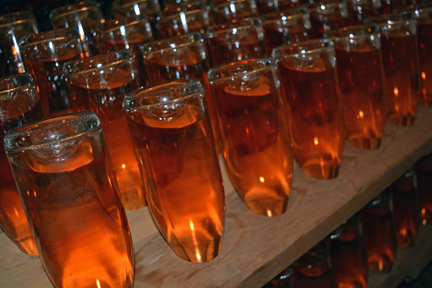 Ravines Tasting Room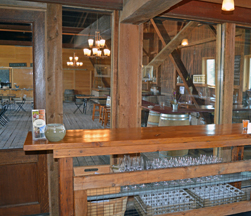 The brightly lit Ravines tasting room is separated by a large glass wall from the event area in the barn. The tasting counters are all repurposed, with one on railroad wheels. Hanging lights were created from old barn pulleys. The tasting room offers a variety of local cheeses as well as a number of gourmet products that include roasted pumpkin seed oil and butternut squash seed oil.
Ravines Wines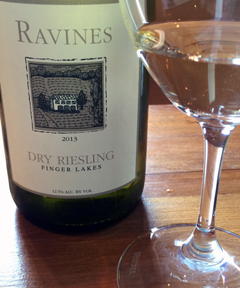 The 2013 Dry Riesling had 4 grams per liter residual sugar and 12.5% alcohol. The wine was a light yellow color with notes of yellow stone fruit and minerals. The finish was very crisp. Pair this wine with creamy sauces and fish. Chardonnay 2013 underwent malolactic fermentation and spent nine months in oak. This yellow colored wine offered an aroma of caramel and pear. The taste had pear and apple notes. The finish was crisp with fruit yielding to mineral. Gewürztraminer 2013 with 12.5% alcohol was a light gold color. The clarity was very good. The wine was aromatic with a smooth mouthfeel and a hint of crispness. The wine had warm spice notes. Ayre 2014 Valvin Muscat (new clone) was effervescent and had a residual sugar of seven grams per liter with 7% alcohol. This semi-dry wine offered notes of honey. This is a perfect wine to pair with a rocking chair.
Pinot Noir 2012 was a translucent red. The aroma was earthy with notes of mushrooms and red berries. The taste was of red raspberries and leather.
Ravinous Kitchen
Ravinous Kitchen is a nice aspect to the Ravines Wine Cellars venue. The kitchen is open Thursday through Sunday. The Ravinous Kitchen focuses on farm-to-table. Products are seasonal. Visitors may want to time their trip to Ravines tasting room to coincide with lunch at the kitchen.
Ravines Wine Cellars has a wine club known as Ravinous Club. Participants receive four bottles of wine four times a year.
Take time to travel to Ravines Wine Cellars and enjoy a wine tasting.

Note regarding the address: Cars cannot travel on Barracks Road from White Spring Road to Pre Emption Road. There is a locked gate across the road. Access the winery on Barracks Road from Pre Emption Road. Some GPS units may not know about the gate blocking the road.
Ravines Wine Cellars on Seneca Lake
400 Barracks Rd (Accessible from Pre Emption Road)
Geneva, New York 14456
GPS: N42º 50.670' W77º 00.069'
Ravines Wine Cellars on Keuka LakeTasting Room
14630 State Route 54
Hammondsport, New York 14840
Article written August 2015
---