Zugibe Vineyards
by
Kathy Sullivan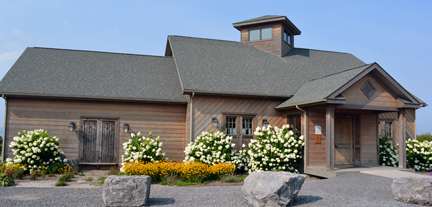 Summary: Zugibe Winery, owned by a trio of brothers, offers a unique aspect to their winery tasting room with a professional kitchen and a menu that includes Lebanese items. Enjoy the views of the landscaping, vineyards and Seneca Lake. This is an up and coming winery to keep your eye on.
Wine enthusiasts and food lovers will enjoy a visit to the lovely landscaped Zugibe Vineyards' tasting and event room with panoramic views of Seneca Lake. In August colorful yellow, white and pink flowers highlighted the outside of the building. Just inside the door, visitors notice that the spacious area offers a long beautiful wood counter. Nearby banquet-size tables are available where travelers can enjoy a lovely spot to relax and enjoy a glass of Zugibe wine with Lebanese cuisine served Thursdays thru Sundays.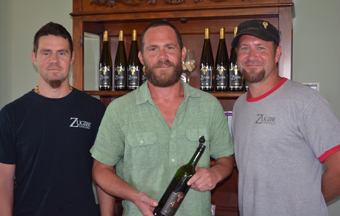 History
Early on, Fred Zugibe (pictured center), the eldest brother of the Zugibe family began to follow his father, a respected cardiologist, into the medical field. Fred's grandfather was also a medical doctor. While studying at American University, Fred worked at a Total Wine's store. The experience gave Fred access to many people who were involved in the wine business and he became fascinated with the wine industry. Fred noted that his father was somewhat reluctant to hear that Fred was not interested in continuing medical school; however, as Fred and his brothers continued with the vineyards and winery, his father came to respect the hard work that goes into winemaking and viticulture.
"In the beginning it was more of a hobby," said Fred. The second brother Sean (pictured left) went to California to study. The vineyards and winery were begun while Sean was in high school. Today Sean is the vineyard manager. Brendan (pictured right), the third brother, handles the Lebanese-style professional kitchen at the winery.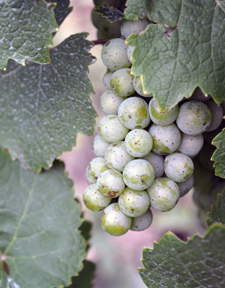 Vineyards
The property was purchased from a Cornell University professor whose interest was researching viticulture. The vineyards located near the lake were started in 2005 with more acreage planted in 2007. The vineyards consist of 40 acres and include: Riesling, Cabernet Franc, Cabernet Sauvignon, Pinot Noir, Gewürztraminer, Pinot Gris, Chardonnay, Merlot, Lemberger, Sauvignon Blanc and Grüner Veltliner. The Zugibe brothers are interested in the processes of organic and biodynamic concepts. Grapes not used in the winery's production are sold to other wineries.
Zugibe Vineyards' Kitchen/Dining
The professional kitchen was recently installed adjacent to the winery event area. Brendan, who has always been involved in the food industry, wants to showcase the family's heritage. Although he studied business, he has always worked in the food business industry. Brendan is fond of cooking and likes to add a Lebanese flair to his dishes. One of the dishes he creates is stuffed grape leaves. Other items on the menu include: kibbeh sandwich, falafel sandwich, hummus or baba ganoush, hummus bill lahme, za'atar pita, couscous salad and tabbouleh salad. Brendan wants people to experience pairing a flight of wines with a flight of food to match.
During our wine tasting and a conversation about the menu, an ingredient we were not aware of was mentioned - sumac. Brendan kindly brought a bit of sumac for us to try. The sumac was a deep red color and offered hints of lemon. We will be on the watch for this "spice" in our local area.
Together the brothers want to create authentic wines and foods. They also want to be in control of all parts of the wine production.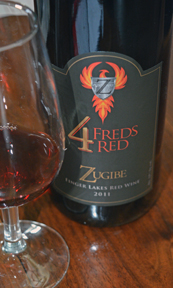 Zugibe Wines
The winery is currently producing 3,000 cases of wine and someday would like to increase to 10,000 cases. We tasted several of the Zugibe wines beginning with the 2013 Grüner Veltlner. The wine, with 12% alcohol, was a light yellow color. The aroma and taste offered notes of floral, citrus, and mineral. The finish was crisp with bright acidity and yielded to a mineral aftertaste. Gewürztraminer 2013 was a yellow color with very good clarity. This dry wine was aromatic with notes of spice and fruit. The aftertaste lingers. Consider pairing this wine with all kinds of vegetables. Pinot Gris 2013 was a yellow color with notes of citrus and yellow stone fruit. The finish was very crisp and fruity.
Pinot Noir 2010 was a translucent ruby color with a sienna hue. The wine offered notes of raspberries, leather and tannins. The wine was very smooth with a medium/full body. The crisp finish was fruity. This Pinot Noir should be considered for food pairing or as an aperitif.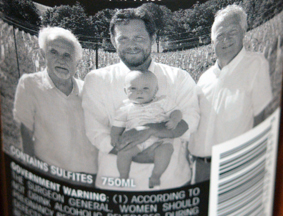 4 Freds Red 2011 was a blend of Merlot, Cabernet Franc, Lemberger and Cabernet Sauvignon. The wine was named for the four generations of the family. The photo on the back label portrays the four generations of the family. The 4 Freds Red wine was a translucent, dark ruby color. The wine offered black fruit notes including blackberry and some plum. The crisp wine had tannins with a finish that included fruit and leather notes.
Zugibe also produces a wine for local charity. The wine was a translucent dark purple color with an aroma of dark fruit and spice. The wine was dry and full bodied with bold tannins. The wine had a long aftertaste. This wine is food friendly and wine enthusiasts may want to pair it with barbecued beef.
Plan to visit Zugibe Vineyards for their wines and stay awhile to relax, discover and enjoy the Lebanese-style cuisine.
Zugibe Vineyards
4248 East Lake Road
Geneva, NY 14456
GPS: N42º 49.148' W76º 55.953'
Article written September 2015
---