Eremita Winery
by
Meghan Anne Sullivan

Photos by
Andy Neumeier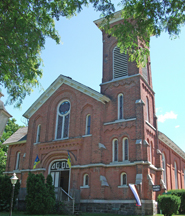 Summary: Josh Parker, owner and founder of Eremita Winery in Lodi, New York, has combined an old Presbyterian church, religious symbols, a Latin motto, and family tradition to create a soulful winery that offers equally soulful wine. The winery, which opened its doors in August 2011, is housed in a Presbyterian church that dates to 1873. Visitors are sure to have a unique and soulful experience as they enjoy serious wines at Eremita Winery.
Josh Parker's grandmother, whose maiden name was Eremita, inspired her grandson to found a winery. Her ancestors were winemakers, so she knew the value of good wine. She always finished the day with a glass of wine, and she passed her love for wine on to Parker. Parker began to make wine as a hobby with a friend in high school. Parker chose Lodi, New York, as the site for his winery because he is originally from New York State and was familiar with the Finger Lakes wine region and its potential.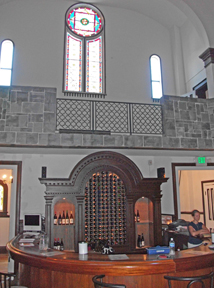 Parker selected a Presbyterian church built in 1873 to house his winery. He chose the historical building because of his passion for reuse and recycling, which he gained from time spent in the construction business. Many of the materials added to the interior of the church came from the church's property and the Seneca Lake area. An original stained glass window decorates the facade of the building. The stained glass window contains an eight-pointed star, which represents the solstice and the solar midpoints. The star also represents the ancient Sumerian goddess Inanna, the goddess of love. Keeping with the church theme, Parker chose a Latin sentence as the winery's motto: "In vino veritas est," which means, "In wine there is truth." Parker likes the soulful nature of the building.
Parker works with vineyard owners in the Finger Lakes region in order to source his grapes and grape juice locally. "I am a big believer in the future of grapes being grown in this area," he said. Eremita produces 1,000 cases of wine a year.
Eremita Winery's most popular wine is the Pinot Noir, which pleases the eyes with its ruby red color, tantalizes the nose with its full scent, and satisfies the tastebuds with its soft and dry taste and smooth finish. Eremita's other red wine, the Goddess, is named after the eight-pointed star in the stained glass window and is what Parker calls "hot tub wine." It features a silhouette of the goddess Inanna on its label. This wine is dark purple with an earthy nose, an earthy and semi-sweet flavor, and a smooth finish. Eremita's white wines include an unoaked Chardonnay, a Riesling, a Pinot Noir Blanc, and a Gewürztraminer. The Chardonnay is pale-yellow and has a sweet and grape-filled nose and a soft and semi-dry taste. It is sweeter than most Chardonnays. The Riesling is almost clear in color, light in nose, and light in flavor. It has hints of grapefruit in it. The Pinot Noir Blanc, which is also popular, is almost clear and has a strawberry nose and taste. It is light and dry. The Gewürztraminer is almost clear and has a light and floral nose and a light and semi-dry taste.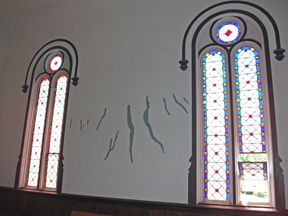 The tasting room is located in the back of the church. Wine bottles sitting in organ pipes portray the spirituality and conservation themes of the winery. The floor space around the church's sanctuary remains open for events. A mural of the Finger Lakes lines one wall, and below it is a tasting bar that will soon serve beer from a local brewery. A gift area sells jewelry made by local artists, as well as wine charms, decorated wine glasses, bags, kitchen towels and utensils, cutting boards, bottle stoppers, and calendars.
Eremita Winery has held music events, which have been very successful due to the building's strong acoustics. Brides have also sought out the winery as a location for weddings. "The winery," Parker says, "seems to be taking on a life of its own."
Eremita Winery
2155 E. Church St.
Lodi, NY 14860
---