Heron Hill Winery
by
K. L.Sullivan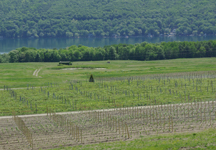 Overlooking Keuka Lake, Heron Hill Winery sits proudly watching over many of its vineyards, as the grape leaves glisten in the sun. Tambi Schweizer, assistant manager, quickly welcomed us to Heron Hill Winery and provided us with a delightful tour and tasting.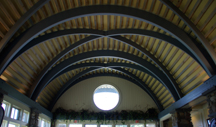 Tambi pointed out the style of the building, which she said is a Finger Lakes style. The tasting room ceiling is like the inside of a barrel. Numerous displays of wine bottles and gifts displayed throughout the large tasting room areas are available for purchase.
Owner John Ingle started a vineyard in 1968. However, Heron Hill Winery was established in 1977. The first vintage was 1976. The current tasting room was enlarged in 1999. Twenty acres of grapes are grown on the site of the winery. John owns another 20 acres at his home about 40 miles from the winery. Heron Hill Winery purchases approximately 65% of their grapes and produces 30,000 cases. The Finger Lakes, Hudson Valley and Long Island regions provide the additional grapes.
Today Heron Hill Winery focuses much attention upon the Riesling grape. Eight different Rieslings are produced at the winery, from a dry wine to the famous and difficult to produce icewines.
Thomas Laszio, the winemaker, has been at Heron Hill since 2002, having arrived from Canada. Thomas also has spent several years winemaking in Hungary. Tambi commented, "His heart and soul is in all of our wines." Tambi believes the public is looking for more fruit flavor in their wines and Heron Hill provides that fruit flavor.
The tasting room has five tasting lists to choose from including Standard Tasting, Premium Tasting, Riesling Tasting, Icewine Dessert Tasting and Late Harvest Dessert Tasting. Fees are based on the tasting list chosen.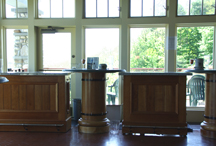 We tasted several wines including Riesling Reserve 2005, Ingle Vineyard Johannisberg Riesling 2004, Ingle Vineyard Late Harvest Chardonnay 2005, Eclipse White 2005, Eclipse 2003 and Late Harvest Vidal Blanc 2005. The Johannisberg Riesling 2004 has a floral nose, good fruit acid balance. Eclipse White 2005 is a summer time wine with an acid finish and fruit aftertaste. Eclipse 2003 is the number one seller of all Heron Hill wines. This blend has 42% Merlot, 42% Cabernet Franc and 16% Cabernet Sauvignon. The Late Harvest Vidal Blanc 2005 is sweet with an acid finish and is nice for dessert. Tambi poured the wines but first tasted them. We were impressed since a wine may be faulty. A tasting room associate can catch this before serving it to visitors.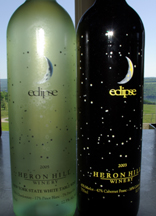 Some of the wines at Heron Hill are bottled in unusual colorful bottles. While some of the labels are traditional labels, others are silk-screened labels. We were particularly enchanted with the Eclipse bottle labeling. Tambi mentioned that she had read an article that suggests 75% of women would buy the bottle whether or not they liked the wine. When you see these silk-screened bottles, you will know why.
Many items are available for purchase in the tasting room. These gifts include a number of art pieces. Local artists provide art. Hand painted wood furniture is available. A chair depicting a garden is both unusual and beautiful. An artist from Buffalo provides frames and paints pictures of wine bottles.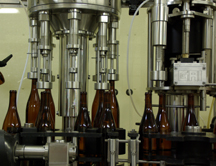 We toured the bottling room. Bottles filled the bottling sections waiting for the operators to return from lunch. Bottling is always a challenging part of the process to produce wine for the consumer. The bottling machine had a few difficulties during the morning.
Two large event tents are available for rental. Sixteen weddings are scheduled for this summer of 2007 and summer 2008 has eight weddings already scheduled. The largest tent can hold approximately 250 guests and has a dance floor area. New clear plastic walls fill three sides of the tent providing a view of Keuka Lake. A tiered landscaped area to the side of the tent makes a beautiful backdrop for a wedding ceremony.
If you are planning a small event, you may wish to contact the winery in advance and tell them what you are planning. A large patio would make a special place to gather with a group of friends or perhaps a business meeting and share a glass of wine. While we were visiting, a group of 35 women, members of the Red Hat Society, were enjoying themselves on the balcony.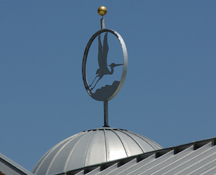 An observatory tops the winery. Atop the tower, a heron elegantly watches over the vineyards. One of several advantages of belonging to Heron Hill's Tower Club is the availability to enjoy the observatory. From the top, you can observe the beautiful scenes and landscape around Keuka Lake.
With a large variety of white and red wines to choose from and a large assortment of gifts to enjoy, we believe you will enjoy a visit to Heron Hill Winery. As Tambi mentioned to us, if you want to learn and talk about wine, Wednesday is the best day of the week to visit the winery. Although you will have a great experience at other times, on slower days the wine associates will have more time and enjoy talking with you about wine.
Heron Hill Winery
Hammondsport, New York

---