Lakeshore Winery
by
K.L. Sullivan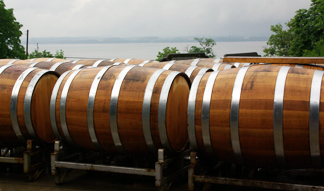 Summary: As its name implies, Lake Shore Winery is located close to the shore of Cayuga Lake. The winery opened for business in 1982. The Bachmans sell ninety-seven percent of the wine from the tasting room and three percent by mail order. Lake Shore Winery is not a part of the Cayuga Wine Trail.
Just outside of the tasting room, located in the old 1825 barn is a grape arbor adding a nice touch to visitors as they walk under it. The tasting room reminds one of what a barn built in the 19th century may have been like. Even the wine bottles are in woodbins created with old wood.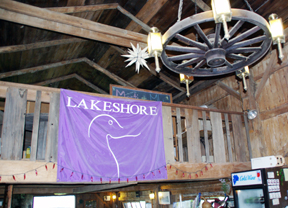 The original dean of the Cornell Agriculture School, Isaac Roberts, was born in1832 in the house built in 1813. The barn dates to 1825. In the 1930's, the owners at that time raised chickens and eggs. The barn has two new areas added in recent years where the production of wine takes place. The second area holds the barrels for aging wine. In 1978 the owners of the property, Bill and Doris Brown turned it into a winery, planted about two acres of vines, and leased other vineyards. They opened the winery in 1982, producing three to four thousand gallons per year.
John and Annie Bachman, owners of Lake Shore Winery arrived here in 1994 as refugees from the corporate world. One of their goals is to keep the winery at three to four thousand gallons per year. Although the Bachmans originally owned vines and leased other vineyards from their neighbors, today they concentrate on producing wines in their winery. John and Annie are a team in the winemaking. They purchase grapes from growers in the Finger Lakes region.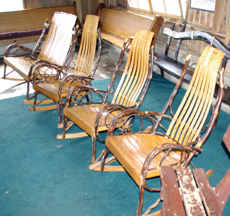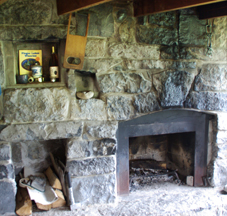 The tasting room is located in the old 1825 barn and is designed to keep the sensation of the old barn and still feature bottles of wine. To the left is the tasting area. The seating is unusual with rocking chairs available for visitors. In a corner is a large stone fireplace that the Browns added in 1983. Wines available in the tasting room include Riesling, 2005 Cayuga White, 2007 Baco Noir, 2002 Cabernet Sauvignon, Aunt Clara and Uncle Charlie. The Bachmans produce Aunt Clara with the Catawba grape and it is sweeter than the Uncle Charlie also produced with Catawba.
Lakeshore Winery Inc.
5132 Rt. 89
Romulus, New York 14541
---