Goose Watch Winery
by
K.L. Sullivan
At Goose Watch we drove along a driveway, lined with several trees. Later we learned that those were chestnut trees and that Goose Watch has several acres of chestnut trees. We passed a large oak wine barrel as we proceeded inside the building where a young man greeted us and invited us to taste several wines.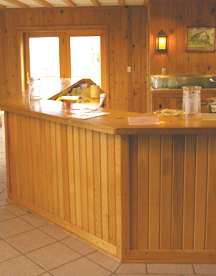 The Goose Watch tasting room is located in a restored, century-old barn. The tasting room is large with about half of the room devoted to tasting at a light-wood tasting bar; the other half of the room is devoted to wine gifts and accessories. The light-wood finishing of the room is enhanced by large windows overlooking Cayuga Lake. The ambience of the room is apparent. Whether it is a bottle of wine you are looking for or a gift this may be just the place to go to shop.
The emphasis at Goose Watch is on unique wines. Here you can taste Diamond and Rose of Isabella. These grape varieties were originally planted in the Finger Lake's region in the 1800's. If you are interested in newer grape varieties try Traminette or Melody. We also tasted a terrific grape juice. It is not similar to Concord or Niagara grape juice, however everyone who was with us thought it was an excellent grape juice.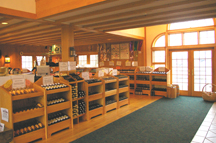 A large part of the tasting room, open daily is devoted to wine accessories, wine jams, coffee, balsamic vinegar, jewelry and much more. One can spend a pleasant time browsing through the gift section of the tasting room. Perhaps this is a great place to find a unque gift for that special person. Windows of the tasting room overlook the beautiful view of Cayuga Lake.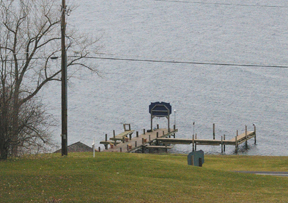 Goose Watch maintains a dock on Cayuga Lake. Dock a boat, and a staff member from Goose Watch will pick up the passengers and take them to the wine tasting room.
Goose Watch
Romulus, New York

---