McGregor Vineyard and Winery
by
K. L.Sullivan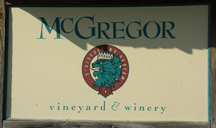 The drive to McGregor Vineyard and Winery is along a foliage-lined country road. There are a number of vineyards on both sides of the road and there is no doubt that you are in wine country. Entering a rustic and welcoming tasting room, Joan, a wine associate, instantly greeted us. She asked us to have a seat at one of the many picnic-type tables in the tasting room. Soon John McGregor, General Manager, met us and took time to answer many of our questions and give us a quick tour of the facility, despite the fact he was very busy. John is the second generation McGregor to be involved in the winery.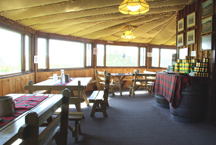 Our first immediate impression of the tasting room was that there was no tasting counter available. We soon learned that the tastings at McGregor Vineyard and Winery are done with an emphasis on the experience. Everyone who comes for a tasting sits at a table where they receive a wine list and select their choices. A wine associate brings the wine and pours the chosen wine. A small plate of snacks accompanies a wine tasting. A five-dollar fee includes tasting five wines and the small plate of snacks. Food helps to bring out more nuances in wine. Emphasis is on customer service. After visiting several wineries, it is nice to have a seat and taste your selected wines slowly. A binder of information is on the table with historical information about McGregor Winery and Vineyard and issues of their newsletter. You will have the opportunity to relax and take your time.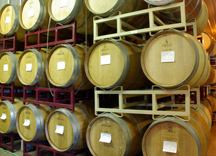 McGregor Vineyard & Winery was established in 1980, with their first vintage produced that year. Before 1980, they sold their grapes. For the past several years, they have not been selling grapes. Their first wines were Gewürztraminer, Chardonnay, Riesling and Pinot Noir. Today a look at their list of wines shows more than twenty wines. With 35 acres of grapes, the winery produces 7000 to 8000 cases of wine. The best opportunity to purchase McGregor's wines is to visit the winery tasting room in Dundee, New York as the vast majority of wine, ninety-eight percent, is sold directly to visitors in the tasting room, with only two percent sold to restaurants.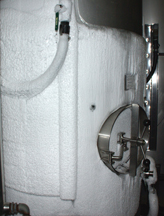 We spoke with John about a number of winery related issues and he gladly gave us the background of the vineyard and winery. John's parents began McGregor Winery and Vineyards. His father, a French wine enthusiast, wanted to produce wine using the European method. His father was a pioneer in terms of vinifera and determined that he was going to grow grapes of the type of wine he liked. Pinot Noir is a family favorite and thus McGregor Vineyards grows Pinot Noir. This particular grape is difficult to grow especially in the Finger Lakes area but the vineyard has been successful in growing quality Pinot Noir grapes and producing fine Pinot Noir wine.
At McGregor's the style of wine is not "forced." Rather they believe in working with the grape to produce a quality wine. "Wine is an art," said John. He also believes that wine is part of life enhancement. As their brochure says, "Each year's production of estate bottled wines is a reflection of the 'voice of the grapes,' the skill of the vineyard manager and the art of the winemaker."
McGregor's best selling red wine is their Black Russian Red. The 2004 vintage is sold out but we had an opportunity to barrel taste the 2005 vintage. It did not disappoint. It had a pepper and spice nose and good level of tannins. It was a dark purple opaque color. It is easy to see why it sells out. The Black Russian Red made from grape varietals is new to us. It is produced from the Saperavi and Sereksiya Charni grapes. These vinifera grapes grow in Eastern Europe, the Saperavi grape is grown in Georgia while the Sereksiya Charni is grown mostly in Hungary and Romania. McGregor also produces a unique blend of Rkatsiteli and Sereksiya. These grapes are also from Eastern Europe. The Rkatsiteli is from Georgia while the Sereksiya Rosé is from the Hungary and Romania regions. This blend reminded of us of Riesling. The Sereksiya Rosé grapes are unique in the United States. John's father acquired the vines decades ago from the United States Agriculture Research Center in Beltsville, Maryland. The vines have done well on this site overlooking Keuka Lake.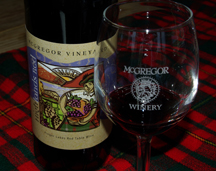 Today, their vinifera wines are 100% estate grown wines, although they do purchase native and hybrid grapes. With these additional grapes, they are able to produce other wines including Cayuga White, Thistle Blush and Highlands Red.
McGregor's has a wine club called the Clan Club. It has 1,000 members who are supportive of the winery. Ten percent of their members have been members for ten years or longer. Many of the members use McGregor's wines in recipes and submit the recipes. John stated that they have enough recipes to print a cookbook. Many of the recipes are available in their newsletter.
Over the years, several additions were added to the winery and tasting room. The original winery and tasting room was a pole barn. The winery bottles their own wines. In the past labels were applied by hand, but they now have a labeling machine.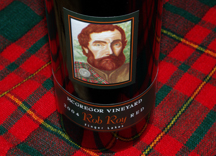 Along one wall of the tasting room are lovely watercolors created by Stacey McGregor,
John's wife. Stacey specializes in custom portraiture and works on commission. She also designed the label for the Rob Roy red wine.
John's background is archaeology but the draw of the land and grapes in the Finger Lakes region brought him back to the area where he and his wife currently run the winery.
In addition to Keuka Lake Wine Trail events, McGregor's Vineyard offers numerous events throughout the year. Some of these events include Rosés & Local Artisan Cheese Celebration, Blues and Blueberries, Chocolate & Red Wine Weekend and additional events for Clan Club members.
When on the east side of Keuka Lake, make sure you stop at McGregor Vineyard and Winery. You will enjoy the sit-down wine tasting they offer.
McGregor Vineyard and Winery
Dundee, New York
GPS: N42°37.591' W077°04.029'
---