Lamoreaux Landing Wine Cellars
by
K.L. Sullivan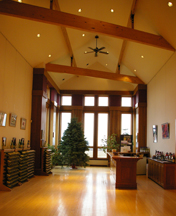 Within a short distance of Standing Stone Vineyards is Lamoreaux Landing Wine Cellars. Walking past the circular driveway, we proceeded up a brick walkway to recent building. The high ceiling and light wood countertops, floor and walls add to the sense of spaciousness. A large wall of windows looks over Seneca Lake. Walls are decorated with pictures of flowers. Behind the tasting counter is a counter with many award-winning bottles of wine.
At Lamoreaux Landing most wines are made grapes grown on their own property. If winter damage occurs, as happened in 2004-2005, they will purchase the grapes needed to produce wine. Among their many wines are Riesling and Chardonnay. Many of their wines have won awards. German visitors to the winery have indicated how good the wines are at Lamoreaux Landing.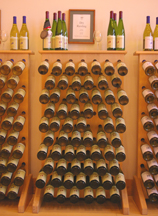 We noted that many wineries also sell arts and crafts items. We saw a table with a few wine accessories and ornaments but were told that the owner of the winery wants to concentrate on producing great wine.
Noting the large windows facing Seneca Lake, the owner of Lamoreaux Landing recalled years ago when he was work in nearby vineyards and people would stop by the side of the road to take pictures of the view. He added that he would like people to know that Lamoreaux Landing Wine Cellars focus has been "high quality wine from day one."
The beautiful Greek revival architecture, great view and good wine makes this winery a good place to stop for wine tasting.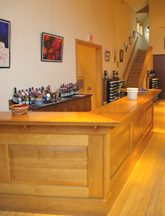 Lamoreaux offers a complimentary tasting of their Lamoreaux Landing Estate White and Estate Red wines. Tasting fees for other wines range from $1.00 to $5.00. On the day of our visit, the following additional wines were offfered for tasting: Chardonnay, Dry Riesling, Estate White, Cabernet Franc, Pinot Noir, Merlot, and Estate Red. The five dollar fee applied to a tasting of Gewurztraminer, Chardonnay Reserve, Brut and Vidal Ice Wine.
Lamoreaux
Lodi, New York
---