Ports of New York
by
Meghan Anne Neumeier

Photos by
Andy Neumeier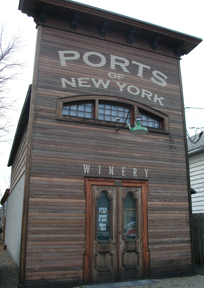 Summary: Ports of New York, an urban winery located in Ithaca, New York, is as unique as it is historic. Although the winery opened in May 2011, it has its roots in an early 1900's winery in Normandy, begun by owner Frédéric Bouché's great-grandfather. Frédéric Bouché specializes in port method fortified wines and emphasizes quality over quantity. Visitors to Ports of New York Winery are given a hands-on education in the vinification process of fortified wines.
When Frédéric Bouché moved to Ithaca for his wife's position at Cornell University, he set aside his career as a sculptor artist and focused his attention on winemaking. Bouché thought that an urban winery in the Finger Lakes region would be a good business investment. Winemaking and wineries were not new concepts to Bouché. As a child, his family's winery in Normandy, France, was his playground. "We made sleds out of old wine barrels," he recounted. The family winery was founded by Bouché's great-grandfather in 1919. Great-Grandfather Bouché made every type of wine and sold his wine to restaurants and the wealthy. During the D-Day bombing of Normandy, a bomb landed on the winery property but did not explode, thus saving the winery for future generations. Today, the Normandy winery is a museum, and many of the winery's artifacts are on display in a small museum in Ports of New York Winery. Some of the artifacts include a still dating back to 1901, a decanter from the 1900's, and 1850's instruments used to make apple brandy.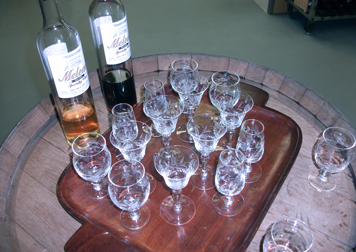 Bouché decided to make port method fortified wines because the style he uses is unique, and he wanted to make something very different. His own preference also played into the decision. "My wife and I decided to make something we both like so that, if we were to go out of business, we could enjoy the wine," he explained. Ports of New York seems to be here to stay, however. Bouché's two wines, the White Meleau and the Red Meleau, are popular among visitors. The brand name "Meleau" comes from the Latin word "mel," meaning honey (because the yeast is grown in honey), and "eau" (from the French phrase "eau de vie"), which translates as spirit. Bouché hopes that this name gets across the idea that his wines are soothing but spirited (with 18% alcohol). Both wines are indeed soothing and are lighter than what visitors might expect in a port. The White Meleau is amber in color, has a rich aroma, and tastes like a grape exploding in your mouth. It has a smooth finish and pairs well with seafood pâté, ethnic spicy food, and hard cheeses. The Red Meleau is ruby in color and has an oaky nose and a taste that lingers. It pairs well with meat, cheese, and chocolate. Bouché serves his wine in small Victorian glasses; some are specifically shaped for port, others for brandy. He sources his grapes from Lamoreaux Landing Wine Cellars on Seneca Lake, where he picks and crushes the grapes himself. Ports of New York produces 275 cases a year, making it one of the smallest wineries in the Finger Lakes. Bouché, however, likes it that way because the small production size allows him to focus on the quality of his wine.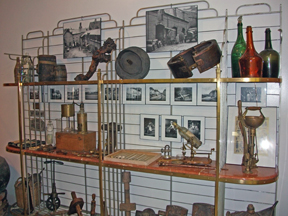 The small size of Ports of New York Winery also affords visitors a hands-on education in the making of fortified wines. Bouché is passionate about winemaking and wants his visitors to learn as much as they can at his winery. Upon entering the building, visitors step into the small museum area, which also serves as the tasting room. Bouché's lab, adjacent to the museum, is on full display. A modern combination of recycled wood and metal gives the winery a warm yet industrial feel. Bouché leads his visitors through the museum to his wine cellar, where he explains his vinification process. There, visitors may have the opportunity to taste wine from the barrels or stir grape skins and juice.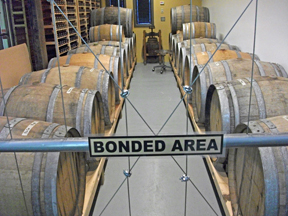 After exploring the cellar, visitors head to a "Bonded Area." There, Bouché's wine ages in barrels that are stacked to form a pyramid; this system of arrangement is called a solera aging system. Bouché plans to expand the winery and grow hydroponic grapes. His purpose in growing the grapes will be to teach visitors even more about the winemaking process.
"Most visitors have never tasted a white, fortified wine, so they are pleasantly surprised," Bouché said of visitors' reactions to the White Meleau. Many visitors also like the Red Meleau because it is low in tannins. According to Bouché, 99% of his visitors buy his wine. Ports of New York offers $40 bottles of wine as well as small, less expensive wine samplers, which are popular. Bouché believes that there is definitely a market for port method fortified wines.

Ports of New York
815 Taber Street
Ithaca, NY 14850
---