Three Brothers Wineries and Estates
by
Terry Sullivan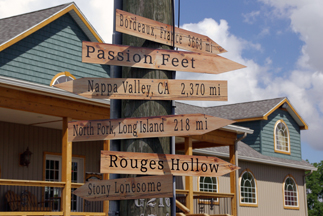 Summary: The Mansfield brothers purchased land, some of which had vineyards, planted additional vineyards and built three different wineries. Three Brothers Wineries and Estates is best thought of as the parent of Stony Lonesome, Passion Feet, Bagg Dare Wine Co. and a microbrewery called Barley Yards. This is a destination site. Plan to spend several hours and visit each of the three distinctive wine tasting rooms and brewery.
You may have heard the tag line, "We have something for everyone." In the case of Three Brothers Wineries and Estates, they literally do have something for everyone. If you enjoy dry wines, taste the wines at Stony Lonesome. If you like to flirt, try the wines at Passion Feet. If you don't want to take wine seriously or don't know much about wine visit Bagg Dare Wine Co.. If you like beer, stroll over to Barley Yards. Children and their parents can also enjoy hand crafted root beer at the brewery.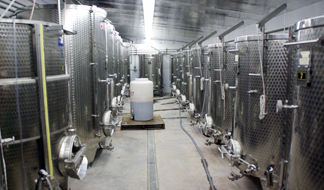 The three brothers, Dave, Mark and Mike Mansfield produce about 10,000 cases of wine, all of which is sold from the winery tasting rooms. Eighty percent of the grapes come from the surrounding vineyards with those bought from the Finger Lakes region. The estate has thirty acres of vineyards.
When Dave, Mark and Mike began to explore creating a winery they knew they wanted to explore selling wine without going through distribution. Their challenge was to create something unique. They reasoned that one just couldn't build a beautiful winery on Seneca Lake; it had already been done. Similarly they thought that producing great wines was already happening. They decided to develop something that would make people happy. The result was Three Wineries that match the personalities of the brothers and a brewery, which is a joint effort.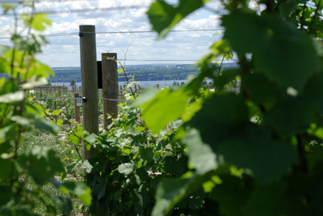 When planning to visit, save enough time to visit each of the tasting rooms. It is easy to see how the wineries personalities are as different as the wines. If you never had a beer tasting, don't pass up this opportunity.While you may be use to spitting or dumping your wine, you'll want to drink all of your root beer. Take the time to wander to the vineyards. Each row is clearly labeled so you can identify the grapes. You have a photo opportunity with Seneca Lake painting the background of the vineyards.
The Tasting Rooms
Stony Lonesome
Passion Feet
Bagg Dare Wine Co.
The Microbrewery
Three Brothers Wineries and Estates
623 Lerch Road
Geneva NY 14456
GPS N 42° 82.302' W 076° 92.351'
For more information
Three Brothers website
---