Castel Grisch Winery and Restaurant
by
K.L. Sullivan
SYNOPSIS: Castel Grisch, as Gray Manor, is located on the west side of Seneca Lake. A beautiful view of the lake is available from a large deck off the restaurant. The tasting room is open year round except for Christmas Day and New Years Day. Wines range from dry to sweet dessert "ice wines" made in the traditional German style.
Outside the entrance to the tasting room bright, red geraniums waved in the breeze welcoming us to Castel Grisch. A bright, sunny day with clouds casting shadows on the hillsides below added to the beauty of the area.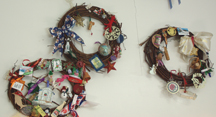 Upon entering the tasting room, we saw a large selection of Christmas wreaths. Theresa Butler, general manager, explained that these wreaths are from past Seneca Wine Trail events. These events include visiting tasting rooms along the trail and obtaining a Christmas ornament. The ornament the winery gives out each year is a decoration made out of wine corks. For this event, they create a different cork ornament each year. As more tasting rooms join the Seneca Wine Trail, more ornaments decorate the wreaths each year.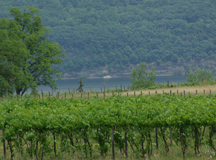 Castel Grisch is owned by Tom and Barbara Malina, who purchased the winery and restaurant in 1992 from a German couple. The original owners purchased the property because it reminded them of Germany and they were intent on finding someone who would keep the winery and restaurant the way it was. Tom and Barbara have faithfully continued the traditions in the tasting room and restaurant.
Today the Malina's two daughters manage the tasting room and restaurant. The tasting room manager is Theresa Butler. Carrie Phelps manages the restaurant.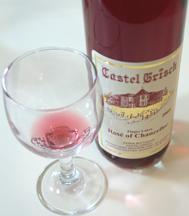 Today with 40 to 45 acres of grapevines, the winery produces 7,000 cases per year. They buy some grapes. However, when grapes are purchased, the grapes are from vineyards in the Finger Lakes region. The winemaker and vineyard manager, Rick Evans, has been with Castel Grisch since the early 1980's and today works with Tom to produce quality wines.
We tried several wines. Chablis Grand Cru is 80% Chardonnay and 20% Riesling with a crisp mouth feel. Johannisberg Riesling 2006 has a slight bouquet with a sweet fruit flavor and a dry finish. Riseling Ice Wine 2006 has a great bouquet and is sweet but not syrupy. Vidal Blanc Ice Wine 2006 is sweet and full-bodied. Many more wines are available for tasting.
Attached to the tasting room is the restaurant, open everyday for lunch. Dinner is served Thursday through Sunday. Weddings and special events may be taking place so be sure to call in advance.
We decided to eat lunch in the restaurant and enjoyed the ambience. It is a comfortable place to eat and one does not have to dress formally. Pink cloth tablecloths were on every table with a small oil candle. A large fireplace is located on a wall between the tasting room and restaurant. A large deck with a lovely view of Seneca Lake is available with tables and chairs. Flower boxes of pink, purple and white petunias line the deck railing.
For lunch, I chose a simple chicken salad sandwich, served with a sweet German potato salad. My husband enjoyed Jaegerschnitzel, a traditional German dish, also served with potato salad. The dinner menu includes Sauerbraten, Schweinschnitzel and Huhnerschnitzel and much more. We were fortunate to be able to meet Chef Fred who has his own local television cooking show. He suggested Riesling and Traminette for pairing with foods.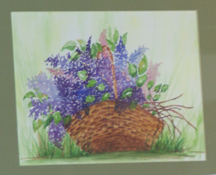 The winery supports local artists by displaying their paintings. On the day we were visiting, we saw numerous watercolors including many flowers. In the fall, a special artist event takes place for artists to feature their works.
Many public and private events take place at Castel Grisch. It is a popular place for weddings. Oktoberfest is a big event. Gourmet meals and Comedy Nights are also popular. During the summer, a German Buffet is offered on Fridays and Saturdays from 5 to 9.
At Castel Grisch they take extra time with people because they are family run and they all know the importance of good customer service. You will enjoy a visit to Castel Grisch.
Castel Grisch Winery and Restaurant
Watkins Glen, New York

---