Bellwether Hard Cider
by
Meghan Anne Sullivan

Photos by
Andy Neumeier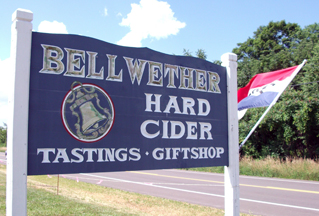 Summary: Bellwether Hard Cider, located in Trumansburg, New York, takes pride in our nation's history of cider making. Owners Bill and Cheryl Barton offer several types of dry, semi-dry, and sweet ciders and encourage visitors to consider cider as a wine. Bellwether Hard Cider is a member of the Cayuga Wine Trail and offers tastings, tours, and a perusal in the cidery's gift shop.
Bill and Cheryl Barton became interested in making cider after tasting cider made in France. Upon their return to the United States, they researched the importance of cideries in America's heritage and began to make cider at home. After 10 years of crafting their brews at home, they opened Bellwether Hard Cider. As the first cidery in the Finger Lakes, Bellwether has striven to educate visitors on our nation's cider history. During Colonial times, cider was the nation's most popular alcoholic beverage. All of the Founding Fathers made their own cider.
Bellwether sources most of their apples and apple juice from the Finger Lakes region, which grew apples for hundreds of years before it began to grow grapes. Bellwether also has 200 European-style apple trees that grow in an organic orchard. Bill and Cheryl plan to add 800 more apple trees next spring, which may make it difficult to sustain the organic nature of the orchard. Even with the expansion, Bellwether plans to continue to source apples locally. The cidery makes 5,000-10,000 cases of cider a year. Cider is presented and served in wine bottles because Bill and Cheryl want their visitors to think of cider as a beverage similar to wine.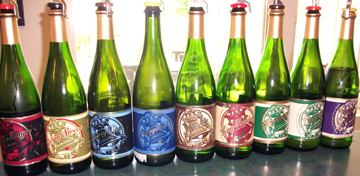 Bellwether makes five different dry ciders: the Lord Scudamore, the Legacy, the Heritage, the King Baldwin, and the No.4. The Lord Scudamore is named after the English lord who developed sparkling beverages. It is almost clear in color, has yeast on the nose, and tastes earthy and dry. It is made from North American apple varieties. The Heritage is one of two of Bellwether's still ciders. It is pale yellow in color and has an earthy and fruity nose and a light, earthy, and fruity flavor. It is made from European apple varieties. The King Baldwin was named "one of the best American ciders" by Bon Appetite magazine. It is light yellow, smells of sweet apples, and is light and refreshing. It is made from two different types of American apples. The No.4 is pale yellow with a fruity, spicy nose and a slight cinnamon taste. It is made mostly from the Northern Spy apple, which has been grown in the Finger Lakes region for 200 years. Bellwether's semi-dry ciders are the Spyglass and the Original. The Original is so named because it was the first cider ever made at Bellwether. It is pale yellow in color, smells of sweet apples, and has a fruity and refreshing taste. It is made from a blend of sweet dessert apples. Bellwether's sweet ciders are the most popular ciders among visitors. These ciders include the Liberty Spy, the Cherry Street, and the Black Magic. The Liberty Spy is the most popular. It is pale yellow and has a strong apple and pear flavor. It is a blend of two American apples: the Liberty and the Northern Spy. The Cherry Street cider is a hard cider blended with cherry juices after apple fermentation. It is light pink, has notes of cherry on the nose, and has a tart cherry flavor. Likewise, the Black Magic is made from a blend of hard cider and black currants. It is ruby in color and has a black currant scent and flavor.
A brief tour offers visitors a peek into the cider's cellar. Cider is fermented at a much lower temperature than wine or beer in order to preserve the apple flavor. Bellwether uses stainless steel tanks and a few oak barrels. They use a counter pressure bottle filler to bottle their cider, and they help bottle sparkling wines for local wineries.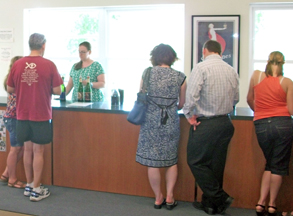 The tasting room houses a long tasting bar and an area showcasing cider history, where information from the Interlaken Historical Society is on display. One of the displays reads, "No one was deprived of a crunchy, juicy apple in the fall or a supply of apples in a barrel in the cellar for the winter. Perhaps many events were made more lively thanks to a jug of home-made hard cider. Bellwether keeps the historic tradition alive."
A gift shop sells a wide array of items, including souvenirs, soap, greeting cards, books about cider, kitchen towels, t-shirts, posters, and photographs. Visitors can also purchase locally made chocolate, pickles, honey, chutney, and maple syrup.
Bellwether is a member of the Cayuga Wine Trail and participates in wine trail events. The cidery also hosts weddings and an annual cider makers gallery, where local homemaking cider brewers share their tips.
Visitors to Bellwether will leave with their brains full of historical information and their bellies full of flavorful ciders.
Bellwether Hard Cider
9070 Route 89
Trumansburg, NY 14886
---