Passion Feet
by
K.L. Sullivan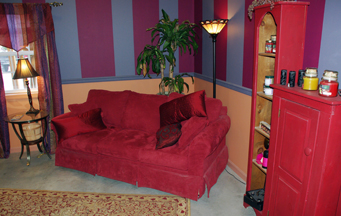 Looking for a girl's type of tasting room? Then Passion Feet is definitely a tasting room you will want to visit. Go ahead and let the guys hang out at Rogue's Hollow but if you are in for some luxurious feminine style, be sure to check out this tasting room.
Think dark, luxurious, elegant red and you will understand. A deep red sofa adds a touch of luxury to the room. Chandeliers add elegance. Enjoy the names of the wines such as Earn Your Beads, Flirtation, Back Seat Bounce, Scandelicious and 90 Seconds of Heaven all to benefit your psyche.
Plans for the tasting room include adding more gifts to browse.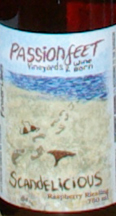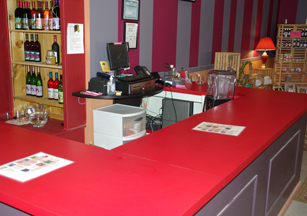 As we learned more from Dave, we tasted several wines. Look at the wine bottle labels. Dave created all of the labels. "Earn Your Beads" was a blend of a Rosé wine and Riesling with a residual sugar of 3.5 percent. Scandelicious was a blend of 90 percent Riesling and 10 percent raspberry. It was a light red with a nose and taste of red raspberries. This is one of the best selling wines. Pinot Noir, Riesling and a Rosé were blended together to create Passion Feet. It was light red with a fruity nose and taste. The wine, 90 Seconds of Heaven 2006 was Riesling with a floral nose, fruit taste and an aftertaste that was crisp with lingering fruit. Seduce Me was a Chardonnay with 3.5 percent residual sugar. This wine had an apple nose, and taste. The aftertaste was sweet apple but acid cut the sweetness. Backseat Bounce was a blend of Noriet and Riesling with 5 percent residual sugar. This wine had a grape nose and taste with a crisp aftertaste.
The Passion Feet tasting room has other items to explore including jewelry "handcrafted in the Finger Lakes." Check out the pure maple syrup from New Hope, NY. Other items to browse are pecans, cashews and Pinot Noir Jam with Sweet Cherries.
Enjoy your stop at Passion Feet and then meet your partner at Rogue's Hollow.
Passion Feet
623 Lerch Road
Geneva NY 14456
GPS N 42° 82.302' W 076° 92.351'
For more information
Three Brothers website
---