Sheldrake Point Vineyard
by
K.L. Sullivan
Summary: As a tourist destination site, Sheldrake has much to offer visitors. With 21 wines on their list, a beautiful dining area with outside seating and a lovely view of Cayuga Lake, it is a pleasant stop to make.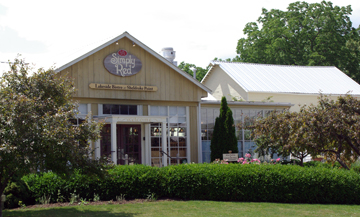 A group of men and women established Sheldrake Point Winery on 150 acres 11 years ago. They discovered the property through a Pennysaver advertisement. Originally, the land was an old Revolutionary military tract. Today vineyards cover 42 acres. Currently, the wines are 98 percent estate grown. The soil is loamy gravel and provides both drainage and nutrients for grapevines to thrive. Vineyards include Riesling, Cabernet Franc, Pinot Gris, Gewürztraminer, Chardonnay, Merlot, Gamay, Pinot Noir and Cabernet Sauvignon.
The vineyards and winery buildings are located on a slope over looking one of the fascinating Finger Lakes in New York State. Originally, the property and buildings were a large dairy farm with all of the associated farming activities.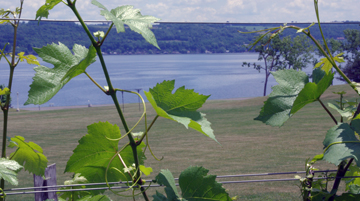 A brief walk to the vineyards showed us that the grapes were doing well. Kit Kalfs, retail manager for Sheldrake, explained the significance of the location of the vineyards. The location of the vineyards just off the lake and two gorges on each side of the vineyards, allows the air to move over the vineyards and the icy cold does not usually settle on the grapevines. Kit mentioned a quote he heard, "If the grapes can't see the lakes, don't grow them here."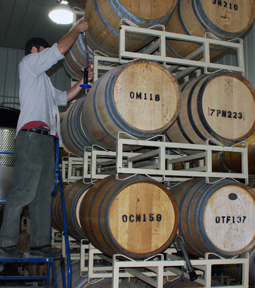 Inside the winery, we discovered the winemaker drawing a small amount of wine from a barrel. The current winery has little space and Sheldrake is beginning the process of building a new winery just a few feet away from the current building. One of the changes will include the use of a gravity flow system that treats the grapes more gently.
Located across from the tasting room is a large tent covered facility for large events. Weddings, birthday parties, anniversaries or receptions can take place here. A tasting counter is adjacent to the event area and available as a bar for an event.
After our enjoyable tour of vineyards, winery, and event room, we had a wine tasting with Kit. Beginning with Pinot Gris, we began tasting several wines and ended with the Icewine. The wine list has several categories including Dry White Wines, Fruity White Wines, Light Red Wines, Dry Red Wines, Sweet Fruity Wines, Barrel Reserve Wines, Dessert Wines and Ice Wine. Visitors will discover a complimentary Wine Tasting list on a Chalk Board behind the tasting counter or one can choose four wines from a list of 13 for only $1 dollar. Other wines are $1 to taste except for the true Ice Wine that is $4 for a sample. While tasting Sheldrake Point wines, notice the labels created by artist Leslie Carrere.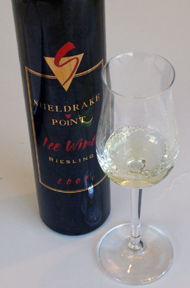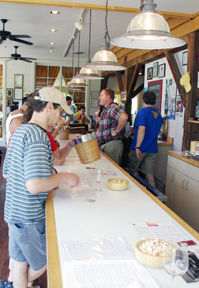 Riesling 2006 offered a green apple nose with an apple and citrus taste. It had a crisp finish with a mineral aftertaste. Riesling 2006 Reserve had a floral nose, citrus taste and a crisp aftertaste with mineral. Pinot Gris 2007 had an apples and pears nose and taste with minerals on the aftertaste. The Dry Rosé 2007, a blend of Cabernet Franc, Gamay Noir and some Chardonnay was light pink with orange tones. It offered a grapefruit nose with strawberry and citrus taste and a citrus finish. Gamay 2006 was a light red with a strawberry and citrus nose and taste. Cabernet Franc 2006 was light red with a dark fruit berries nose and taste and pepper on the finish. Cabernet Sauvignon 2006 was a red to purple color. It had a blackberry and pepper nose and taste with an aftertaste that was crisp and fruity with tannins. Sheldrake Simply White was made from Cabernet Franc. It was a white wine made from a red grape. It had a berry taste and nose with a crisp finish. There were tannins on the finish. The Riesling Ice Wine 2007 had a floral and honeysuckle nose with a honeysuckle taste. It had crispness on the finish with a fruit aftertaste.
Other visitors came and went, as we tasted wines. The tasting room sells sixty percent of the wines produced. Many came to take advantage of the restaurant on the winery premises. The Simply Red Lakeside Bistro is open April thru November. Check the hours before you go. Enjoy browsing the selection of gift items in the tasting room. Food items included Apple Cider Molasses, Saffron Aioli, Horseradish/Caraway Mustard and Pecans in Adirondack Honey.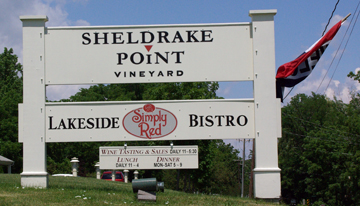 Whether you are looking for a leisurely day trip or planning an event, enjoy a visit to Sheldrake Point Vineyard.
Sheldrake Point Vineyards
7448 County Rd #153
Ovid, NY 14521
GPS N 42° 66.334' W 076° 70.043'
---