Billsboro Winery
by
Meghan A. Sullivan
February 2009 update:
Billsboro Winery produced 1,300 cases from their 2007 vintage. They added a "Pinot Noir based Dry Rose and also a Vidal Blanc Ice Wine." Billsboro focuses on producing dry wines however they will be producing a semi-dry Riesling for people who enjoy a sweeter wine. They will release this semi-dry Riesling and a Sauvignon Blanc in the spring. A Bordeaux blend and a Syrah will be released in late 2009. The tasting room at Billsboro concentrates on Local foods and supporting local artists. According to Kim Aliperti, "We sample and sell local breads, cheeses and chocolates. We also have a rotating gallery in the tasting room, featuring local artists, from collage, oils, watercolors & photography." The winery is planning a special event for summer 2009. In her email, Kim described it as follows. "This August (15-17) we will be hosting our second annual Plein Air Painting Festival, a 2 day open-air painting competition, where regional artists come to the winery and paint "en plein air, " over the course of the weekend, frame their finished works and enter them in a juried art competition. There is an artists' gala with appetizers, wine and music in which the public is invited and encourage to vote for the "People's Choice." All artwork is offered for sale at the public art show at the end of the festival." Whether you participate as an artist or to view the competition, this event will be a lot of fun.
---
Summary: With a current production of 1000 cases of wine, Billsboro Winery has the ability to concentrate on experimenting with the variables of producing wine. You may want to stop by frequently to checkout what's new. This is a winery to keep your eye on.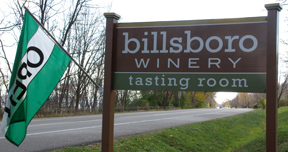 Five miles past the center of Geneva, along the west side of Seneca Lake, lies Billsboro Winery. A new brown and white sign on the roadside welcomes visitors to a restored 19th century red barn just off the road in a wooded area. From the front deck, visitors can sip wine and enjoy the view of Seneca Lake in the winter; in the summer, blue water can be glimpsed through leafy trees.
Billsboro Winery, founded by Bob and Jen Pool in 1999, recently changed owners; in 2007, the winery reopened with a rearranged tasting room and new wines. The current owners, Kim and Vinny Aliperti, decided to keep the name "Billsboro" because Billsboro was once the name of a nearby train station. They wanted a name that was historical.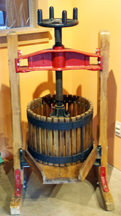 Vinny, Billsboro's winemaker and production manager, grew up in an Italian household, and as a teenager, he learned how to make wine from his grandfather. The wine press used by Vinny's grandfather is on display in the tasting room and is pictured on the back of wine bottles. The front labels feature the image of a cross-section of a Finger Lakes grapevine leaf, as viewed under a microscope. This image, Vinny believes, makes Billsboro's labels unique and emphasizes the art and the science of winemaking.
The importance of family is integral to the philosophy behind Billsboro. Kim and Vinny describe Billsboro as "the quintessential family winery." Billsboro produced 1000 cases for their first vintage, and Kim and Vinny would like to keep the winery relatively small. The small winery allows Vinny, who is also head winemaker at Atwater Estate Vineyards, to experiment. Using grapes from area growers in the Finger Lakes, Vinny experiments with oak barrel contact, yeast strains, and skin contact. Vinny describes Billsboro's wines as "clean" and "refreshing," while maintaining a "natural acidity."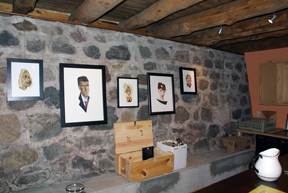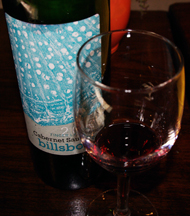 Visitors can sample these refreshing wines in a welcoming tasting room. Salmon-colored walls, wooden ceiling beams, and wine barrels used to hold up the tasting bar create a feeling of warmth. Behind the tasting bar stands a stone wall displaying the work of local artists. Kim and Vinny promote the use of their space for events and are especially interested in supporting artists. The tasting room area is large enough to hold events. Several events are in the plans for next year some of which will feature artists.
We tasted four white wines and four reds from the 2006 vintage during our visit to Billsboro. The Chardonnay was unoaked and offered a nice fruit-acid balance. The Pinot Gris tasted fruity, and I could detect a hint of grapefruit. The Pinot Noir offered an earthy nose and taste and a smooth pepper finish. The Cabernet Sauvignon featured a vanilla flavor. The Billsboro tasting guide displays appealing wine descriptions and suggests food pairings.
For Kim and Vinny, managing Billsboro Winery gives them the chance to share their passion for wine and winemaking with others. They invite visitors to taste their wines, relax in the tasting room, and enjoy the view of Seneca Lake. Kim and Vinny promise their visitors a "memorable experience."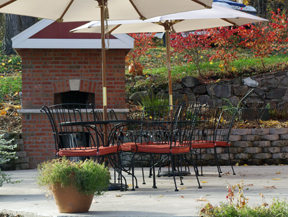 If you are looking for a place to host an event, check out Billsboro Winery to see what they have to offer. With a rustic charm, this may be the venue you are seeking for your special event. Or if you want a unique experience ask about hosting an event using the outdoor wood-fired pizza oven.
Billsboro Winery is open daily May through November and on weekends December through April. A tasting fee of $1.00 is required to sample wine.
GPS: N 42° 47.937' W076° 58.747'
---