Keuka Spring Vineyards
by
K. L.Sullivan
On the east coast of Keuka Lake is Keuka Spring Vineyards. Owned by Len and Judy Wiltberger, an enthusiastic couple, they are whole-heartily involved in the winery and vineyards as a second career. On the way to the tasting room a large sign proudly proclaims, "Taste the Care We Give."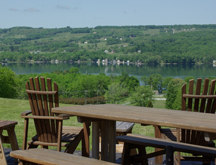 The day was warm with a light breeze while we sat outside the tasting room and talked with Len and Judy. As we talked with them about wine and their winery, we were aware of how well they work together as a team. Currently they have ten acres of grapes including Cabernet Franc, Lemberger, Chardonnay, Riesling, Vignoles and Seyval Blanc. Grapes they buy include Merlot, Gewürztraminer, Vidal Blanc, Cabernet Sauvignon, Baco Noir and Cayuga. Their first vintage was in 1985 and they now produce 9,000 cases. Future ideas include planting five more acres of grapes and increasing production to 12,000 cases of wine and perhaps a larger tasting room.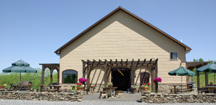 The Wiltberger's have found styles of wine that their customers like and continue to produce these styles. Len believes that visitors should enjoy the wine of the region. He feels good about the quality of the wine here. Repeat visitors say, "We like the wines here." Len and Judy are delighted with the quality of the wine produced at Keuka Springs.
Eighty percent of the wine sales take place at the winery tasting room, eighteen percent are wholesale and two percent are web sales. Judy has noticed a change in visitors. Today people want to learn about wine and today more young people are enjoying learning about wine.
In the Finger Lakes region of New York State, we have frequently heard about the influence of the Finger Lakes on the microclimates for growing grapes. Len discussed the influence of the Great Lakes on the Finger Lakes area. The Great Lakes have as much or more influence as the Finger Lakes. The Great Lakes and Finger Lakes moderate the temperatures in the spring and fall. Their influence delays the fall frost for a few weeks thus helping the grapes increase the level of brix and become sweeter. The weather is cooler in the spring and grapevines bud later, preventing late frost damage to the buds.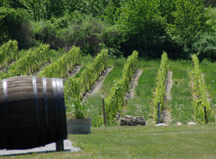 Len took us on a tour of the vineyard. We walked on a small wooden bridge over a bubbling brook. The brook created by a spring at the top of the hill, bubbles and gurgles on its way down to Keuka Lake. On the other side of the bridge is a large vineyard. We saw three different trellis systems. One is a simple trellis, one a Vertical Shoot Position and a Scott Henry trellis. Different grapes require different trellises in order to take the best advantage of the sunlight available.

We toured the winery and saw Keuka Spring's tanks and oak barrels. They also use fiberglass tanks for bottling wines. Len was formerly a specialist in planning and when deciding to build the new winery facility he used his knowledge and skills to design a building that would meet their needs with the possibility of growth.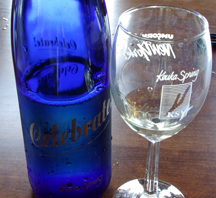 Inside the tasting room we tried a number of wines including Riesling, Gewürztraminer, Celebrate!, Lemberger and Epic. Celebrate! is a semi-dry wine bottled in blue bottles with the label in silver. Not only a beautiful gift but it tastes good too! The Gewürztraminer has a floral bouquet and is a dry wine. Epic is a Meritage blend with Merlot, Cabernet Sauvignon and Cabernet Franc. Merlot 2004 is very dark with a fruit aroma, fruit taste and a long aftertaste. Riesling 2006 is fruit flavored with a touch of peach. This would make a perfect summer time drink by adding a frozen slice peach to your glass of Riesling 2006 to keep it cool.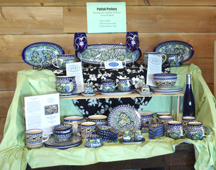 The tasting room has a number of lovely gifts available. Polish pottery with a grape theme is displayed. Handmade and Painted Primitive Woodcrafts from The Country Cart are unique creations by Dave and Rosemary Jones. On a display, Keuka Spring Vineyards wines are adorned with gold, silver, and bronze medals. Wines for sale are attractively arranged and easily found.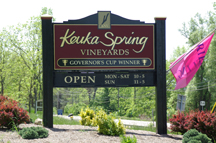 Keuka Spring Vineyards is another great stop to make along Keuka Lake. You can stop and enjoy the beauty of the setting with the sight of Keuka Lake below. The unique local art and Polish pottery will also draw your attention while you taste their handcrafted wines. Be sure not to miss the delightful bubbling brook! The friendliness of the owners and tasting room staff will help you have an enjoyable and educational visit.
Keuka Spring Vineyards
Penn Yan, New York

GPS: N 42° 37.584' W077°04.037'
---