Chateau Renaissance Wine Cellars
by
Kathy Sullivan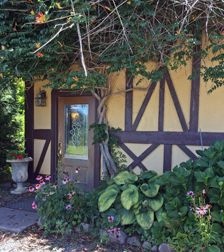 Summary: Chateau Renaissance Wine Cellars is a boutique winery near the southern end of Keuka Lake, one of New York's beautiful Finger Lakes. The owner and winemaker's family has historically produced wine beginning in France. Wines are available at the tasting room or weekly at the New York City Green Market.
Chateau Renaissance is located near Hammondsport, New York. The winery and tasting room sit on a hill overlooking the area. The outside of the building is reminiscent of the half-timber structured buildings seen in areas of France.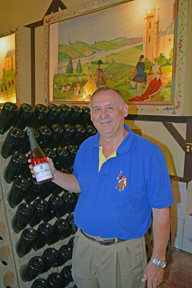 Visitors to Chateau Renaissance will discover a friendly winemaker whose family has been producing wines for centuries. Patrice DeMay was originally from Vouvray in the Loire Valley of France. Patrice learned his winemaking skills from his father. The name for the winery Chateau Renaissance came from Patrice's wife, Charmaine, telling him that he is a Renaissance man.
Patrice worked at the Cornell research center. Today in addition to owning Chateau Renaissance and producing wine, Patrice runs the winemaking program at the Corning Community College. Noting the importance of properly trained winery workers, Patrice also trains folks to work in wineries. He believes that the wine industry does not need only lab technicians but needs trained people to work in the wineries and in vineyards.
During winemaking Patrice likes to use natural yeast on the primary fermentation. He allows malolactic fermentation to take place naturally. While talking with Patrice we learned of his motto, "Be nice to people, be kind." Patrice noted that he had been born into wine, understandable with a 500-year family winemaking history. Talking with Patrice is fascinating as he includes many anecdotes. He is a good storyteller. He said, "Grapes are known to be the perfect food."
Other quotes from Patrice during our visit included: "To me a good wine is one that stays long." He also noted, "Can't reinvent the string that cut the butter."
Chateau Renaissance consists of 17 acres with 10 acres planted. Patrice also has many types of fruits growing including: blackberries, peaches, plums, apricots and blueberries.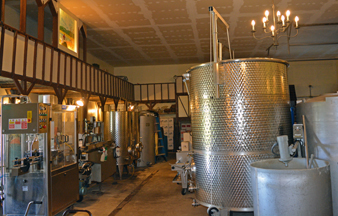 The winemaking area is adjacent to the tasting room. The winery offers many of the usual sights including stainless steel tanks. Riddling racks are also here as Patrice hand riddles all of his sparkling wines. What is spectacular and unique are the ornate and colorful three-dimensional displays on one wall. Patrice noted that he painted these detailed displays while the one pictured above was painted by his mother in 1964 for the fair of Paris exposition. Asked if this part of the winery with ceiling chandeliers is used for events, Patrice said that his schedule is very busy. While at one time, events were held here, they usually no longer have events today. Patrice did talk about the time a graduating class had used the winery area for prom and noted how successful it had been. Even today students who attended the prom now return with their families.
Chateau Renaissance Wines
The wine labels on the bottle are striking. For anyone who has not begun wine label collecting, a visit to Chateau Renaissance may encourage one to begin collecting labels. Also take a close look at the winery logo - a jester.
Two rather unusual wines to be found at a winery are lavender wine and violet wine. He also produces a rose petal wine.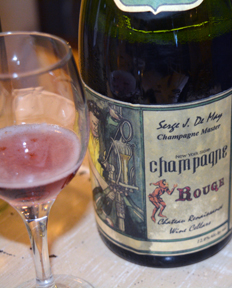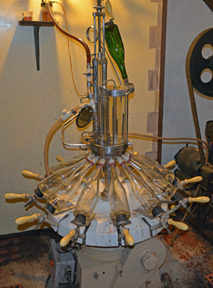 We tasted both sparkling wines and still wines. The Rouge New York State Champagne was a red colored blend of Merlot and Cabernet Franc. Tiny bubbles formed a mousse on the surface. The creamy mouthfeel was met with mineral and red berry fruits taste. Rosé de May was pink with an orange hue. This wine was produced with Catawba and Merlot grapes. The wine had tiny bubbles and was sweet with floral notes. Rosé de May Doux was produced with a blend of grapes using the methode champenoise process of the secondary fermentation taking place in the bottle. The wine was a dark pink and slightly sweet. The wine was crisp with a hint of dryness on the aftertaste. The sparkling wines may have the terms "champagne" and "methode champenoise" on the labels. Chateau Renaissance was one of the few wineries in the United States to be grandfathered in when the TTB stopped allowing the use of these words on sparkling wines.
Cabernet Franc was a translucent ruby color. The wine was produced with wild yeast fermentation. No oak was used for this wine. The wine offered dark fruit notes and had a creamy mouthfeel and was earthy. The wine had tannins with a long aftertaste. PInot Noir was a dark ruby opaque color. The wine offered notes of raspberries and minerality. The taste was creamy. The finish was crisp with a long berry aftertaste. Merlot also saw no oak. The Merlot was a translucent ruby with sienna hue. The wine reminded one of a red fruit salad. The mouthfeel was creamy and the finish was crisp. Cabernet Franc was a dark translucent dark red color with earthy notes. The wine offered a long aftertaste.
Wine enthusiasts should plan a visit to Chateau Renaissance Wine Cellars. Groups of 20 or more should call in advance. Limousines and buses are welcome. If you cannot visit this area of New York State, then stop by the NYC Green Market t Union Square.
Wine Trail Traveler article about Chateau Renaissance in New York City, New York
Chateau Renaisssance Wine Cellars
7494 Fish Hatchery Rd
Hammondsport, New York 14840
GPS: N42º 23.184' W77º 15.846'
New York City Green Market
Union Square W and E 16th St.
New York City, New York
Article written August 2015
---